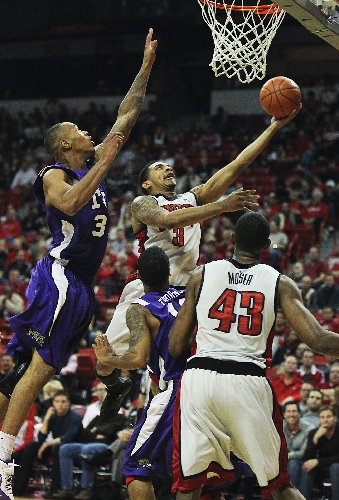 It took only 90 seconds for Mike Moser and Chace Stanback to assure UNLV would avoid another slow start.
A Moser jumper and a pair of Stanback 3-pointers got the 14th-ranked Rebels rolling, and Anthony Marshall led them to the finish line by scoring a career-high 27 points in a 101-78 rout of Texas Christian at the Thomas & Mack Center on Wednesday night.
"I'm in a little rhythm," Marshall said. "I'm feeling pretty confident."
The junior guard downplayed his performance, but UNLV made a stronger statement four days after dropping its Mountain West Conference opener.
The Rebels (17-3, 1-1) jumped to an early conclusion, something they failed to do while falling in a double-digit first-half hole in Saturday's last-second loss at San Diego State.
"We were waiting all weekend to get back on the court," Moser said. "That fueled us a lot."
Moser totaled 16 points and 15 rebounds, registering his ninth double-double of the season, and Stanback made 5 of 7 3-pointers en route to 21 points.
UNLV and New Mexico, the league's favorites a week ago, meet in a second-place battle at the Thomas & Mack on Saturday. The Aztecs upset the Lobos on Wednesday.
"New Mexico is going to come in as a very desperate team," Rebels coach Dave Rice said. "But every game needs to be more important to us than it is to our opponent."
The Rebels seemed to act out of desperation while racing to a 19-2 lead against the Horned Frogs (10-7, 0-2). Stanback scored six of the first eight points, and Oscar Bellfield's six straight points finished off the run.
UNLV came out hot and shot 12-for-14 from the field, including 6-for-7 on 3s, en route to a 33-12 lead after 8½ minutes.
"We felt like we let a great opportunity slip away in San Diego," Rice said. "We put that behind us. We bounced back.
"The difference offensively was the pace we played. We were locked in to start the game."
The Rebels, up 54-39 at halftime, extended their advantage to 65-45 with 15:15 remaining after Moser's back-to-back dunks.
Stanback sank a 3 from the corner to stretch the lead to 75-51 three minutes later.
"The credit goes to our defense," said Marshall, who had three blocked shots.
He also had nine of UNLV's 28 assists as they shot 37-for-64 (57.8 percent) from the field. Most of the baskets were dunks and layups in transition or 3-pointers (11-for-21).
Marshall, who was averaging 9.0 points per game in mid-December, has averaged 19.3 points over the past six games. He scored 26 in the loss at San Diego State.
"Anthony is playing as well as any guard in the country right now," Rice said. "Anthony is playing at a high level right now. He's just taking what the defense gives him. When he's open, we want him to shoot, and he's doing a great job distributing the ball."
With the backcourt play exhibited by Marshall, Bellfield (six points, six assists) and Justin Hawkins (seven points, five assists), Rice said, "Some special things are certainly possible."
The Rebels topped 100 points on Reggie Smith's layup with 32 seconds remaining.
Poor free-throw shooting (16-for-28) plagued UNLV again, with Hawkins missing all six of his attempts, but that was a minor issue in a lopsided game.
Kyan Anderson had 20 points to lead five TCU scorers in double figures.
■ NOTES — Khem Birch, who transferred from Pittsburgh to UNLV last week, was on the Rebels' bench and is expected to begin practicing this week. The New Mexico-UNLV game, originally set for 7 p.m., was moved back to 7:15 by CBS Sports Network.
Contact reporter Matt Youmans at myoumans@reviewjournal.com or 702-387-2907.
UNLV — 101
TEXAS CHRISTIAN — 78
KEY: Anthony Marshall had 27 points and nine assists for the Rebels.
NEXT: New Mexico at UNLV, 7:15 p.m. Saturday, CBSSN (333); KWWN (1100 AM, 98.9 FM)