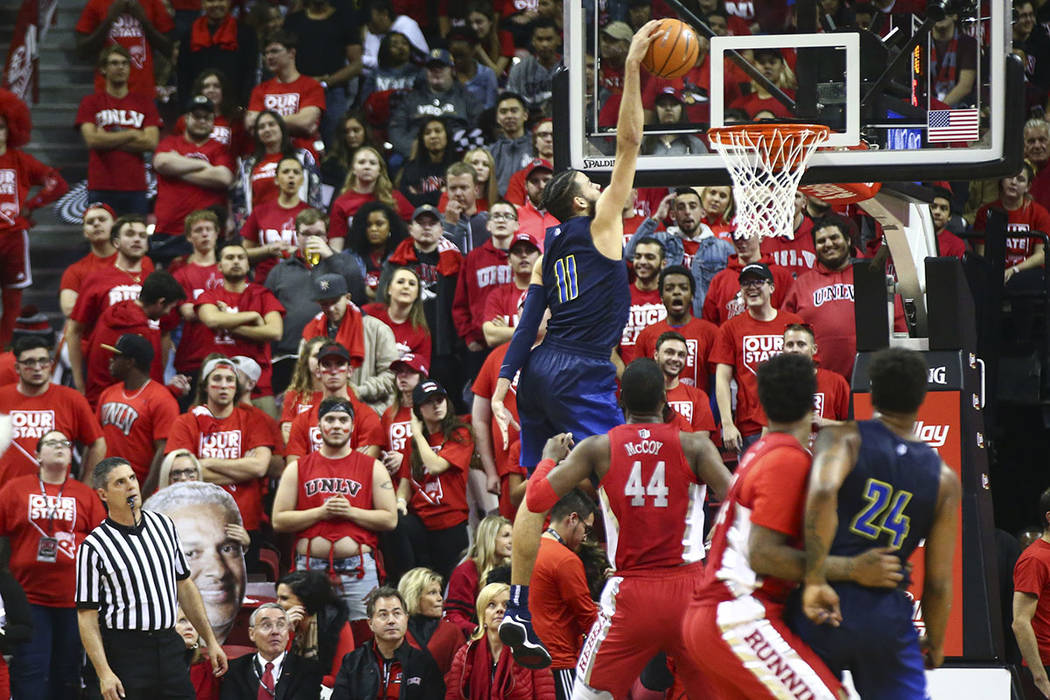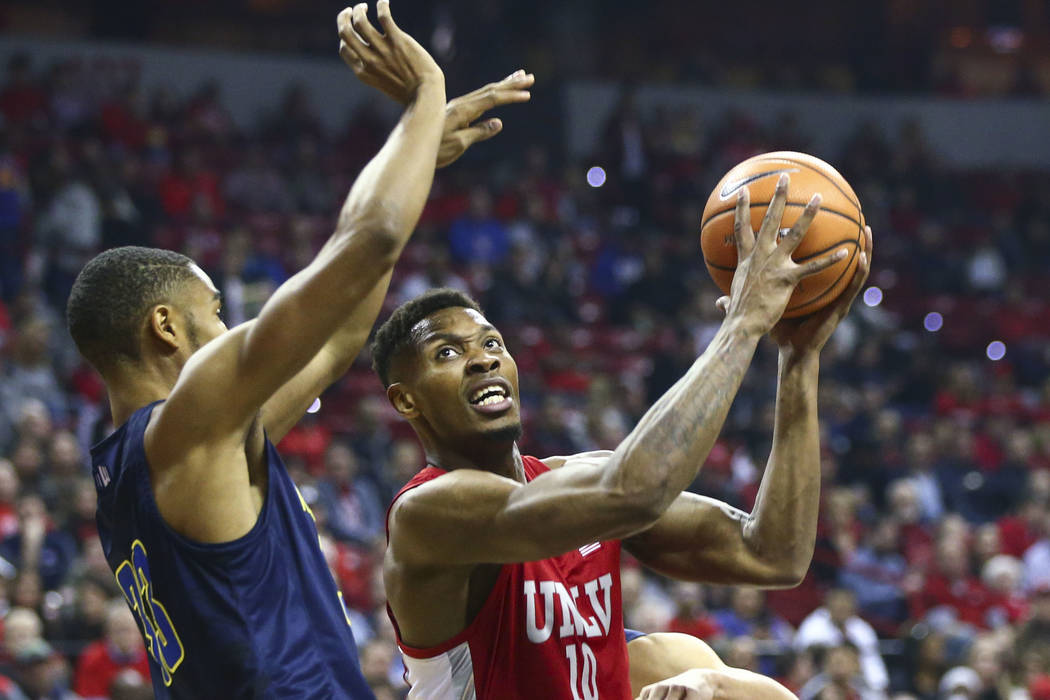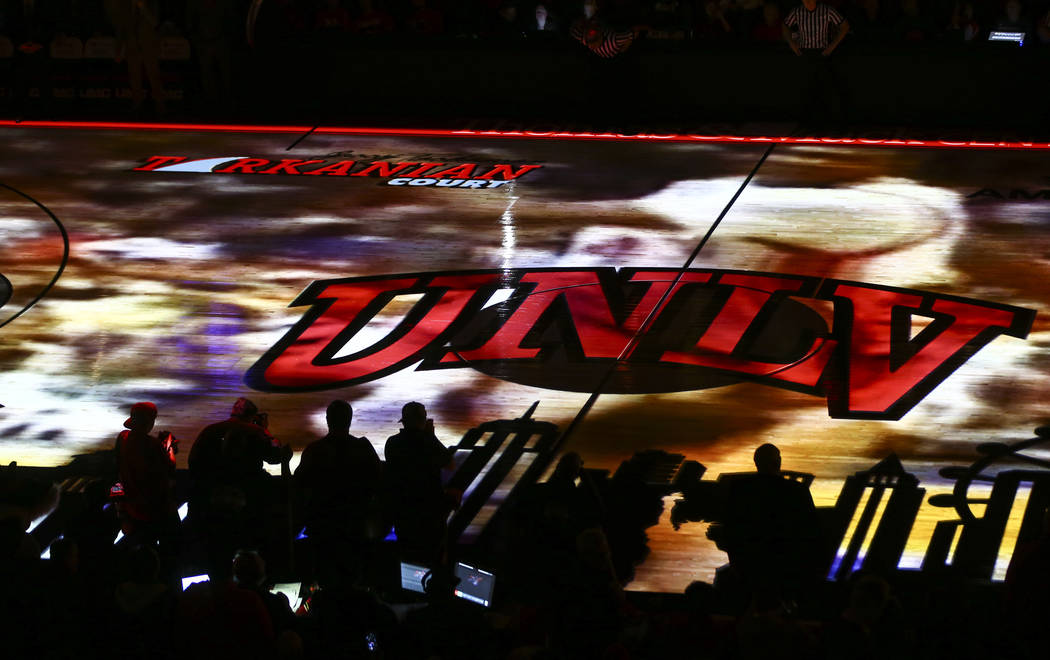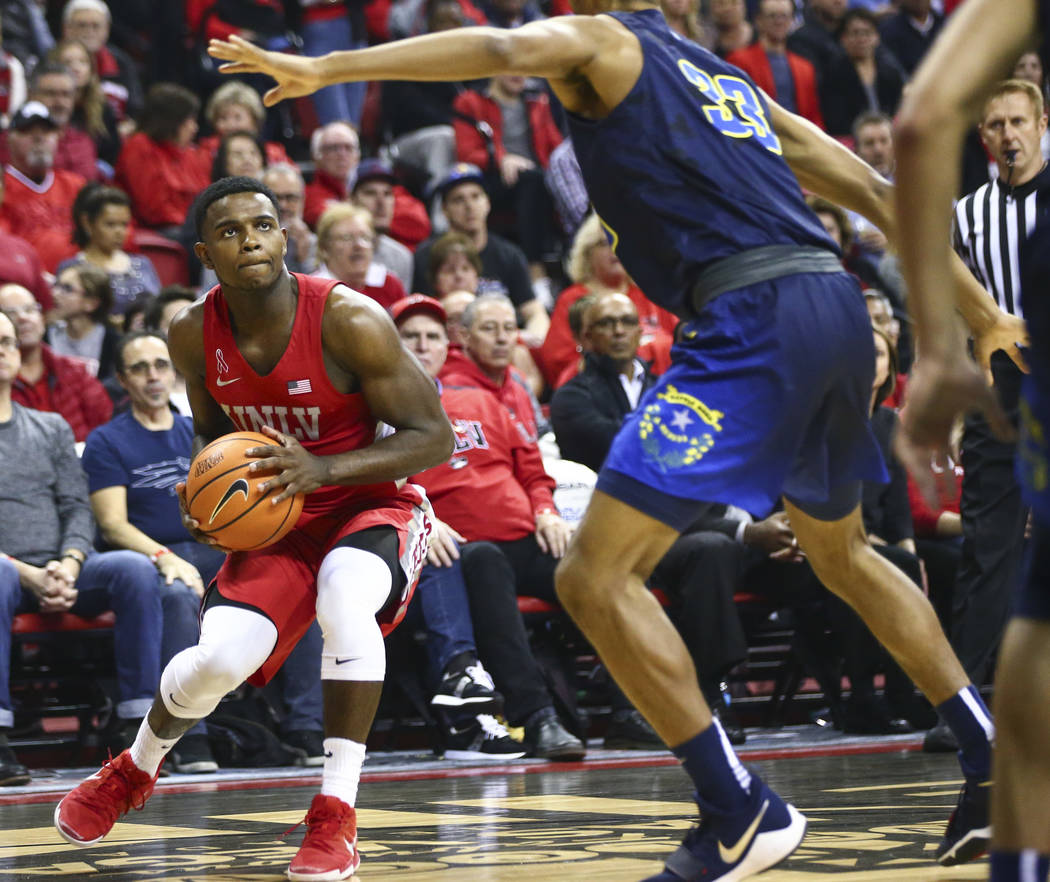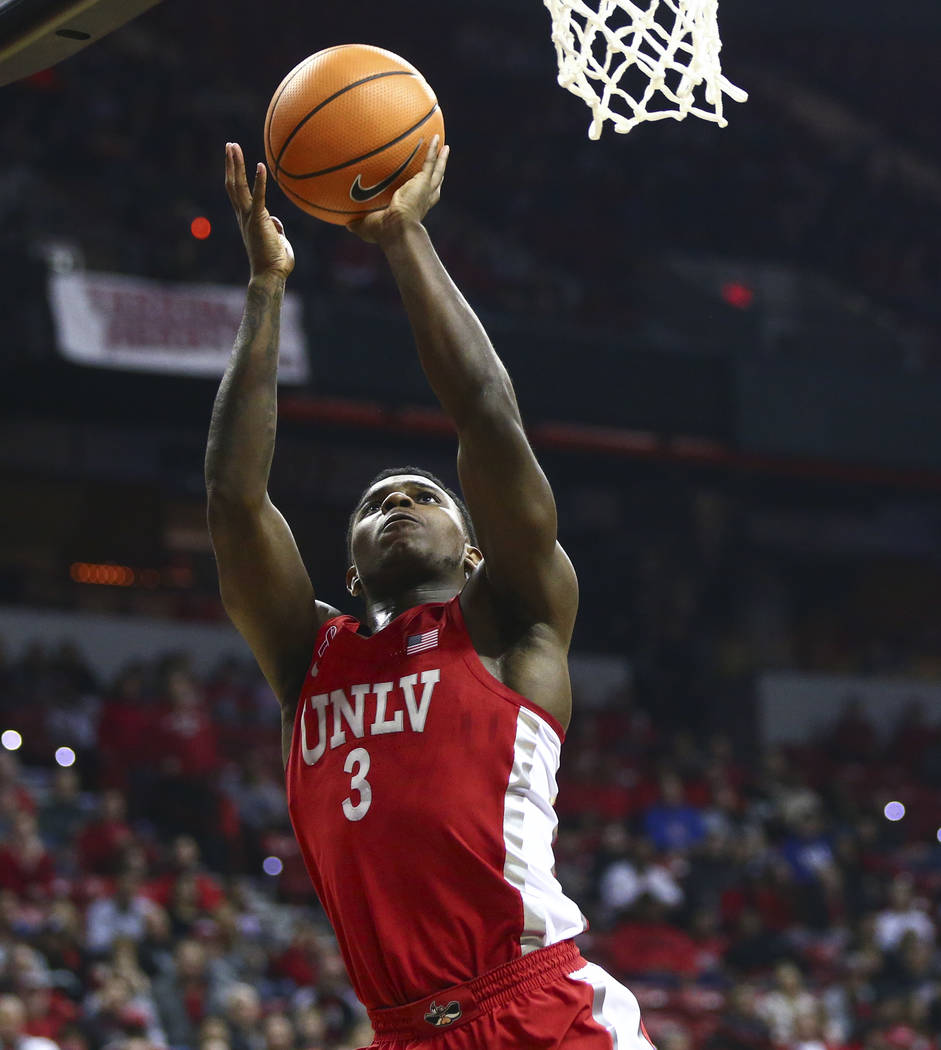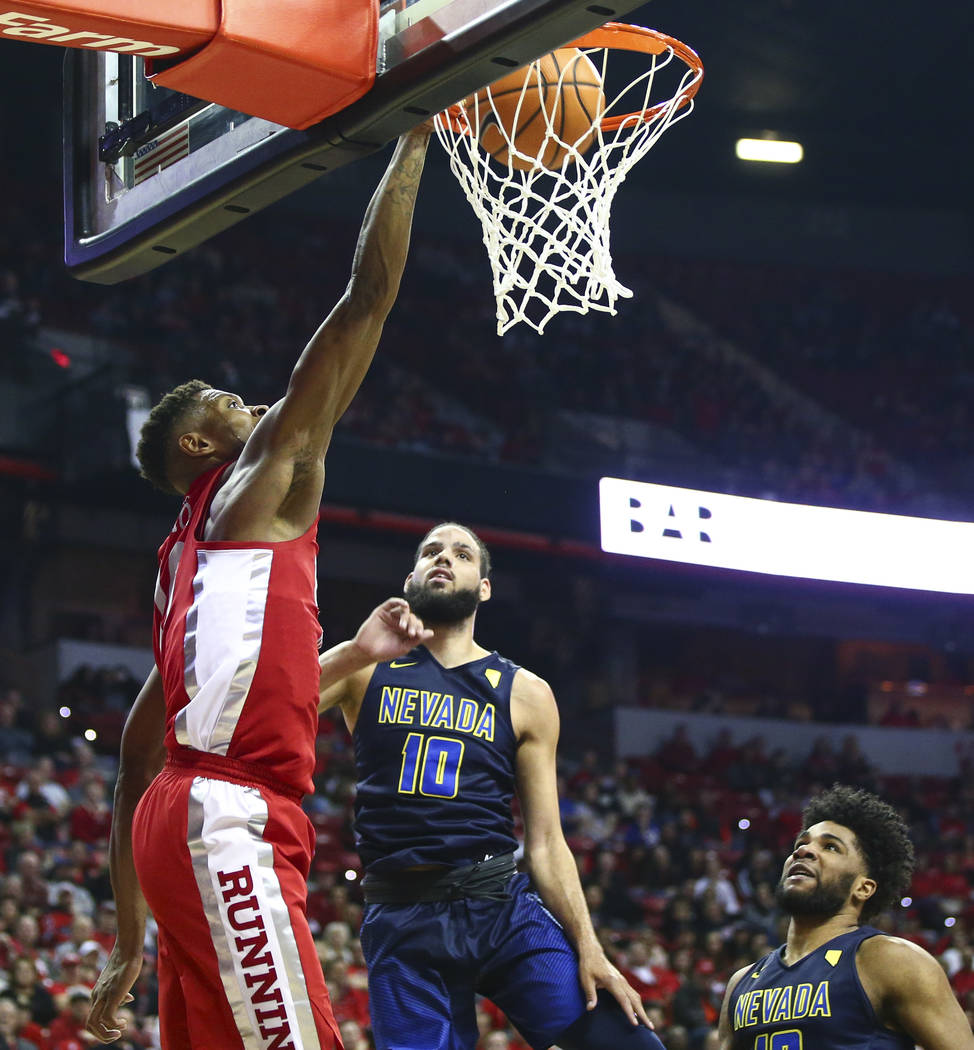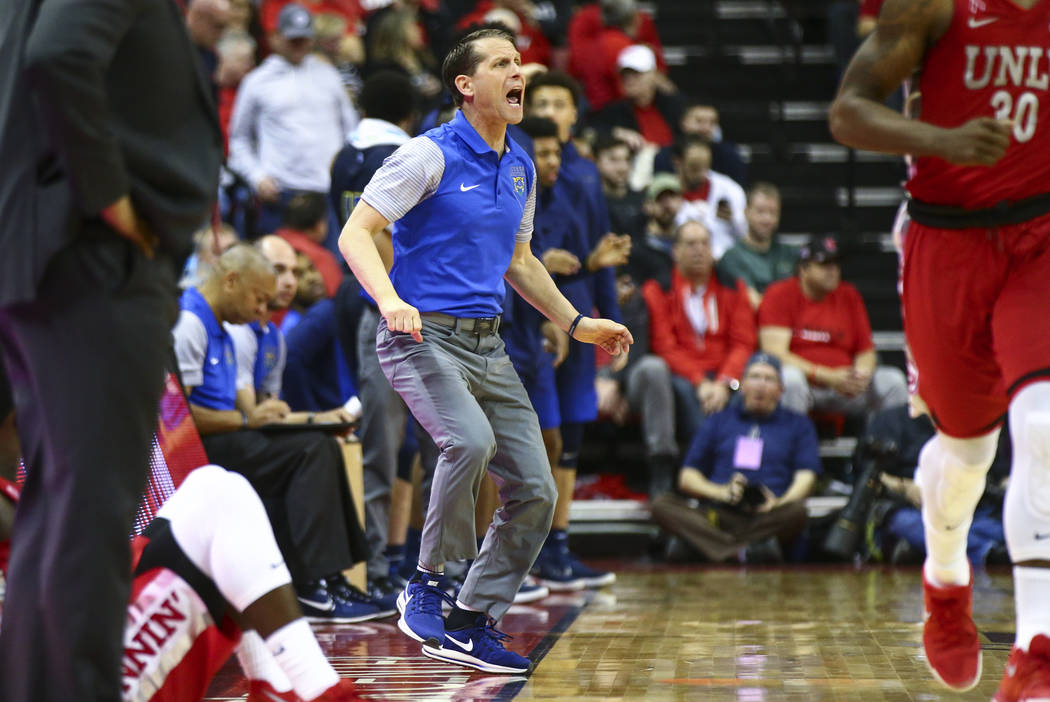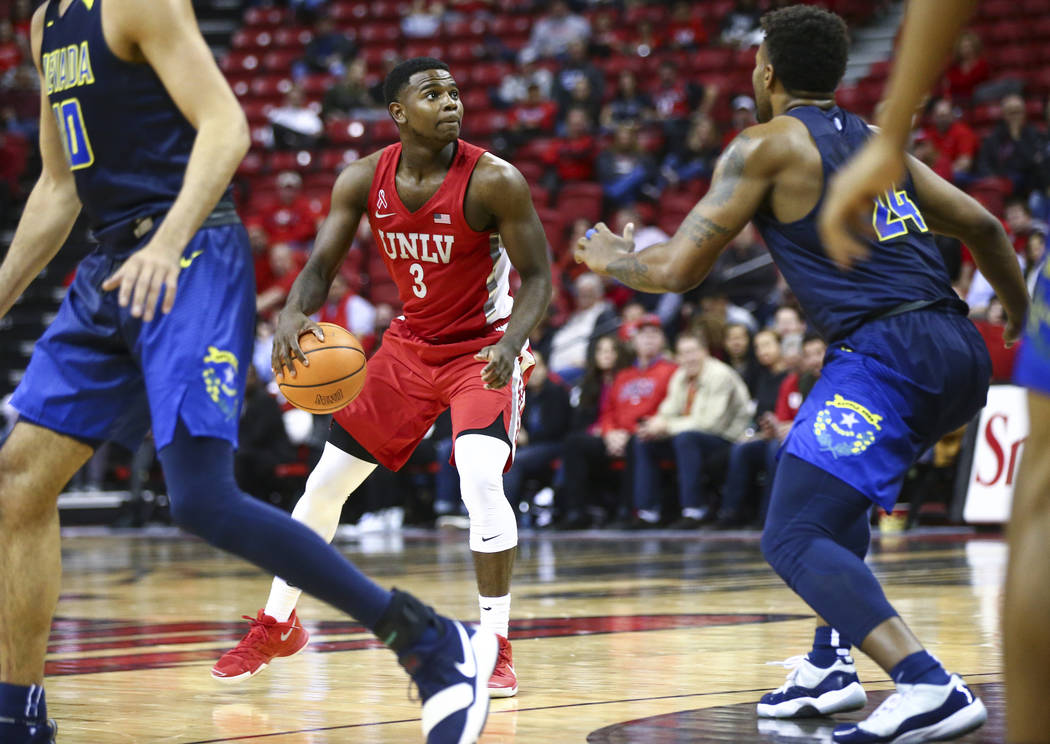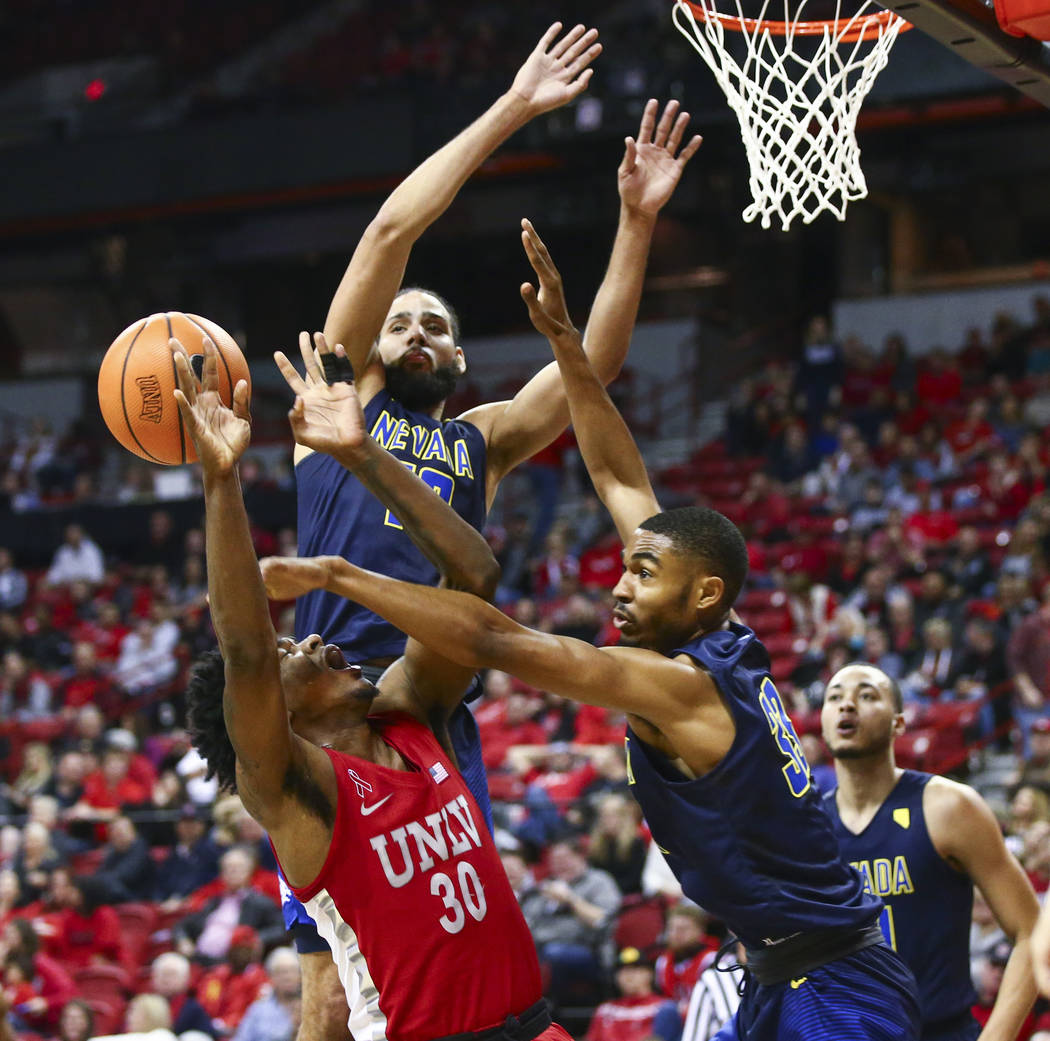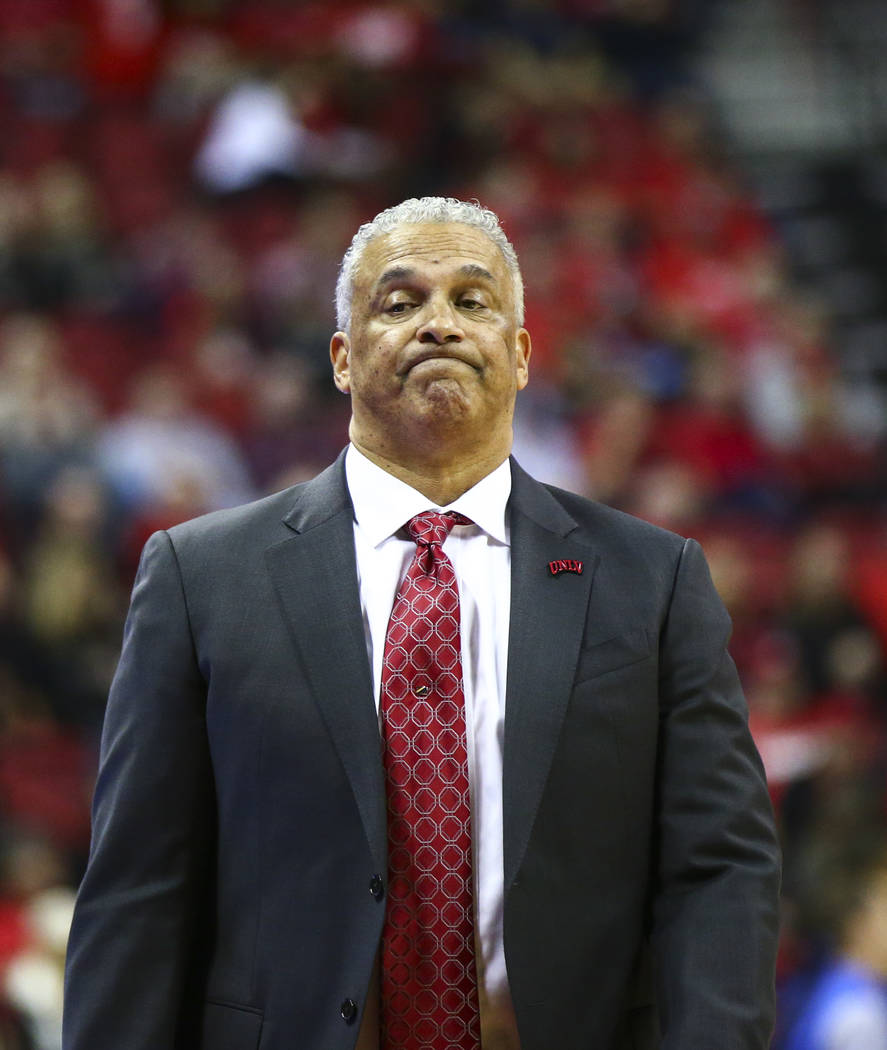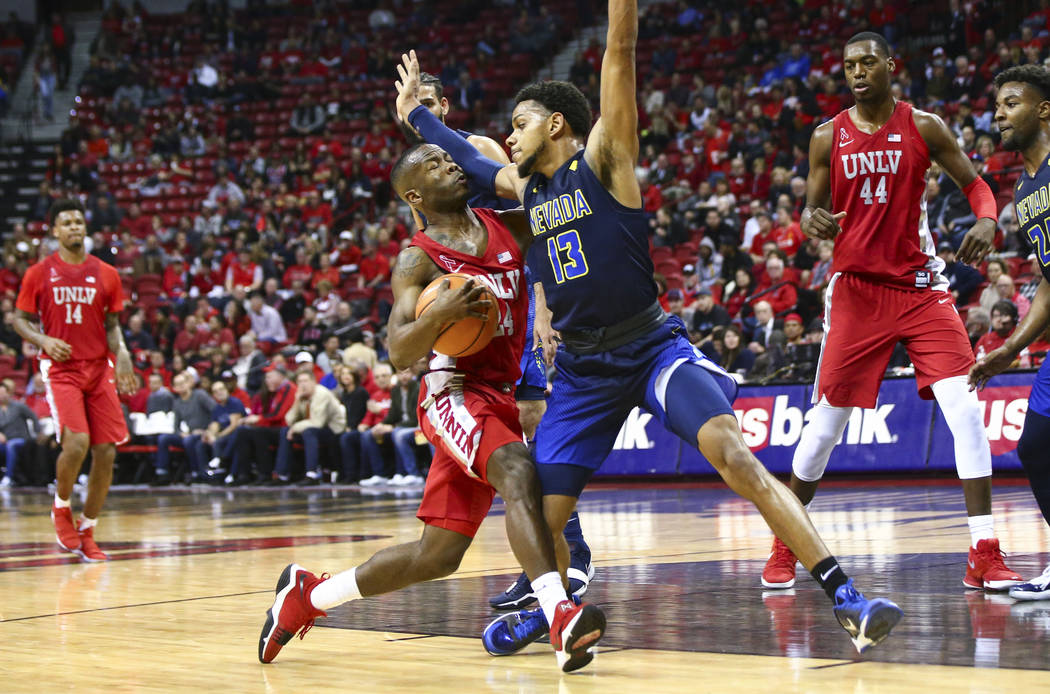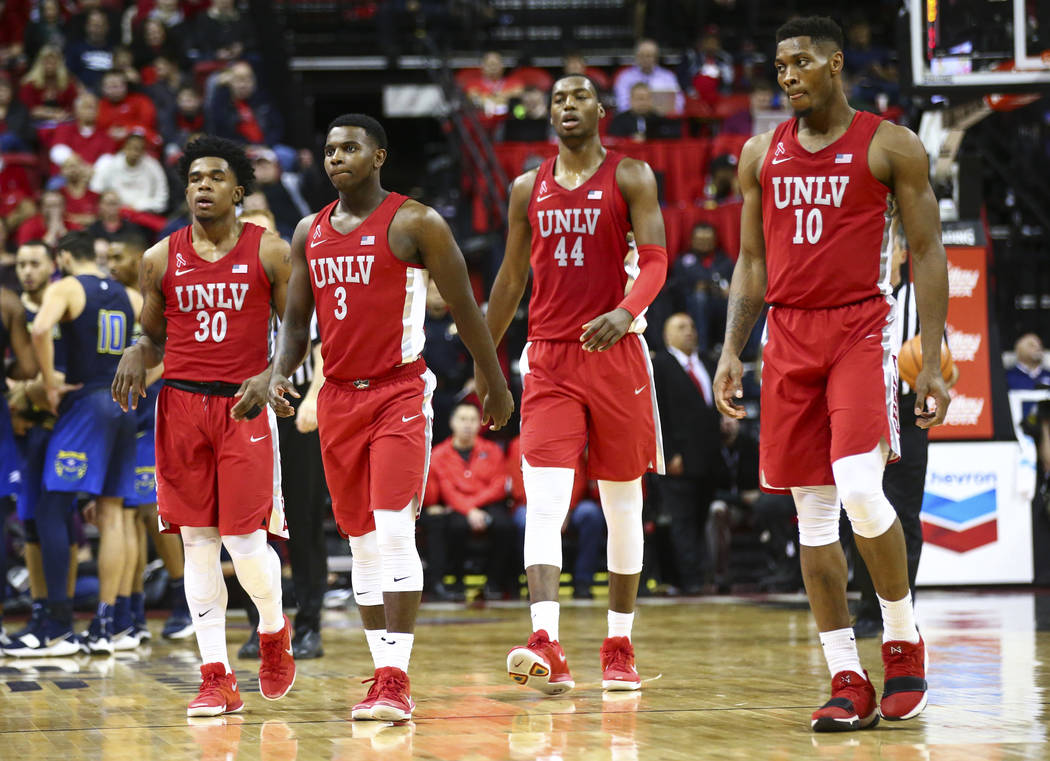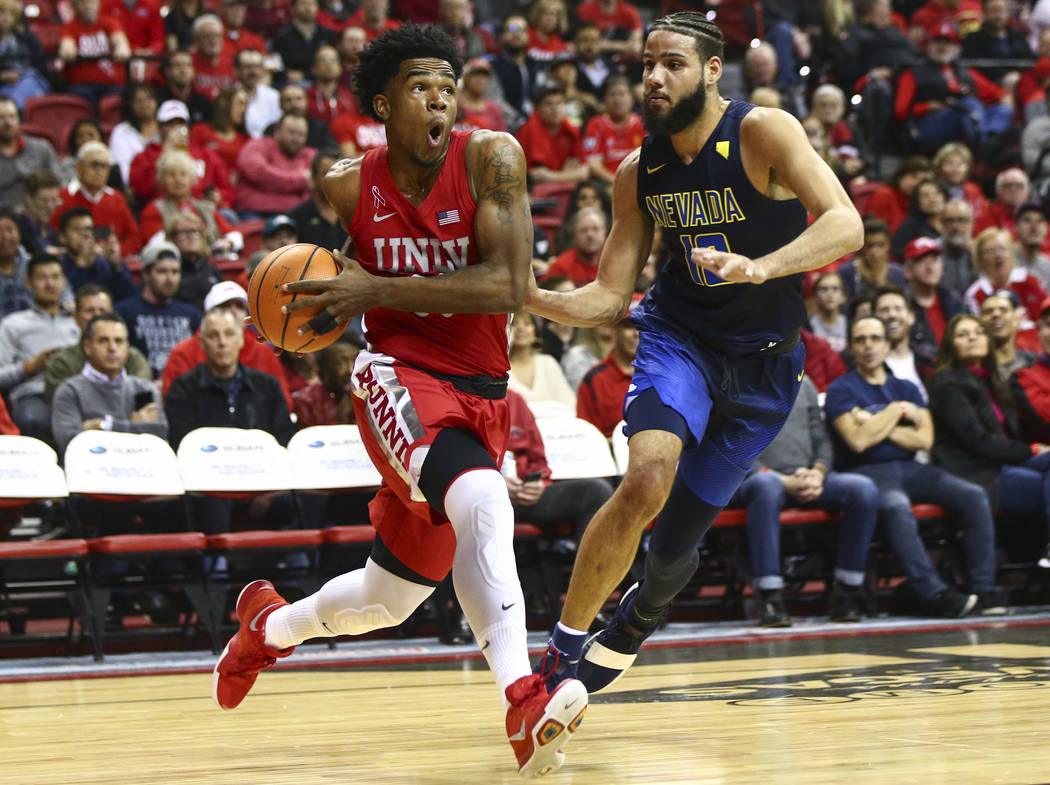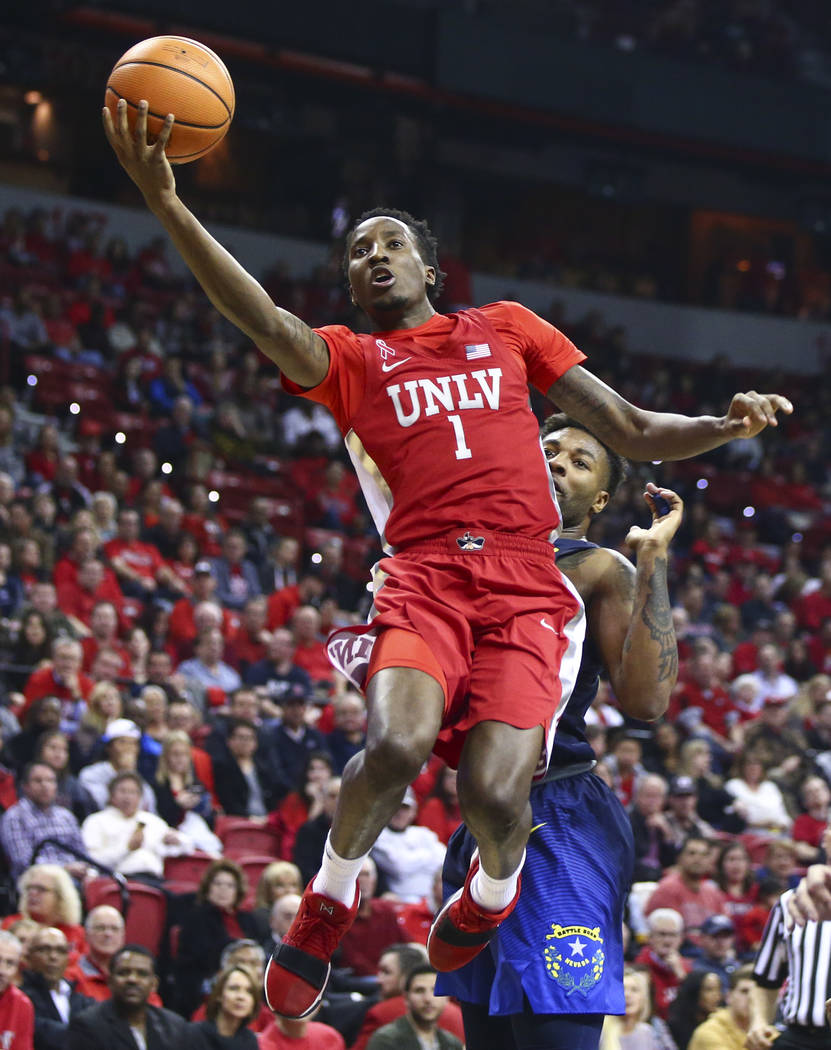 So maybe not having Caleb Martin made a little bit of a difference for UNR the first time the teams met.
Martin showed Wednesday why he is a strong candidate for Mountain West Player of the Year, but he was far from alone.
He and his No. 21 Wolf Pack teammates toyed with UNLV, completely embarrassing the Rebels 101-75 at the Thomas & Mack Center.
"I thought they came out angry and played like they lost the first time," Rebels coach Marvin Menzies said. "They were very aggressive offensively. They shot the you-know-what out of the ball."
This was the fourth consecutive loss for the Rebels (19-11, 8-9 MW), who close the regular season Saturday at Utah State (14-16, 7-10). The winner of that game gets the seventh seed at next week's Mountain West tournament at the T&M, and the loser will be the eighth seed. Either way, the Rebels will have to win four games in four days to capture the title.
Not that they looked like contenders on against UNR.
The Wolf Pack (26-5, 15-2), which have clinched the regular-season conference championship, avenged the 86-78 defeat to UNLV in Reno three weeks ago. UNR was without Martin in that game, who didn't play because of a foot injury.
Martin was hot from the start, making 5 of 6 3-pointers and scoring 17 points in the first half as UNR took a 54-28 halftime lead. He finished with 19 points, his production not needed as much in the second half.
UNR made 13 of 24 3-pointers and 50.7 percent of its shots overall, with Cody Martin leading the Wolf Pack with 26 points and Jordan Caroline scoring 22.
Brandon McCoy (19 points, 17 rebounds) and Shakur Juiston (14 and 14) each had double-doubles for UNLV, which made 40.5 percent of its shots and only 4 of 23 from 3-point range.
"No excuse for how we played," McCoy said. "I felt we were ready coming into the game."
The Wolf Pack took over early, going on a 13-point run as UNLV went 0-for-10 to take a 28-14 lead and blow open the game. UNR went ahead by as many as 30 points in the first half.
The only remaining drama was what would be the final margin and whether UNLV would continue its 3-point streak.
Amauri Hardy answered the latter when he made a 3 with 16:49 left in the game, bringing a cheer to the crowd as the streak grew to 1,036 games.
It was the rare highlight for the Rebels in a game in which the main question at halftime was whether this would catch last season's 36-point loss as UNLV's worst defeat in series history. That didn't happen, but the loss was bad enough for the Rebels.
And now UNLV is on a slide in which it has played poorly in three of the past four games just as most of its Mountain West rivals are gearing up for a big run next week.
It doesn't help that the Rebels will need to win four games in four days to take the conference tournament. They need to find something to get them going, and it better be soon.
What happened Wednesday was inexcusable.
"We still have another game Saturday," Juiston said. "So we have to take this one and get ready for another one Saturday."
Contact Mark Anderson at manderson@reviewjournal.com. Follow @markanderson65 on Twitter.