Rebels roll over New Mexico in Simon's debut, 86-74 — PHOTOS
January 13, 2016 - 12:34 am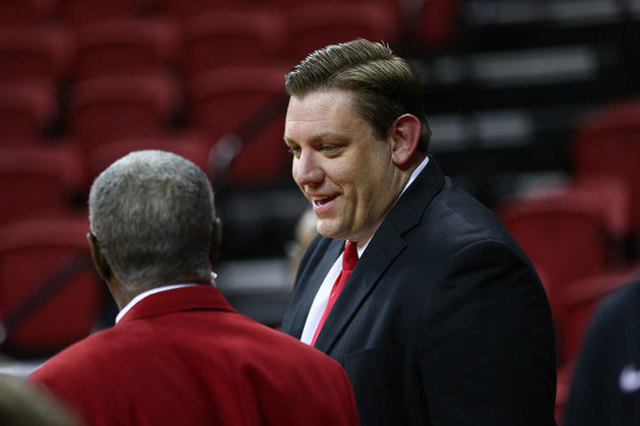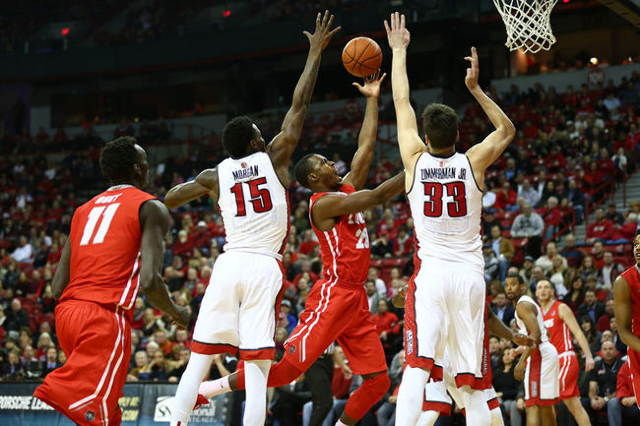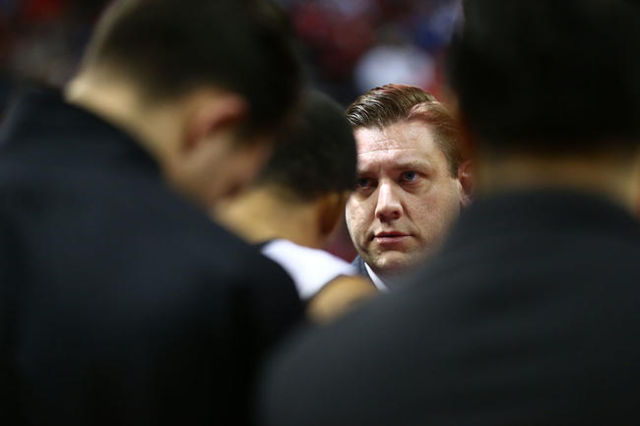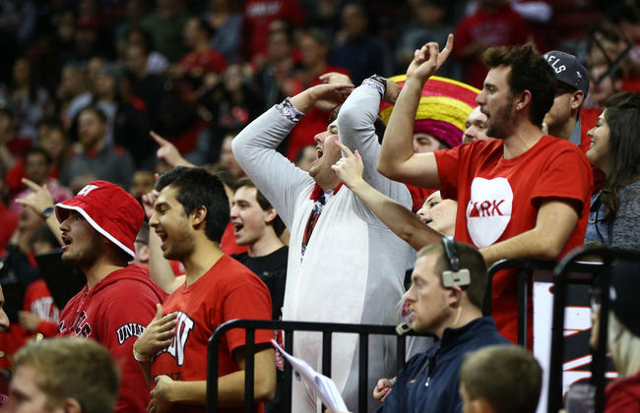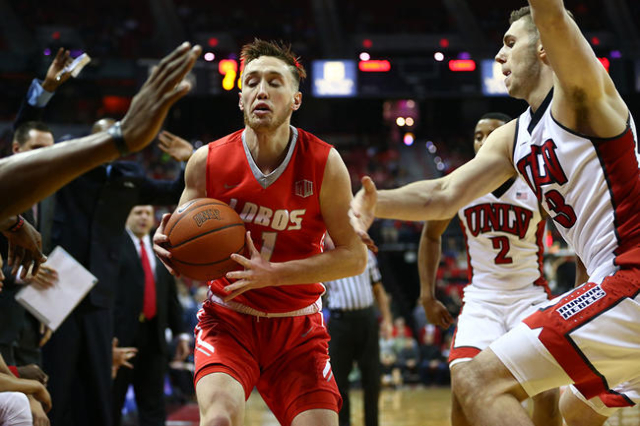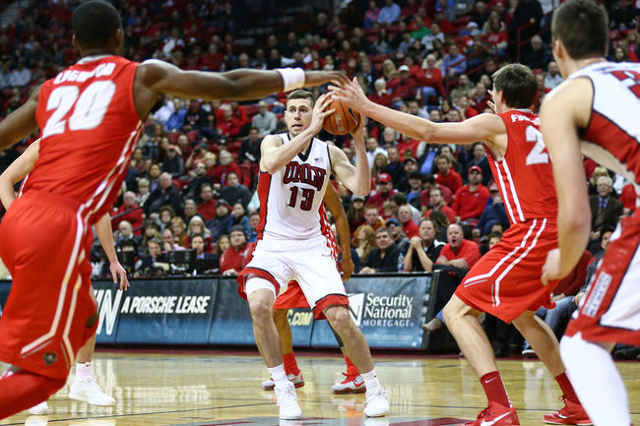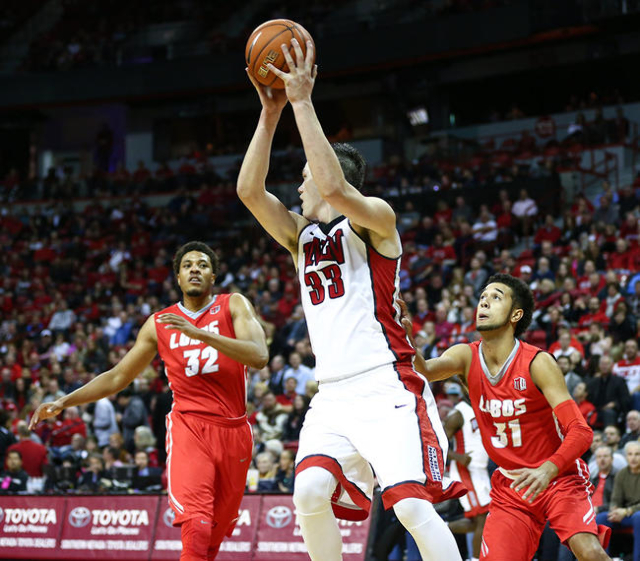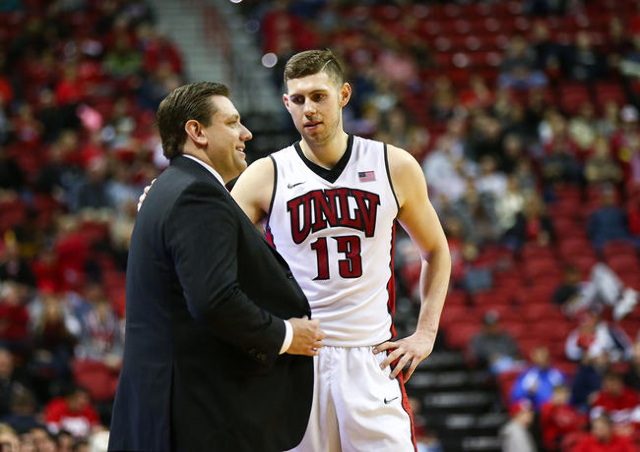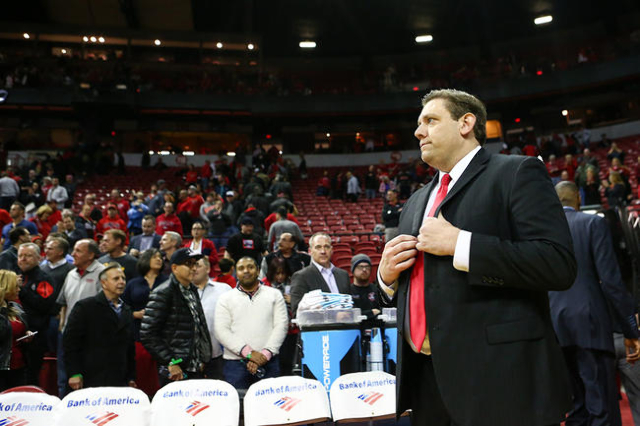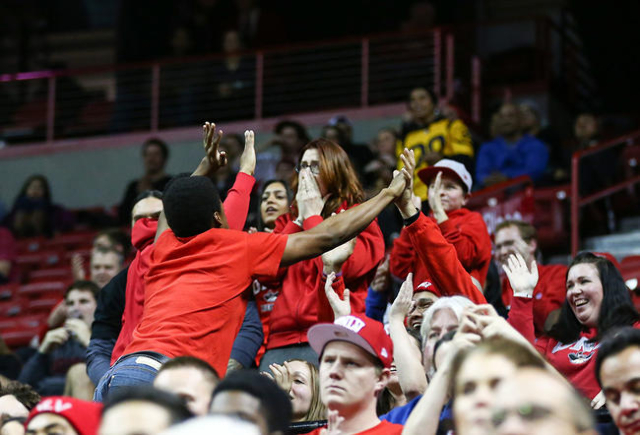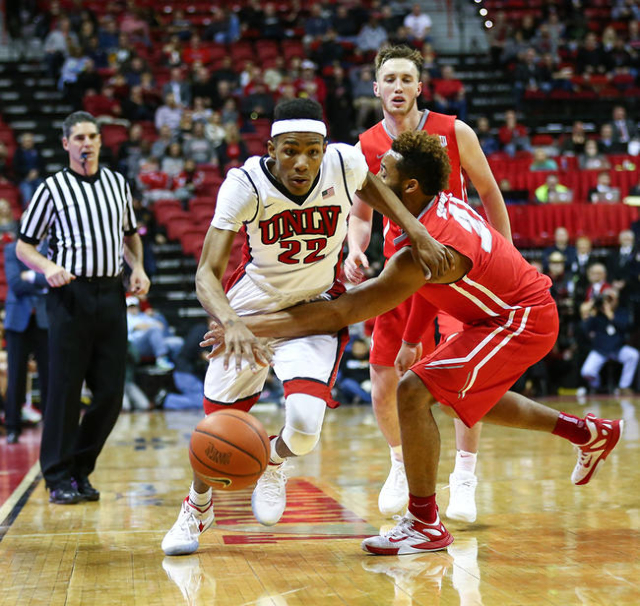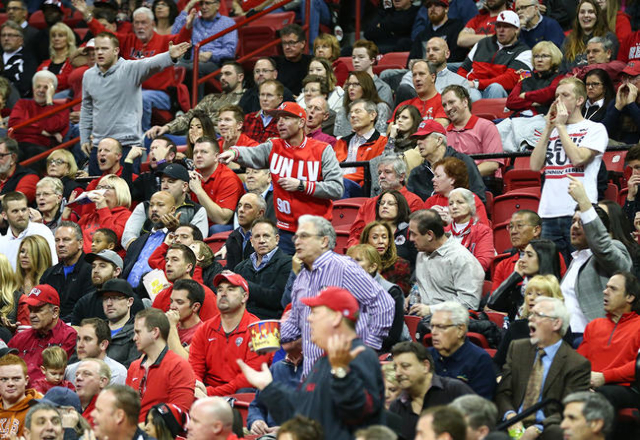 A coaching change led to an attitude adjustment for a new-look UNLV basketball team, and 7-foot freshman Stephen Zimmerman Jr. defined the difference by playing with more aggression than he had all season.
"Everybody has been preaching to me that I need to be more aggressive," Zimmerman said. "It's probably my best game. I was just trying to have fun. We've been using all the stuff going on as fuel."
A lot has gone on lately. Two days after Dave Rice was fired in the middle of his fifth season, the Rebels responded to a new voice as Todd Simon made a successful debut as interim coach.
Patrick McCaw scored 18 points in his top offensive performance since late November, and Zimmerman totaled 15 points and 15 rebounds as UNLV rolled to an 86-74 victory over New Mexico on Tuesday before an announced crowd of 11,377 at the Thomas & Mack Center.
The 35-year-old Simon, promoted from associate head coach, guided the Rebels (10-7, 1-3) to their first Mountain West win. It did not look like the same team that had lost five of its previous six games to spell the end of the Rice era.
"A few days ago, this was not even a blip on the radar in my mind," Simon said. "The game was calming. When it's something you dream of and love, it's fun."
Simon showed he's willing to roll the dice and take risks. The Rebels were more aggressive defensively, returning to full-court pressure and trapping. On the offensive end, the ball movement, passing and screening were much improved.
Zimmerman and McCaw were much better, too. Zimmerman shot 5 of 14 from the field, 5 of 7 on free throws and blocked four shots while not backing down from the Lobos' 7-1 center, Obij Aget, in the low post.
"He's so long, and he played pretty inspired tonight," New Mexico coach Craig Neal said of Zimmerman. "He causes problems in there."
Zimmerman pulled down 11 defensive rebounds, causing Simon to describe his play as "phenomenal."
"It is the best he's been all year, in my opinion," Simon said. "Those rebounds Stephen got were tough."
McCaw did his part from the perimeter by sinking two 3-pointers and scoring 16 of his 18 points in the second half. He also made 8 of 11 free throws.
"That's the Patrick we know and love," Simon said. "To his credit, he got a little more aggressive."
Senior guard Ike Nwamu finished with 15 points, junior forward Ben Carter added 10 points and seven rebounds and senior guard Jerome Seagears had 10 points as UNLV was fueled by several improved performances.
Elijah Brown totaled 24 points and 10 rebounds for the Lobos (10-7, 3-1). Brown is the son of former NBA coach Mike Brown, who is among the leading candidates for the Rebels' coaching vacancy. Brown did not attend the game.
"I was getting good looks and I was missing them, and it was leading to run outs and they were getting easy layups from that," said Brown, who shot 10 of 20 and made three 3s. "I'm not very happy with how I played."
UNLV made 27 of 33 free throws and committed only seven turnovers to overcome some 3-point shooting woes (7 of 30).
"I thought they came out loose and pretty aggressive and we got out of whack," Neal said. "They're good, no question. But I don't think our guys played up to our ability. I'm not going to get all bent out of shape about it. This is a tough place to play."
The Rebels led 34-28 at halftime. Zimmerman opened the second half with a drive down the lane and a strong dunk. McCaw scored eight straight points for UNLV to increase its advantage to 46-34.
Jordan Cornish's 3-pointer put the Rebels ahead 64-43 with 9:37 remaining. The Rebels missed their first 10 3-point attempts before Cornish finally connected with 5:21 to go in the first half.
"We were focused on the way we wanted to play. We wanted to attack," Simon said. "We want to be an attacking, in-your-face and smack-you-in-the-mouth team. The guys were playing with great pace. The ball wasn't sticky."
Simon's points of emphasis were cutting down on turnovers — UNLV committed 57 in its first three conference games — and hitting a higher percentage of free throws. He also urged his players to force tempo in the first 10 seconds of the shot clock and make plays in transition. The results were undeniable.
"I feel like we probably would have played the same way if (Rice) was coaching," Nwamu said. "We have a really talented team. We were excited to kind of have the reins taken off to make plays."
It's only one game, but Simon unveiled a more entertaining and effective style of play.
"We've got a lot of season ahead of us," Simon said. "We feel like we can be an elite defensive team, and we feel like we can push tempo. There is tremendous character in this group, and they really want to win for each other."
Contact reporter Matt Youmans at myoumans@reviewjournal.com or 702-387-2907. Follow him on Twitter: @mattyoumans247
Check our GameDay page for full coverage of the UNLV-New Mexico game.