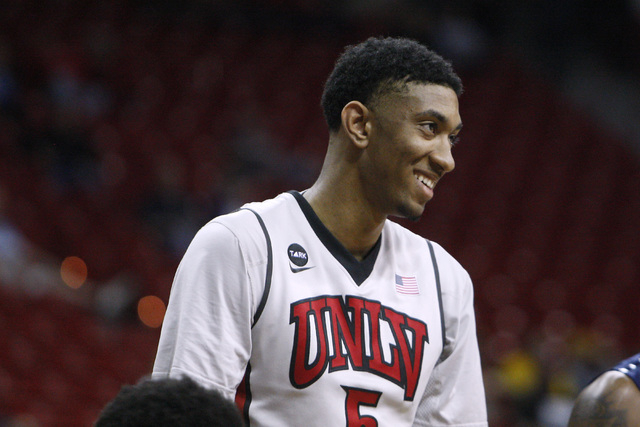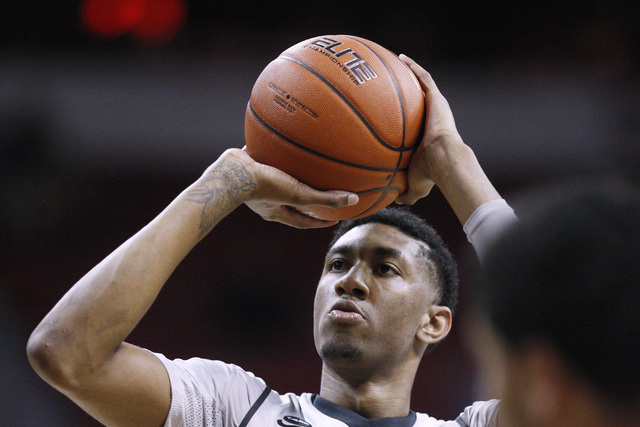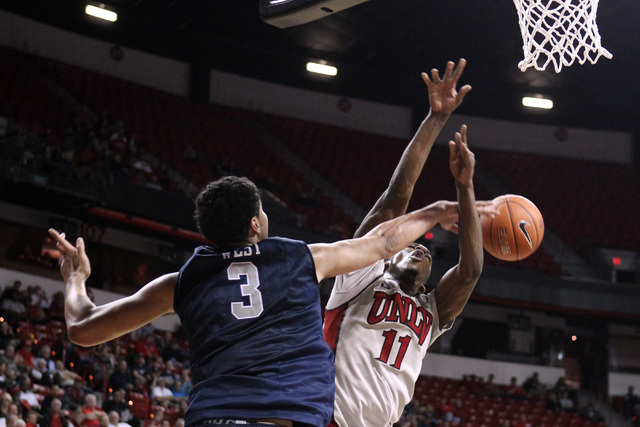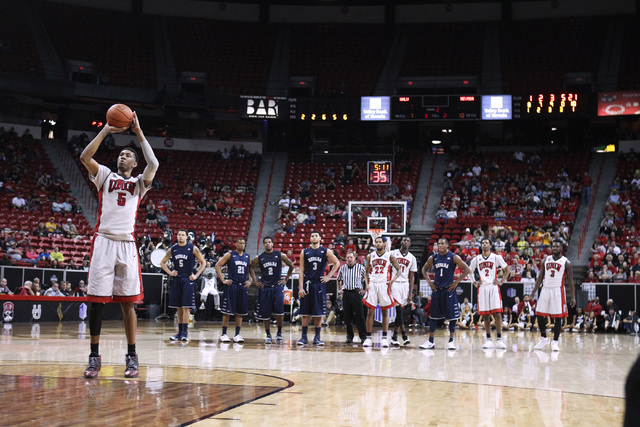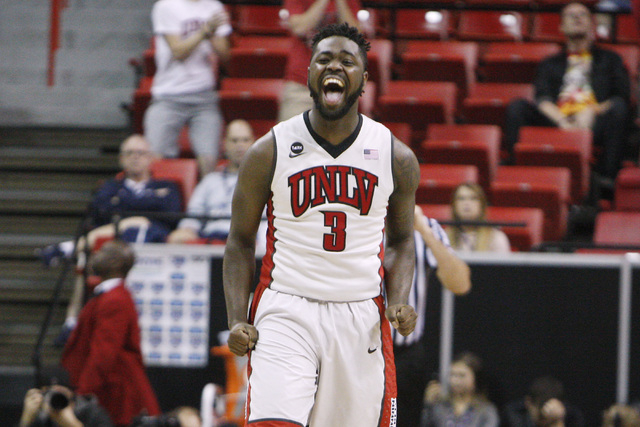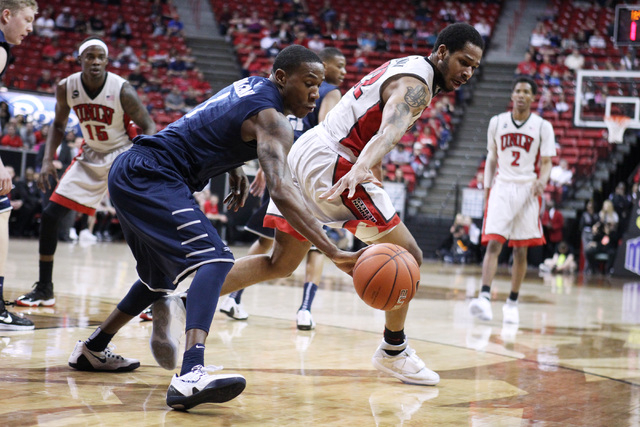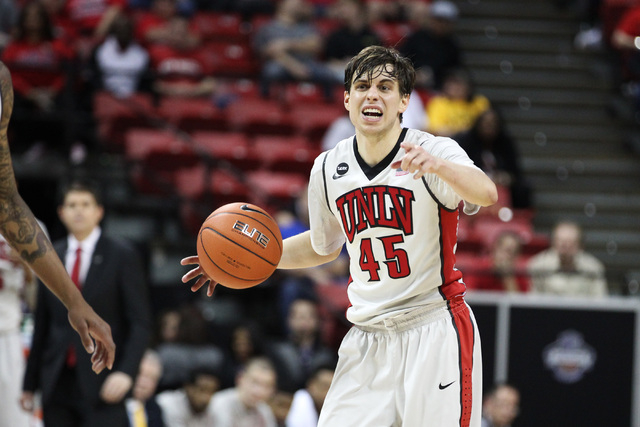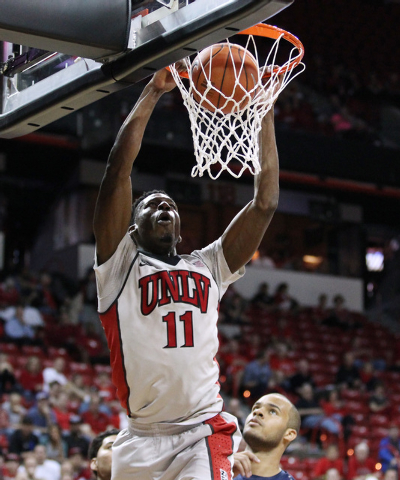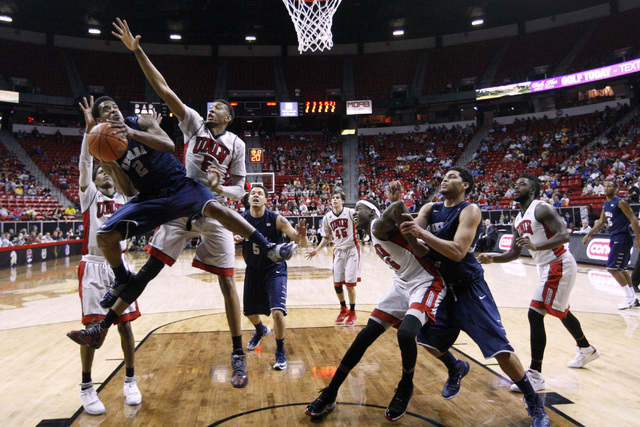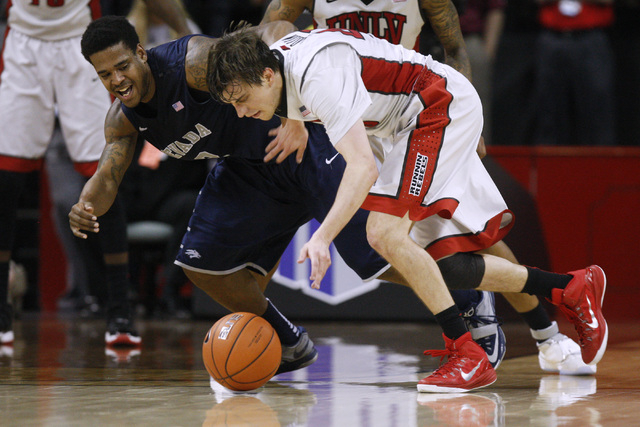 At times this season, Chris Wood's effort has been questioned. He can appear lackadaisical and uninterested. But he vowed that's not going to be an issue this week.
It's March, and UNLV's 6-foot-11-inch sophomore forward is rising to the occasion.
"I'm going to have to show up every game," Wood said. "Every game matters, every game counts. I'm going to have to come out and bring 100 percent."
Wood tends to play his best on a big stage, and he did again Wednesday afternoon by totaling 28 points and seven rebounds to lift the seventh-seeded Rebels to a 67-46 victory over 10th-seeded UNR in a Mountain West tournament first-round game at the Thomas & Mack Center.
The arena was less than half full, with the announced attendance of 7,458 seemingly inflated, but a tournament game qualifies as a big stage.
It gets bigger Thursdaytoday. UNLV (18-14) faces No. 2 seed San Diego State (24-7) at 6 p.m. in the quarterfinals. The Aztecs won the season's first two meetings by margins of two and six points.
"It's going to be a dogfight, just like every game is," Wood said. "San Diego State should be very worried."
After the Wolf Pack's loss, coach David Carter had to be worried about his job security at the finish of a 9-22 season. About an hour after the game, Carter was fired, ending his six-year run with a 98-97 record.
"The season wasn't what anyone really expected," Carter said.
In his final game, UNR put on a mostly clumsy display by shooting 28.8 percent (15 of 52) from the field, committing 20 turnovers and missing several layups.
Junior forward AJ West had nine points and 18 rebounds, including 12 on the offensive end, but he shot 3-for-11 and was not the major force the Wolf Pack needed.
"Personally, I didn't do the best job at finishing. It rubbed off onto my teammates," West said. "We just couldn't get it done."
Freshman guard Jordan Cornish scored 13 points, hitting half of the Rebels' six 3-pointers.
"Whenever I have an open shot, have a good look, I just let it go," Cornish said. "No conscience, just let it go."
Up 27-17 at halftime, UNLV extended its lead to 33-19 with 16:05 remaining when Wood dropped in a short jumper over West.
But UNR finally rallied. Marqueze Coleman made a 3-pointer and two free throws to close the gap to 36-32. A 3 by Eric Cooper Jr. pulled the Wolf Pack within 40-37 with 10:22 to go.
Wood, who scored 21 points in the second half, hit a jumper to help the Rebels retaliate with a 16-5 run over the next five minutes. Jelan Kendrick and Cornish hit back-to-back 3-pointers as UNLV blew open a tight game and took command with a 56-42 lead.
The Rebels' game plan was to go inside to Wood early and often, and he cashed in by shooting 9-for-13 from the field and 10-for-13 on free throws.
"Chris keeps getting better. His low-post play in the second half key," UNLV coach Dave Rice said. "That's always a key for us. That's been one of the things all season is trying to go to Chris, trying to get the ball inside when we have a couple of flat possessions.
"I just think Chris continues to make progress. When he's engaged like he was today, we're a good basketball team."
Most of the Rebels' perimeter shooters were not particularly hot, and freshman guard Patrick McCaw was 2-for-8 in his first game back from a concussion, but Wood found space to operate near the basket and picked up the slack.
"We have unselfish guys on the team," Wood said. "Coach kept calling the play for me, and I just kept executing it. We just got things going. When we play together, it's hard to beat us."
UNLV took two of three games against UNR this season, with the first two going to the wire. After his final meeting with Carter turned lopsided, Rice complimented his rival, soon to be a former rival.
"David Carter is a fantastic coach. He's a better person," Rice said. "He's one of the best guys in our business."
Contact reporter Matt Youmans at myoumans@reviewjournal.com or 702-387-2907. Follow him on Twitter: @mattyoumans247.