Rebels run out of steam, fall to Boise State, 81-69 — PHOTOS
February 24, 2016 - 12:00 am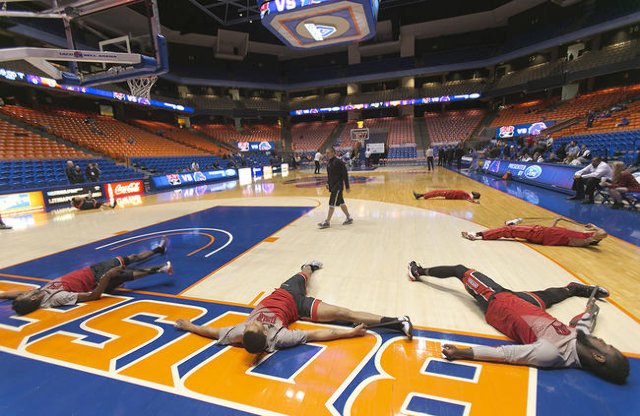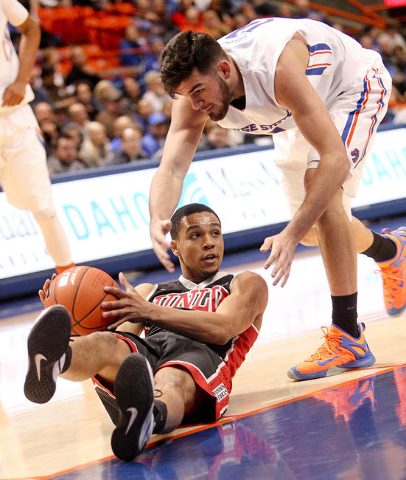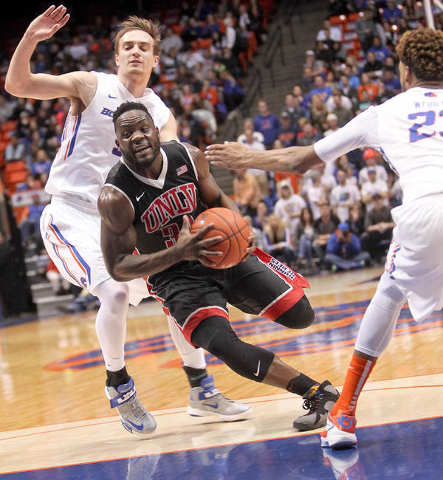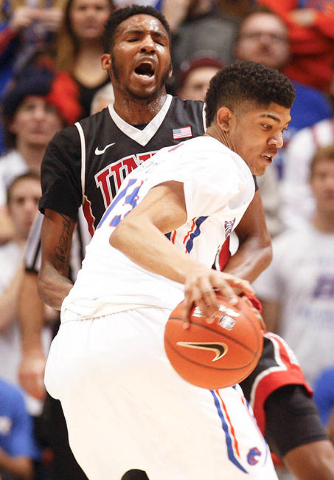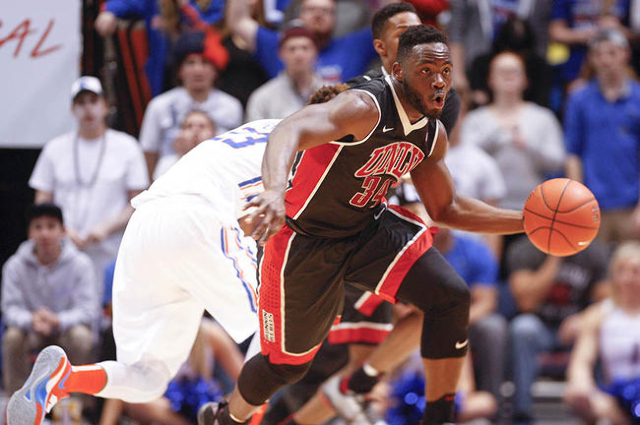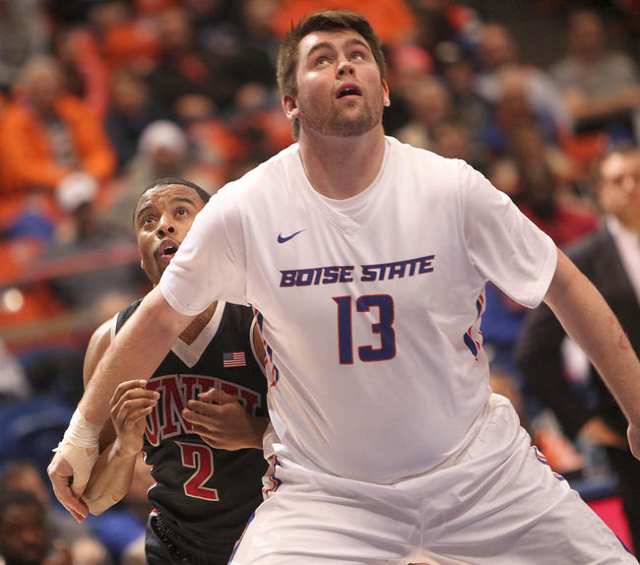 BOISE, Idaho — The Mountain West created the situation in which the three game officials were a big part of the story no matter what happened Tuesday night.
UNLV, of course, wanted to create its own narrative, and with six healthy scholarship players, the Rebels have had quite a story to tell.
But on some nights, the other team has an even better story, and on this one that team was Boise State.
It was a story of rebounding domination and hotter shooting and a second-half run to end any suspense, with the Broncos pulling away to beat a tired UNLV 81-69 at Taco Bell Arena.
"At times, we were a step slow," UNLV interim coach Todd Simon said. "We tried to cut this game into four-minute segments and power through that four-minute deal until you get another rest. But we didn't have that same explosion we had. We weren't quite getting around guys. I thought they competed to the end, which I was proud of."
The loss is a serious blow to UNLV's hopes of advancing into the top five of the conference standings and avoiding the first day of play in the Mountain West tournament. UNLV's chances were slim anyway, and now the Rebels (16-13, 7-9 MW) have dropped a spot to seventh in the standings.
They have two games left in the regular season, including Saturday's home finale against Wyoming at the Thomas & Mack Center.
Boise State (18-10, 9-6) moved into fourth place in the conference, but of more immediate concern to the Broncos was the status of Mountain West Player of the Year candidate James Webb III. He went down hard late in the game and grabbed his right knee.
Webb had 17 points and 12 rebounds against the Rebels, one of three Broncos in double figures. Anthony Drmic had 21 points for Boise State, and Mikey Thompson scored 20.
Boise State also dominated the boards, outrebounding UNLV 19-9 in the second half and 41-29 for the game.
"Our No. 1 concern as we go through this thing is obviously rebounding," Simon said. "We have five guards out there. We tried to maintain a gang rebounding mentality and they were able to get hands on balls and tip them back. Their length got over our (lack of size) to a degree."
UNLV allowed Boise State to collect 20 offensive rebounds.
"We've just got to box out," said Rebels forward Derrick Jones Jr., who scored 25 points on 7-of-8 shooting. "We've could've done better today. We've got to pay attention to detail."
The Broncos turned around the game with a 32-10 run to take command, 71-53, with about eight minutes left.
Boise State fans spent about as much time booing the officials as they did cheering their own team. They were unhappy with two of the refs — Dave Hall and Verne Harris — before the game even began. Both were involved in the clock fiasco Feb. 10 at Colorado State that handed what should have been a Broncos victory to the Rams.
The conference later acknowledged Boise State should have been the rightful victor, but the Mountain West also assigned Hall and Harris to this game knowing the feelings about them in Boise. It put the entire officiating crew in a no-win situation.
The hostility was evident throughout. Two fans brought signs with pictures of the two officials with Colorado State jerseys superimposed, calling them the Rams' "Co-MVP." Security later removed the signs.
UNLV was the innocent party in all this, the Rebels simply wanting to win and threaten to move up the standings.
The Rebels did a good job blocking out the noise, but they've grown accustomed to dealing with distractions, losing a player seemingly every other day.
There was some concern that point guard Jerome Seagears would be available after he aggravated a right heel injury Saturday against UNR. He didn't participate in Tuesday's shootaround, but Seagears started and played. He reinjured his heel in the second half but didn't stay out long.
Forward Stephen Zimmerman Jr. remained in street clothes after being cleared to return to practice. He sprained his left knee Feb. 6 at Fresno State, and there is hope he will return to action against Wyoming.
"We're certainly optimistic," Simon said. "We'll see how the contact and stuff goes in practice. He's just been cleared for noncontact and getting his legs back under him. Hopefully, he'll get back out there on Thursday. We'll test him and see where he's at.
"He's dying to get out there. He's dying to play. In games like this, obviously, he would be a significant difference-maker. He's one of the best defensive rebounders in the country."
UNLV came out strong against the Broncos, taking a 34-26 lead with 3:49 left in the first half. But the Rebels didn't score the remainder of the first half, and Boise State took a 35-34 halftime lead.
— Contact Mark Anderson at manderson@reviewjournal.com or 702-387-2914. Follow him on Twitter: @markanderson65
Check our GameDay page for full coverage of the UNLV-Boise State game.
–Box score