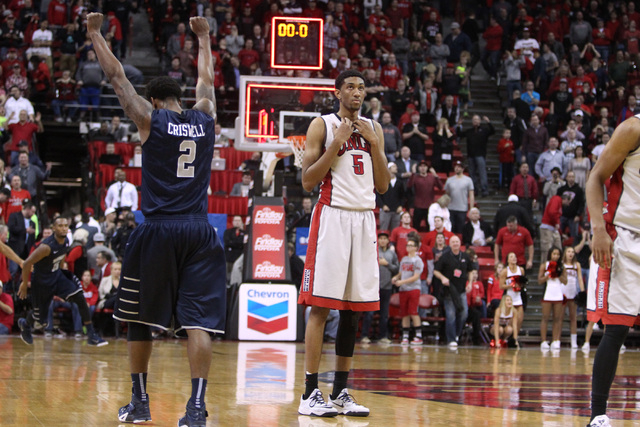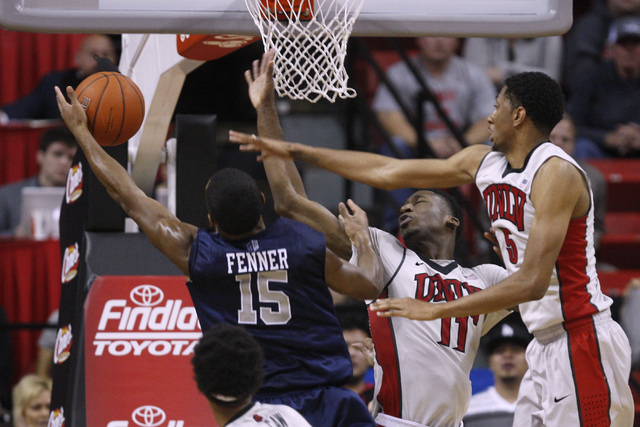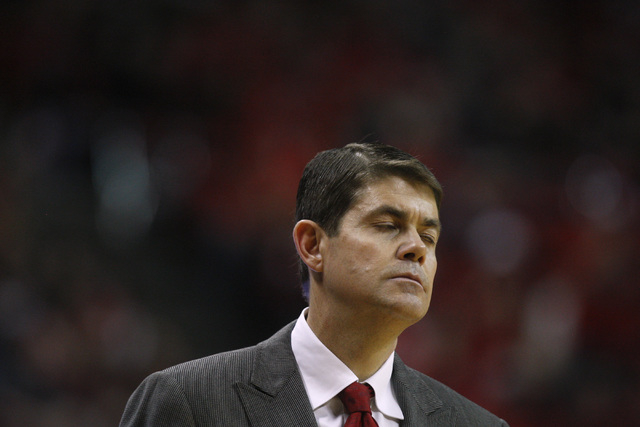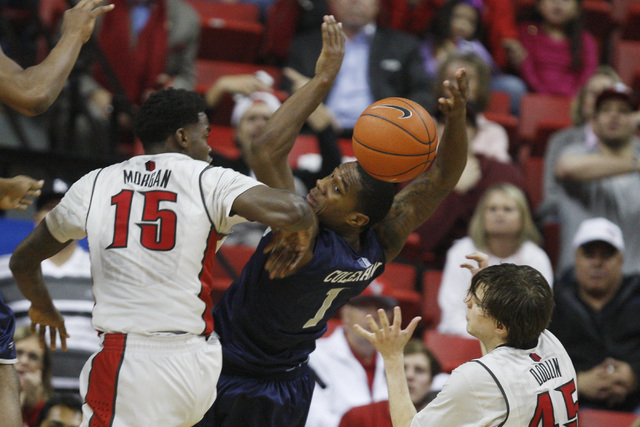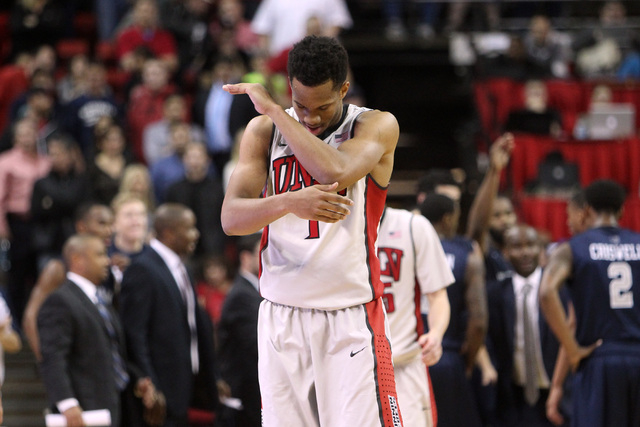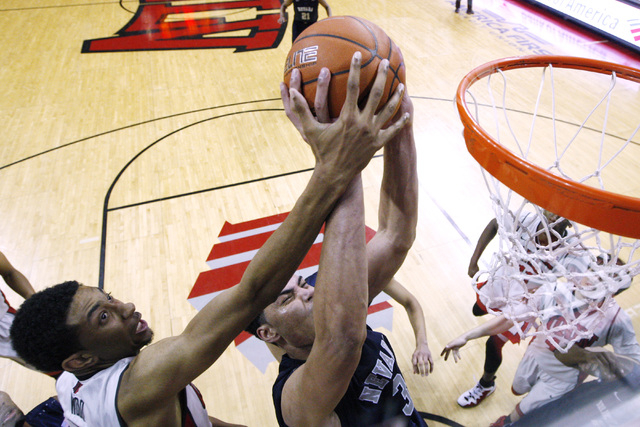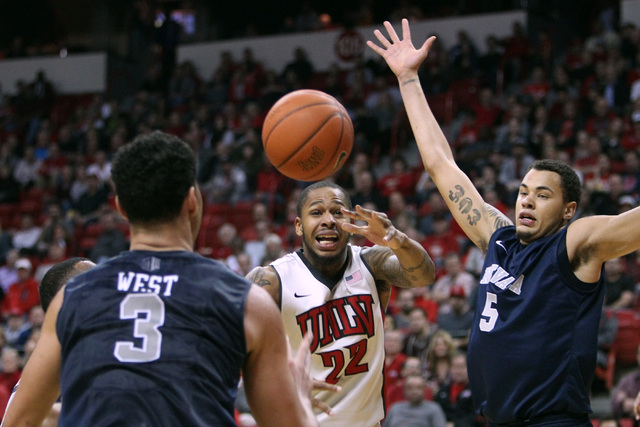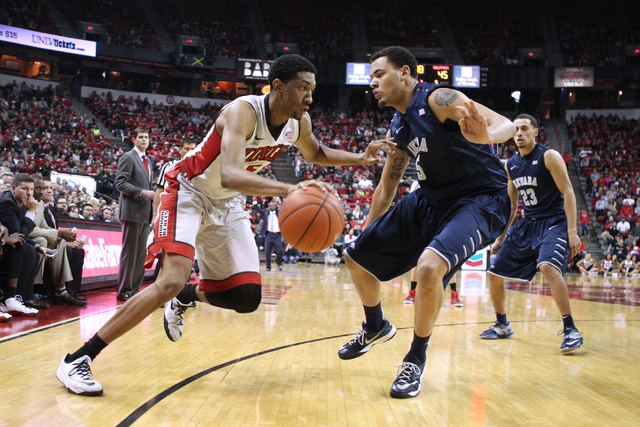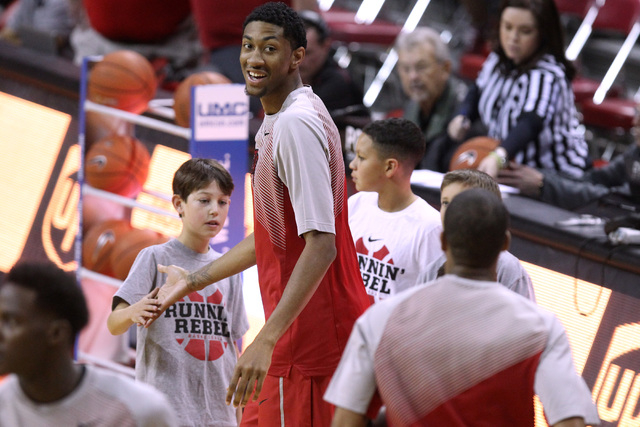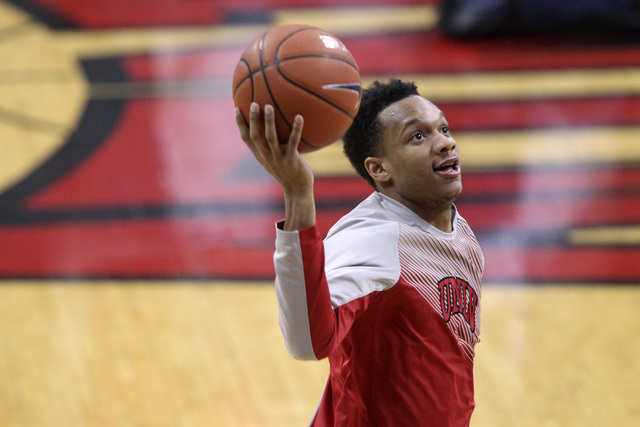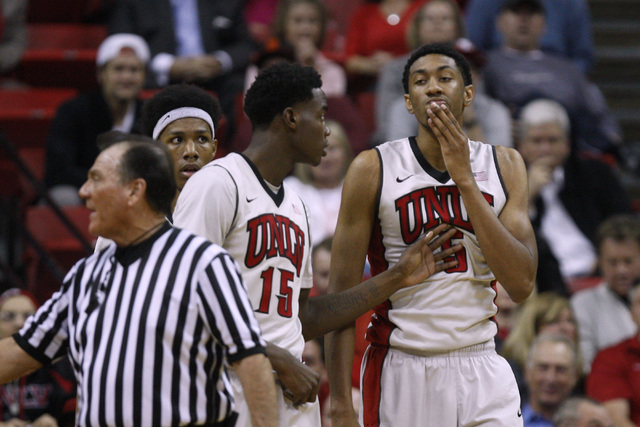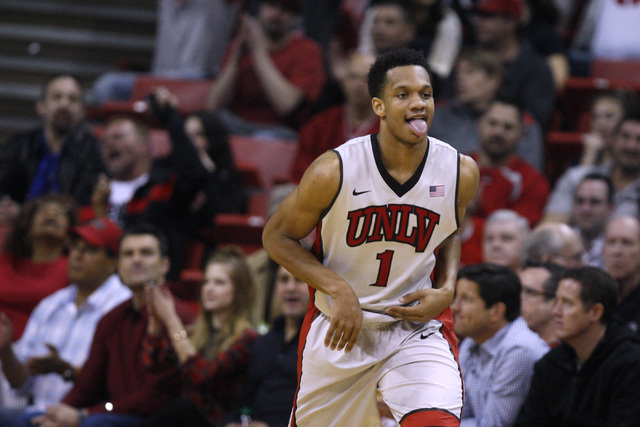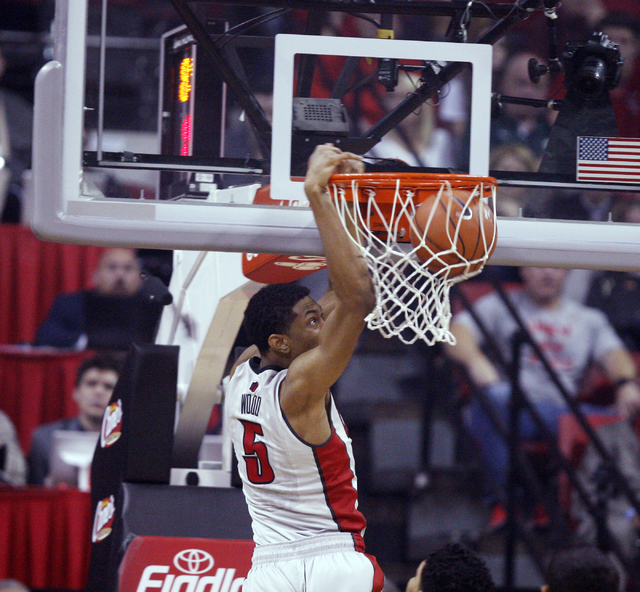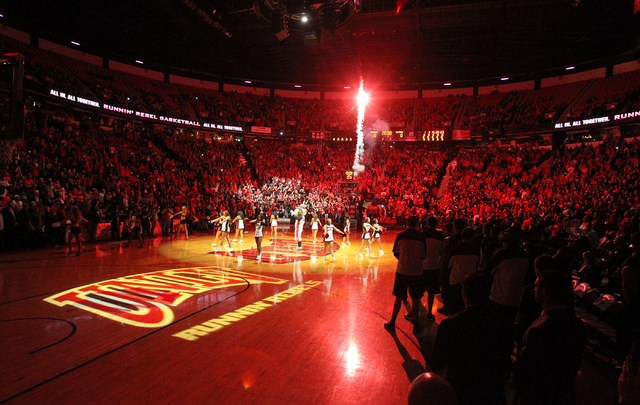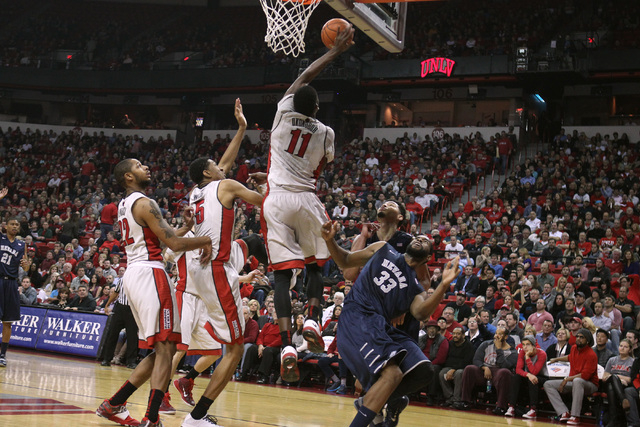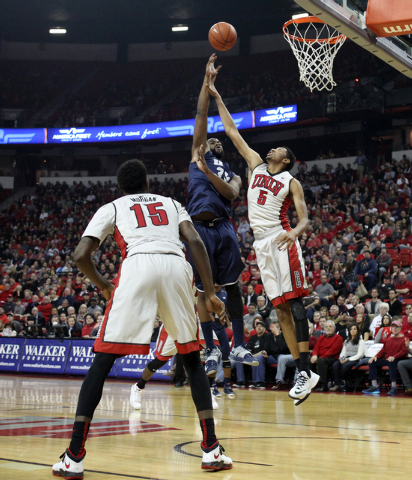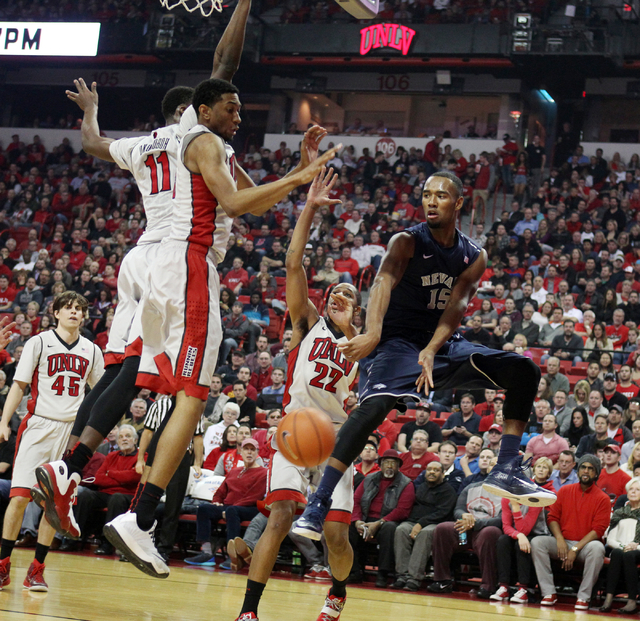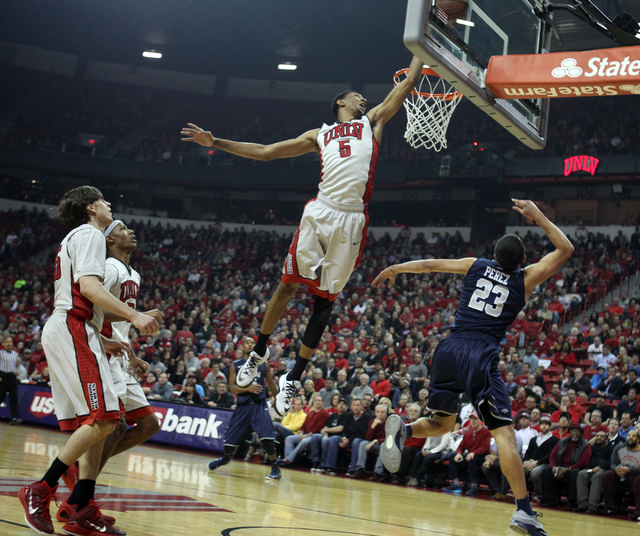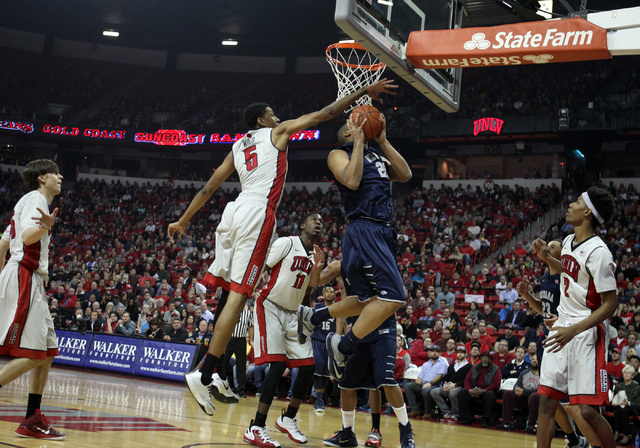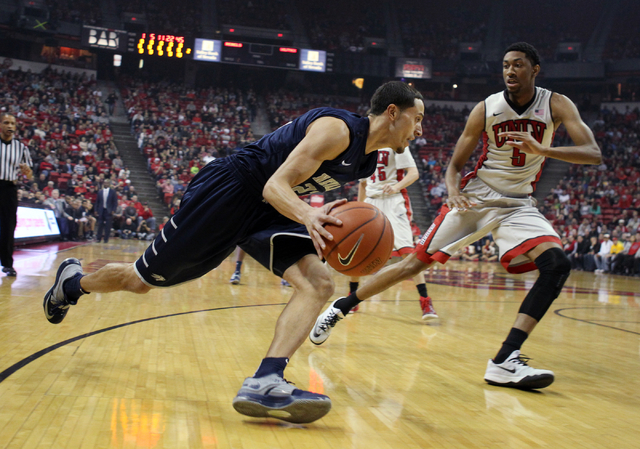 With time ticking away, UNR guard Marqueze Coleman eyed the rim and could see his shot to become an unlikely hero.
He was off most of the night, misfiring on all but one of his first eight shots. But his final shot of the night was right on target, hitting the bottom of the net and dropping UNLV to rock bottom.
Coleman's 18-foot jumper with 4.8 seconds remaining lifted the Wolf Pack to a 64-62 upset of the Rebels on Wednesday at the Thomas & Mack Center.
UNLV got off the last shot, but Rashad Vaughn's off-balance 25-footer at the buzzer missed.
UNR, a 10-point underdog, won for the third time in a row in the rivalry, stunning the crowd of 13,530.
The Rebels (9-6, 0-2 Mountain West) watched their losing streak stretch to three games, after setbacks at Wyoming on New Year's Eve and at Kansas on Sunday.
"Obviously, that's a very disappointing loss for us," coach Dave Rice said. "We lost that game because we weren't tough enough."
AJ West, the toughest player on the floor, totaled 15 points, 15 rebounds and six blocked shots for the Wolf Pack (6-8, 2-0). West grabbed 10 offensive rebounds. Eric Cooper added 12 points on four 3-pointers.
Chris Wood had 17 points, 13 rebounds and four blocks for the Rebels.
Vaughn, who finished with 20 points, was fouled on a drive with 13.6 seconds to go and calmly sank both free throws to tie the score at 62.
Coleman, who finished with six points, dribbled off a screen near the top of the key and got a clean look at the rim before drilling the winning jumper.
The teams traded big shots down the stretch, and for a moment it appeared Vaughn would play the hero role.
West fought for two offensive rebounds and scored inside to put UNR up 56-55 with 3:02 left. Vaughn was fouled on a drive and hit two free throws as UNLV regained the lead, 57-56, with 1:57 to go.
Tyron Criswell's two free throws with 1:38 left sent the Wolf Pack back in front before the Rebels seized a 60-58 lead and the momentum on Vaughn's 3-pointer with 1:24 to go.
But Cooper countered with a clutch 3 with 1:04 left.
After Vaughn missed a baseline jumper, Coleman hit his first free throw with 30 seconds to play, putting UNR ahead 62-60. A lane violation by West on the second free throw returned possession to UNLV and set up Vaughn's tying free throws.
"It was one of the toughest losses I've had as a player," said senior point guard Cody Doolin, who had seven points and eight rebounds for the Rebels. "They just came in here and played harder than us.
"We've just got to bounce back."
Cooper hit three 3-pointers to trigger the Wolf Pack to a 35-30 halftime lead.
UNR had control of the tempo and a seven-point lead early in the second half. The pace was fast for a majority of the first 20 minutes, but Wolf Pack coach David Carter went to a 1-3-1 zone, and the Rebels' half-court offensive execution was erratic.
Patrick McCaw soared down the lane for a dunk, and Wood's layup put UNLV on top 42-41 with 13 minutes remaining.
Doolin and Wood made back-to-back 3s as the Rebels shot over the zone and surged ahead 48-45 with 9:06 to go.
After West countered with a three-point play, Vaughn connected on a 3 from the top. On UNLV's next possession, Vaughn was fouled on a 3-point attempt from the corner, and he made the three free throws to give the Rebels a 54-48 edge with 7:48 remaining.
A putback by West and a 3-pointer by Criswell trimmed UNR's deficit to 55-54 with four minutes to go.
Wood had 10 points and six rebounds in the first 20 minutes for UNLV, which shot 30.6 percent (11-for-36) from the field, including 1-for-6 from 3-point range.
The Rebels' shooting improved in the second half, and they finished 15-for-16 at the free-throw line, but they lost the toughness battle inside and were outrebounded 47-39.
UNLV's next game, a home date with San Jose State on Saturday, is its softest spot on the conference schedule.
"I'm still very optimistic," Rice said. "But there has to be a sense of urgency."
Contact reporter Matt Youmans at myoumans@reviewjournal.com or 702-387-2907. Follow him on Twitter: @mattyoumans247.