Rebels' sturdy recruiting class had Morgan as its foundation
October 31, 2014 - 10:25 pm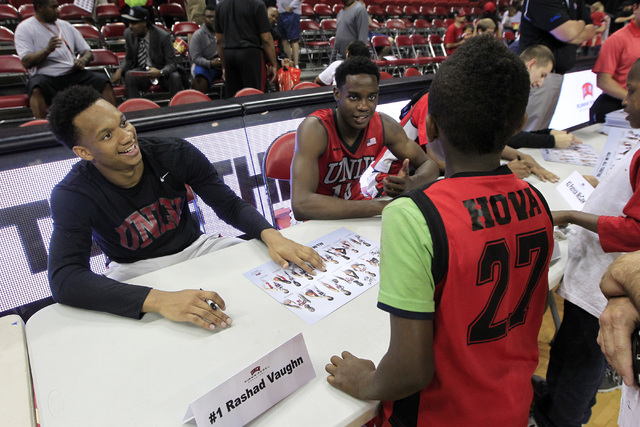 A long time before all of the pieces fell into place, Dwayne Morgan chose to be the first one.
"We've got a good group of freshmen coming in," he said, "and we can do some big things this year."
UNLV's recruiting class, ranked among the nation's top five in college basketball, started with Morgan. The 6-foot-8-inch forward from Baltimore committed in March 2013, when he had no idea who would follow.
But Morgan was determined to make sure he attracted some talented followers, so he pitched the program and essentially helped the Rebels' coaches recruit Goodluck Okonoboh and Rashad Vaughn.
Eventually, Jordan Cornish and Patrick McCaw also followed to form a five-man freshman class that will play a major role in UNLV's immediate future.
"It's hard to get the first one," coach Dave Rice said. "Dwayne was a big factor. He knew Goodluck and Rashad. He was a bit of a Pied Piper in terms of making inroads in national recruiting."
Rice will put his team on the Thomas &Mack Center floor for a scrimmage, which is open to the public, at 11 a.m. today.
Morgan, a star at St. Frances Academy, was ranked as the No. 15 player in the 2014 class by Rivals.com. Instead of staying close to home, he picked the Rebels over Georgetown and Maryland.
He was influenced by UNLV junior guard Daquan Cook, who also played at St. Frances Academy, and former Rebels forward Roscoe Smith, another Baltimore product.
"They told me it was family oriented, and I came on my visit and I saw the same things," Morgan said. "I was looking for a home away from home, and that's what we have here."
The 6-10 Okonoboh, from Boston, was the second player to commit to UNLV last fall, and Vaughn, a 6-6 shooting guard and a McDonald's All-American from Findlay Prep, followed in February. Cornish and McCaw, a pair of 6-6 guards, filled out the class over the summer.
Vaughn and Morgan formed a friendship at a summer camp in 2013, when Morgan was looking for a challenge.
"Before the game, I kept hearing, 'Dwayne Morgan is going to try to come at you hard.' I didn't know who he was at first," Vaughn said. "As soon as I stepped on the court, Dwayne said, 'I got him, I got Rashad.' After the game, I met his mom, and we started building a relationship from there."
Morgan eventually got Vaughn to seriously consider helping him lead the Rebels.
"I said, 'Rashad, I want you to come to school with me at UNLV,' and he looked into it," Morgan said. "And we're here now."
Morgan can shoot from the wing, but he will be counted on for front-line production at 3 (small forward) and 4 (power forward) spots as a defender, rebounder and driving scorer. When double-digit rebounders Khem Birch and Smith left after their junior seasons to take a shot at the NBA, the Rebels were left with a lack of experience and muscle in the middle.
Rice plans to utilize Morgan, Okonoboh and 6-11 sophomore Chris Wood in the low post.
"We've got big shoes to fill in terms of the two guys we lost," Rice said. "There's no doubt one of the things Dwayne needs to bring for us is rebounding, and he's a terrific rebounder.
"We need his energy and we need his effort on the boards. He's a major factor in terms of attacking the offensive boards. I think he'll play a little bit more inside for us. We need Dwayne attacking the basket."
Morgan is always "attacking," as Rice puts it, while continuing to adapt and develop on the offensive end.
"At first when I met him, Dwayne was just a motor guy," Vaughn said. "He still has that motor, but he's got a jump shot now."
Morgan has fluid athletic bloodlines, too. His mom played basketball at Clemson, and his dad was an offensive lineman in the Canadian Football League and with Atlanta and Washington in the NFL.
"I have a versatile skill set," Morgan said. "That's how I would describe myself, as a do-it-all type of player. My main role is to bring energy on the defensive end, and I feel my energy will get me over a lot of obstacles this year.
"We do have a lot of big games, and we do expect to win. We're competitive players. We're here to win games."
Contact reporter Matt Youmans at myoumans@reviewjournal.com or 702-387-2907. Follow him on Twitter: @mattyoumans247.