Rebels take down No. 13 Indiana, 72-69 — PHOTOS
November 25, 2015 - 11:34 pm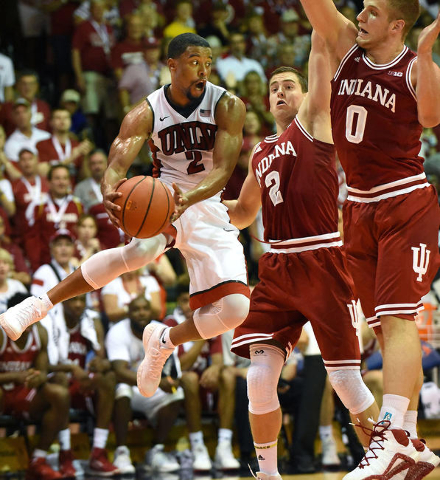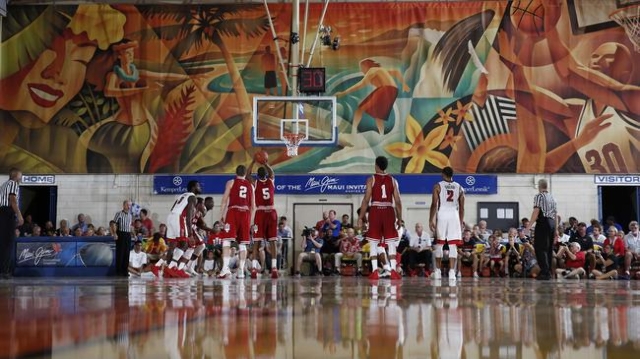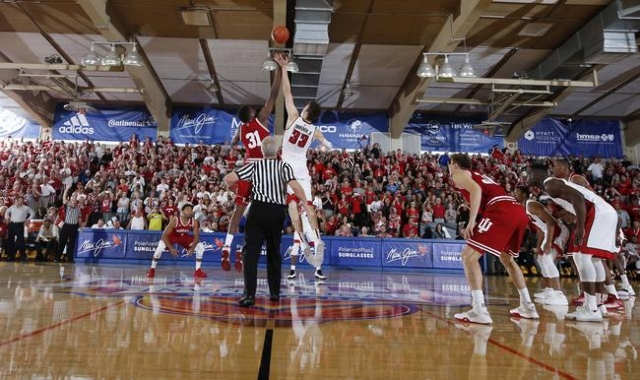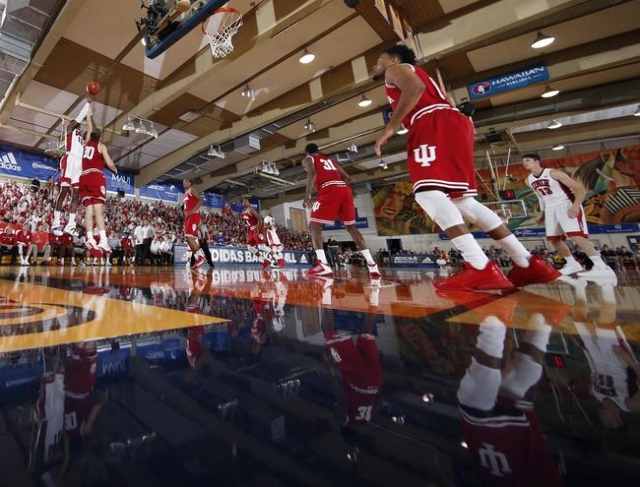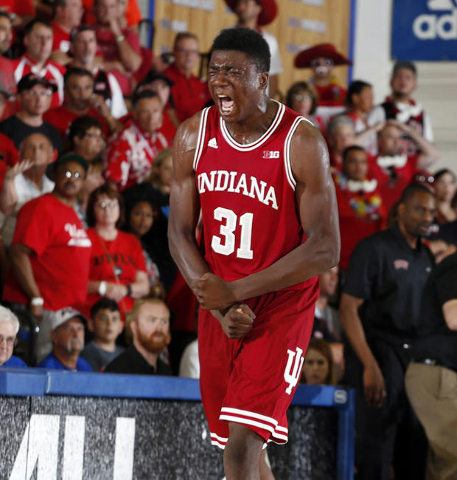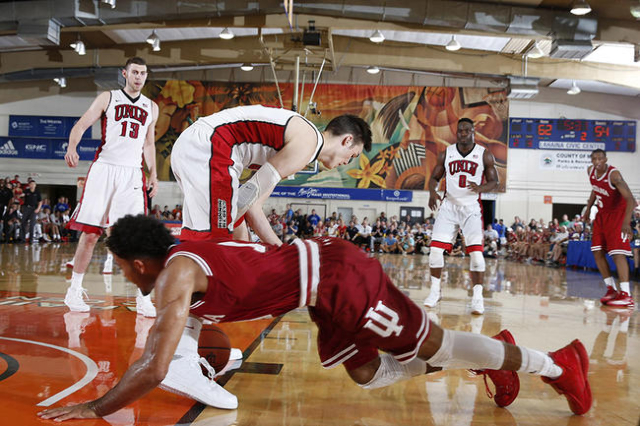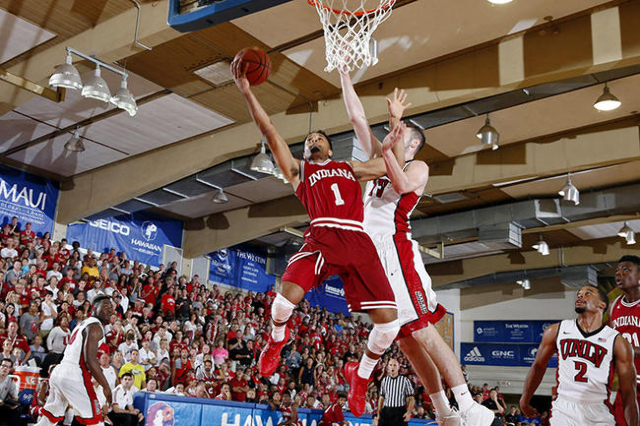 LAHAINA, Hawaii – Deep in the corner, Patrick McCaw spotted up and knocked down a 3-pointer that put UNLV in position to win a November game that could carry deep meaning in March.
"It's huge," senior guard Ike Nwamu said. "We knew what our goals are at the beginning of the year. To be able to play well against a good ranked opponent, it speaks volumes."
A few months from now, when college basketball's best teams are stacked up and NCAA Tournament resumes are compared, the Rebels will have something significant to show from their body of work in the nonconference.
McCaw scored 20 points, Nwamu and Ben Carter finished with 16 apiece and UNLV upset No. 13 Indiana 72-69 in the Maui Invitational fifth-place game Wednesday.
The all-around excellence of McCaw, Nwamu's long-range shooting and Carter's grit helped the Rebels (5-1) put together their most impressive performance of the first month. It made their trip to the island worth remembering.
"We were looking forward to this trip all offseason, and unfortunately we weren't able to win our first game, but we can still say it was a successful trip," Carter said. "We won two and beat a ranked opponent."
It was UNLV's most important achievement since an upset of No. 3 Arizona on Dec. 23. It also was the Rebels' first meeting with the Hoosiers since 1987, when Indiana knocked off a No. 1-ranked team coached by Jerry Tarkanian in the Final Four.
The Hoosiers (4-2) were picked to finish as high as second in the Big Ten this season, but they were upended twice in Maui to put more pressure on coach Tom Crean.
"It was a hard-fought game," Crean said. "We knew we were going to be in a battle.
"I'm sure a Vegas-Indiana game brought back a lot of memories for a lot of people. It was really in the scheme of history, it was an honor to play the Runnin' Rebels."
Nick Zeisloft buried 5 of 7 3s and scored 17 points for Indiana, which cracked under pressure and committed 21 turnovers that led to 22 points for UNLV. Zeisloft launched a 3-point shot to tie with two seconds remaining, but Carter partially blocked it.
"I knew my man set the screen. I knew they were looking for a 3," said Carter, a 6-foot-9-inch junior forward from Bishop Gorman High. "Luckily, I was able to get the tip on the ball and it was a pivotal play."
Carter, who grabbed five offensive rebounds and shot 6-for-10 from the field and 4-for-5 on free throws, was a pivotal player throughout the game. And the Rebels needed him to make a difference with his former high school teammate, 7-foot Stephen Zimmerman Jr., essentially ineffective with an illness.
UNLV coach Dave Rice said Zimmerman was "feeling awful," and it showed in the freshman's two-point, four-rebound effort in 15 minutes on the floor. Zimmerman was noticeably down, but the atmosphere in the Lahaina Civic Center was emotionally charged from start to finish.
The Rebels nearly squandered a 13-point lead with four minutes to go. Nwamu fouled Collin Hartman on a 3-pointer from the corner, and Hartman finished a four-point play to rally the Hoosiers within 69-65 with 1:49 to go.
After a layup attempt by James Blackmon Jr. spun off the rim, Carter split two free throws with 46 seconds to play. Jerome Seagears made two free throws with 13.8 seconds left, and UNLV's lead was down to 72-69 after Blackmon drove for a layup with 7.5 seconds on the clock.
In a clumsy final seven seconds, each team botched an inbounds pass and Nwamu, who hit 4 of 7 3-pointers, missed four consecutive free throws. The Rebels' final made field goal came from Carter, who sank a 15-foot jumper with one tick left on the shot clock and 2:12 left in the game.
"In these kind of games, it's so much about momentum," Rice said. "It's about a big stop here, a big basket here. We always focus on what happens at the end of the game, and that's obviously critically important. But the big plays are when you're tied with 17 minutes to go in the game or you're up six and you don't score a basket."
The Hoosiers had a chance to steal the momentum early in the second half. UNLV held a 41-34 halftime lead but lost it quickly. Indiana opened with a 12-5 run as Blackmon's 3 tied the score at 46 with 15:01 to go.
When the game could have turned in the Hoosiers' favor, Nwamu's 3-pointer and McCaw's fast-break layup extended the Rebels' lead, and Seagears added a reverse layup to make it 62-53 with 6:25 remaining.
McCaw made two free throws before sinking a crucial corner 3-pointer to put UNLV up 67-54 with 4:07 to play. The sophomore guard finished with six assists and five steals while scoring 20 points or more in a fourth straight game.
Zeisloft kept the Hoosiers within striking distance, countering with back-to-back 3s to cut their deficit to 67-60 at the 3:17 mark. The Rebels let Zeisloft get loose, but they held the explosive backcourt combination of Blackmon and Yogi Ferrell to a combined 22 points.
"Indiana is one of the best offensive teams in the country, so we knew what we were up against," Rice said. "We knew we would have a hard time getting them stopped in transition. I think we forced turnovers against a very good group of guards. It's a very good press-break team. At the end of the day, they've got one of the best, quick point guards in the country in Ferrell."
The Rebels were running at the outset and surged ahead 13-6 after Nwamu threw down two fast-break dunks and Seagears hit a 3. Zimmerman picked up his second foul at the 14:14 mark, but UNLV expanded its lead with him on the bench.
McCaw's 3 from the corner and Carter's layup made it 22-9. Zimmerman re-entered and dropped a baseline jumper to give the Rebels their largest lead at 27-12 with 9:02 to go.
"One of the reasons we came to Maui, other than it was exciting for our fans, is this prestigious tournament," Rice said. "Play against the best. See how we match up."
In a win they will remember in March, the Rebels found out they can match up with and beat a ranked team from the Big Ten.
"That was our goal coming into this tournament, to play against great competition," Carter said. "Obviously, this is just the beginning, because we have a lot more tough teams coming ahead in our schedule. But it was a great test for our team, and we responded well."
Contact reporter Matt Youmans at myoumans@reviewjournal.com or 702-387-2907. Follow him on Twitter: @mattyoumans247
Check our GameDay page for full coverage of the UNLV-Indiana game.