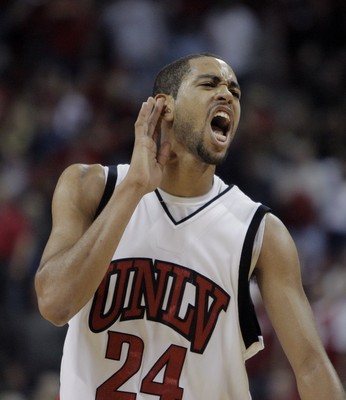 FORT COLLINS, Colo. — A scratch on the bridge of Rene Rougeau's nose shows evidence of rough play. He was hit while battling for a rebound, he said, and it's no big deal.
The UNLV senior usually dishes out more punishment than he takes.
He prefers physical play much like a cage fighter.
Lately, though, Rougeau has noticed the Rebels are being pushed around too much.
"We have to be even tougher on the road," he said.
UNLV (13-3, 1-1 Mountain West Conference) gets a chance to bully Colorado State (5-11, 0-2) at 6 p.m. today at Moby Arena.
The Rams, off a 26-point home loss to Brigham Young, might be the league's weakest team.
But the Rebels are no longer taking any opponent for granted, not after they were roughed up Saturday in an 80-73 loss at Texas Christian that caused coach Lon Kruger to demand more toughness.
Freshman point guard Oscar Bellfield is expected to play today, Kruger said, after Bellfield (right hamstring injury) was able to practice Tuesday.
Rougeau said UNLV might have experienced a hangover from its New Year's Eve victory at Louisville.
"You can tell we've been a bit complacent," he said. "We've had good practices, but we've got to carry that over to the game. TCU was definitely a great wake-up call for us.
"It's not going to be easy at all. We need to get back to how we played last year."
On Monday, Kruger showed the Rebels film clips of how last year's team played defense. After the film session, Rougeau could see a change in attitude.
"It actually felt like a practice from last year," he said. "This is going to be a good test for us. I think we're going to come ready to play."
In several games, UNLV has suffered from defensive lapses and a rebounding deficiency, and statistics show a team that is mediocre or worse in many areas.
The Rebels rank in the conference's bottom three in field-goal percentage (.430), 3-point percentage (.341), free-throw percentage (.668), field-goal percentage defense (.415) and rebound margin (minus-2.8).
For the first time this season, Kruger benched junior forward Darris Santee and did not play freshman center Brice Massamba against TCU. He wants both players to rebound better.
"That's a huge priority every day in practice. We talk about blocking out and being aggressive," Kruger said. "So we've got to do a better job of focusing on that, and not just our big guys. Our guards have got to help, too. When you get beat on the boards consistently, it's pretty easy to determine that everyone needs to help.
"We've just got to be more active, more disruptive, more aggressive across the board. If we can get someone to go in there and say, 'I'm going to lead us in rebounding,' then that's going to give him a lot of opportunity for sure."
Kruger said he's far from satisfied, but he resisted the notion the team is struggling.
"We've lost once since Thanksgiving. They've figured out a way to win games," he said. "But we've got to do a lot of things better. There's a lot of room for growth, no question.
"When you lose a game like that, you're reminded about how bad that feels. Hopefully we can focus a little more."
Sophomore guard Tre'Von Willis said last year's UNLV team was much better defensively when it came to communicating and fighting through screens.
"We were playing hard (against TCU), but all five guys just weren't on the same page and we weren't clicking," Willis said. "We've got to be mentally tough and physically tough."
The 6-foot-6-inch Rougeau, the Rebels' leading rebounder, said he saw "a lot of standing around" and not enough attacking on both ends of the floor Saturday.
"On defense, we're supposed to fly around. I take a lot of blame for that. I've got to fly around a lot more and take stuff away," Rougeau said. "Whoever is out there on the court, no excuses, we've got to come hard to play."
• NOTES — UNLV has won 11 straight games against Colorado State. … Senior guard Marcus Walker, the Rams' leading scorer at 16 points per game, has come off the bench in the past five games.
Contact reporter Matt Youmans at myoumans@reviewjournal.com or 702-387-2907.
GAME DAY UNLV VS. COLORADO STATE WHEN: 6 p.m. today WHERE: Moby Arena, Fort Collins, Colo. TV/RADIO: No TV; KWWN-AM (1100) LINE: UNLV -8; total 140