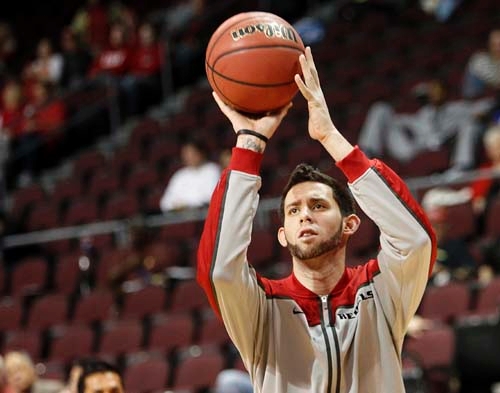 Shortly after surviving a game that was in doubt most of the way, senior guard Oscar Bellfield was looking ahead to UNLV's next opponent.
"Not many people get that opportunity to play the No. 1 team. It is really exciting," Bellfield said after scoring 14 points Friday to lead the Rebels to a 66-55 victory over Southern California in the semifinals of the Las Vegas Invitational at Orleans Arena.
UNLV coach Dave Rice was jumping to conclusions, too.
"Our next game happens to be against the No. 1 team in the country," Rice said. "It's going to be a tremendous challenge, but we look forward to it."
There was one minor issue: Top-ranked North Carolina still was warming up for its semifinal game against South Carolina.
"Who knows," UNLV junior Justin Hawkins said, "North Carolina might get beat."
But the fate of the Tar Heels never was in doubt, as they crushed the Gamecocks 87-62 behind the dominant threesome of Harrison Barnes, John Henson and Tyler Zeller.
The Rebels (6-0) and Tar Heels (5-0) meet in the championship at 7:30 p.m. today, and controlling North Carolina's star-studded front line should be the biggest challenge UNLV faces all season.
A much smaller but stubborn USC team gave the Rebels about all they could handle for 35 minutes of a slow-paced struggle.
Sophomore forward Mike Moser finished with 10 points and 13 rebounds, and Hawkins had 10 points and made important contributions on the defensive end as UNLV pulled away late.
Hawkins, a reserve guard, hit three 3-pointers, including two to help the Rebels slowly create separation from a 31-31 halftime tie. Hawkins' third 3 put UNLV up 56-50 with 5:23 remaining.
"It's interesting. As a coach, I sub on feel, and so often I want Justin out there," Rice said.
Hawkins slowed the Trojans' 5-foot-7-inch point guard, Maurice Jones, who was held to three points in the second half. Jones did a lot to dictate the tempo early, but he finished with 11 points on 4-for-10 shooting and had four turnovers and one assist.
"Justin brings a lot of energy, and that's something we really needed," Bellfield said. "It was back and forth, they take the lead and we take the lead or it's tied. It's a credit to their defense."
UNLV went up 44-42 on Hawkins' 3-pointer from the top with 11:32 to play. USC surged back in front by two before 7-foot Dewayne Dedmon was called for a questionable foul, his fourth personal, at the 9:27 mark. Dedmon protested and was hit with a technical that disqualified him.
"It's real disappointing. It was shocking, but I guess I did enough to get the technical," Dedmon said. "I'm not angry about the call. I'm just disappointed I wasn't able to help my team more."
Dedmon played only five minutes because of foul trouble and had four points. Aaron Fuller and Byron Wesley each scored 16 points for the Trojans (2-4), but Fuller fouled out with 6:06 left.
Bellfield made two free throws to start the Rebels' 8-0 run, capped by Kendall Wallace's 3 that made the score 52-46 with 7:44 to go.
"That momentum change with the technical foul kind of hurt us," USC coach Kevin O'Neill said. "We're not going to win a game against a quality basketball team on the road without our two best big guys in the last eight minutes."
The Rebels outscored the Trojans 17-6 on free throws and 28-8 off the bench, with junior forward Quintrell Thomas emerging with eight points in 12 minutes.
"We were real frustrated with how we played in the first half," Moser said. "We finally got some emotion involved in the game."
Rice headed out to scout the next game, assuming he knew the next opponent. "I have not done any research whatsoever on North Carolina," he said.
Contact reporter Matt Youmans at myoumans@reviewjournal.com or 702-387-2907.
UNLV — 66
SOUTHERN CAL — 55
KEY: Oscar Bellfield led the Rebels with 14 points, and Justin Hawkins hit a key 3-pointer with 5:23 left.
NEXT: UNLV vs. No. 1 North Carolina, 7:30 p.m. today, Orleans Arena, ESPN2 (31), KWWN (1100 AM, 98.9 FM)