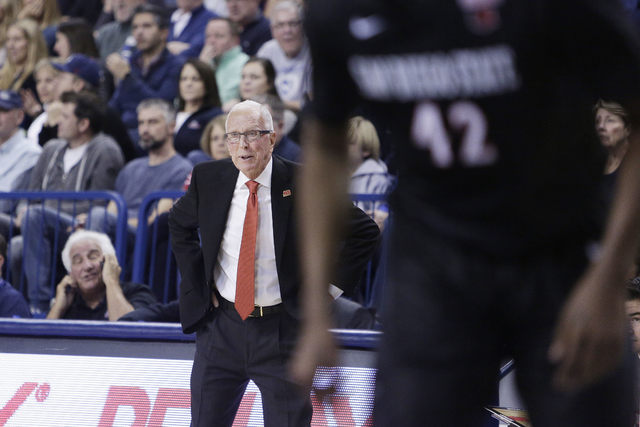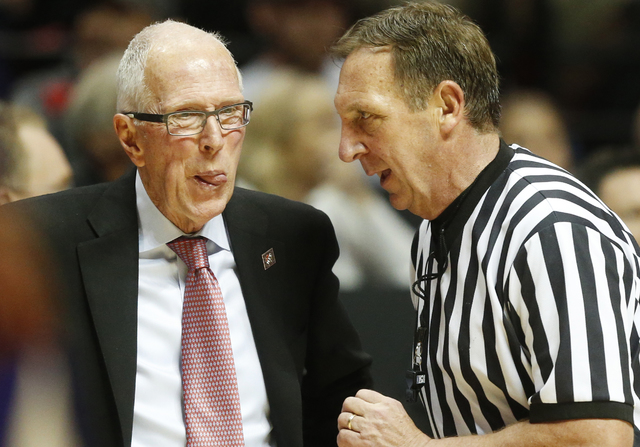 Until a week ago, San Diego State was a banged-up basketball team stumbling through the opening of Mountain West play.
The Aztecs still are a far distance from where they hope to go, but they finally are on the path to getting there.
San Diego State (10-7, 2-3 MW) is getting healthier, and now the results are starting to follow with back-to-back victories entering Tuesday's 7 p.m. game against UNLV (9-9, 2-3) at the Thomas & Mack Center. The Aztecs are 5-point favorites in the game that will be streamed live on ESPN3.
"Their talent level is still very high," UNLV coach Marvin Menzies said. "They're still the reigning regular-season champs. Until they're dethroned, they're the team to beat, still.
"They did struggle early in conference, but they still have all the tools to come out on top of this thing."
San Diego State has at least shared the past three Mountain West regular-season titles, and the Aztecs were picked by the media to win another one this season.
No one, however, could have foreseen a season in which forward Malik Pope missed nine games with knee pain, and teammates Matt Shrigley (ankle), Jeremy Hemsley (Achilles tendon), D'Erryl Williams (ankle) and Montague Gill-Caesar (back) dealt with injuries as well.
"We've had more missed practice and game time than any time in my tenure as a head coach," Aztecs coach Steve Fisher said, "maybe as many as I've had in my 17 (previous) years … at San Diego State put together. So, yeah, it's been impactful, but you play. They're not going to change the games and say, 'When you get healthy, let us know. We'll replay the game.'
"When you don't have some of your better players and then you have a lot of players injured, unable to play, and maybe as important, unable to practice to prepare to play, you can't be as good as you think you could've been."
San Diego State endured a three-game skid during nonconference play, and later opened conference play by losing its first three games. Instead of challenging for the league championship, the Aztecs found themselves in last place.
That is changing, though. San Diego State broke its losing streak by beating San Jose State 76-61 on Jan. 10.
"It was very important that we found a way to get a win, and for a good portion of that game, we played good basketball, which was also very encouraging," Fisher said. "So it was a win-win. It was a win on the scoreboard, and a win that you saw if we play like this and then play like this for a little longer, then we've got a chance to win the next one, which is all we want to worry about right now."
The Aztecs did just that, defeating Utah State 74-55 on Saturday. And they got Pope back into the lineup.
Can the Aztecs realistically win the conference regular-season championship? It will be tough, but the Mountain West is again down, so that goal isn't out of reach.
But their season ultimately comes down to the conference tournament in early March. San Diego State fell just short last season and was sent to the National Invitation Tournament.
"Our goal every year is to win the Mountain West conference," Fisher said. "Until you tell me mathematically we can't, it's going to be our No. 1 goal. Now we're not going to jeopardize the health of our team and play people hurt.
"We want to get our team better. If you get better, that helps you on both ends. It helps you prepare for your conference, and then obviously it helps you prepare for March 8 when the conference tournament begins in Vegas."
Contact Mark Anderson at manderson@reviewjournal.com or 702-387-2914. Follow @markanderson65 on Twitter.
SAN DIEGO STATE AT UNLV
When: 7 p.m. Tuesday
Where: Thomas & Mack Center
TV/Radio: ESPN3 (online stream); KWWN (1100 AM, 100.9 FM)
Line: San Diego State -5; total 132½