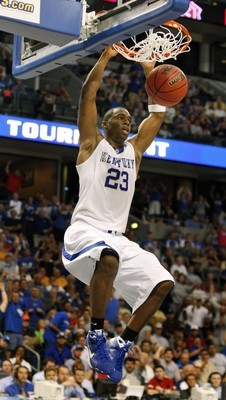 LEXINGTON, Ky. — If he's faking enthusiasm for a game that means little in the big picture, Kentucky guard Jodie Meeks is as good an actor as he is a shooter.
The Wildcats' streak of 17 consecutive NCAA Tournament appearances has been stopped, and coach Billy Gillispie is feeling the heat from angry fans. Gillispie needs every win he can get.
But do the Kentucky players truly care about the National Invitation Tournament?
"We've been getting that question a lot," Meeks said. "We're excited about playing. We're definitely motivated."
Meeks' words sounded convincing. When it comes to the 32-team NIT, most players tend to say the right things. Not all of them come to play.
UNLV (21-10) is a No. 5 seed as it opens in the NIT against fourth-seeded Kentucky (20-13) at 6:30 p.m. today at Memorial Coliseum. ESPN will televise the game, so a rare shot at national exposure should mean something to the Rebels, who toil in the seclusion of the Mountain West Conference.
"UNLV is a very good team with great guards," Meeks said. "We're coming into this game with a ton of respect for them."
Both teams expected much more this season, but UNLV senior guards Wink Adams and Rene Rougeau promise to show up and show pride.
"I think a lot of players are upset," Adams said. "We were right there on the
edge this year, but we just couldn't turn that corner. We were a couple games away.
"I can't really speak for everybody else. I know for sure I'm definitely eager to play and extend our season. I think (Rougeau) wants to play, too."
Rougeau, never one to just go through the motions, repeated what he has said for months — the seniors need to set a strong example.
"Although no one wants to really play in that tournament, we've got to make the most of it," he said. "I know I'm going to give it my all. I'm pretty sure Wink will come with it. I'm hoping if (others players) see us playing hard, they'll want to play hard also."
Rebels coach Lon Kruger said he's going with his usual starting lineup and expects his team to exhibit enthusiasm. He said he plans to empty his bench tonight.
Meeks might be the most talented player on the floor, and it will take everything UNLV has got to stop him. The 6-foot-4-inch junior averages 24.2 points and shoots 46 percent from the field, including 40 percent from 3-point range. He's also an 89 percent free-throw shooter.
Meeks scored a school-record 54 points in Kentucky's 90-72 win at Tennessee in January. He shot 15-for-22, making 10 3-pointers, and was perfect on 14 free throws.
Meeks said he inherited a target on his back in the Southeastern Conference after that performance.
"After that game, people do whatever they can to not let me touch the ball," Meeks said. "But my whole thing is playing within the team's offense."
Adams compared Meeks to Detroit Pistons guard Rodney Stuckey, who played against UNLV two years ago while starring at Eastern Washington.
"Meeks is a guy who can score the ball at will, and he works hard on every play," Adams said. "It's going to be hard to contain that guy."
The Wildcats are tough inside, too, as 6-9 sophomore Patrick Patterson averages 18.2 points and 9.4 rebounds.
But Kentucky has lost six of its past eight games, and Gillispie is getting a lot of the blame.
Meeks and Patterson are destined for the NBA, but Meeks said — and not quite as convincingly — that only the NIT is on his mind.
"I haven't really thought about (the NBA) at all," he said. "I'm staying focused on the season and not thinking about what's after this season."
• NOTES — The Wildcats lead the series, 3-0. The Rebels lost 64-61 in the last meeting in 1985 in the first round of the NCAA Tournament in Salt Lake City. … UNLV is in its first NIT since 2005, Kruger's first season. The Rebels beat Arizona State in the first round and were eliminated at South Carolina in the second round.
Contact reporter Matt Youmans at myoumans@reviewjournal.com or 702-387-2907.
audio slideshow
a conversation with Rebel Nation's Steve Guiremand
GAME DAY
UNLV VS. KENTUCKY
WHEN: 6:30 p.m. today
WHERE: Memorial Coliseum, Lexington, Ky.
TV/RADIO: ESPN (30); KWWN-AM (1100)
LINE: Kentucky -7; total 134