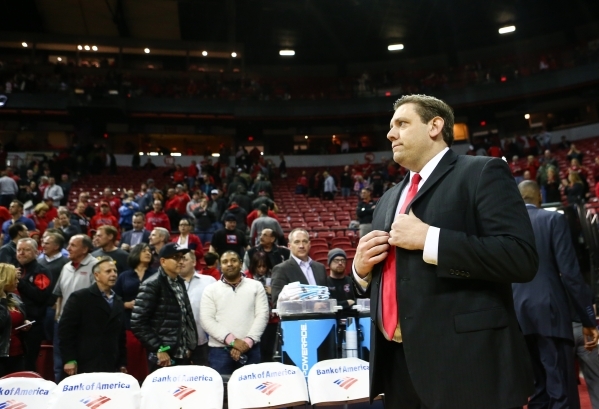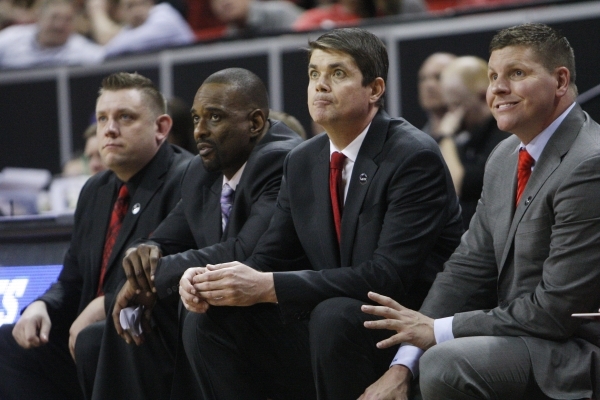 No one has asked to be released from his scholarship, but UNLV's four signees are paying attention to what's happening regarding the Rebels' coaching situation.
Interim basketball coach Todd Simon said Thursday he has been in touch with those players who form what is rated as a top-15 recruiting class.
"They're 100 percent in," Simon said. "They love the Rebels, and they still believe in what we're doing. Certainly, I think they're all in as it stands right now.
"Obviously, as people change or whatever the future holds, you're in a wait-and-see position. They're all in a wait-and-see position, but as of right now, they still love coach (Dave) Rice, but they're still all in with the relationship they have here with our staff."
Rice was fired Sunday after a three-game losing streak, and Simon was put in charge through at least the rest of the season. UNLV (10-7, 1-3 Mountain West) plays its second game under Simon when Air Force (10-7, 1-3) visits the Thomas & Mack Center at 7 p.m. Saturday.
Simon not only is trying to make a strong run to end the season, but he also has his eyes on the big picture with salvaging the recruiting class that is in place. Players usually commit to a coach as much as a school, and universities often will release someone from a scholarship if a request is made after a coaching change.
None of the players has given any indication on Twitter that they are considering going elsewhere, but as the season progresses, it could become more of a topic, especially if the administration decides to hire a coach from outside.
The Rebels would love to hold on to point guard Jaylen Fisher, forwards Justin Jackson and Carlos Johnson and guard Christian Vital. That group is listed by the 247Sports composite ratings as the nation's 14th-best class.
Fisher (6 feet 2 inches, 175 pounds), a senior from Bolton High School in Memphis, Tennessee, is ranked No. 57, according to 247Sports.
Jackson (6-9, 220), who went to Findlay Prep before transferring to The Hill Academy in Brantford, Ontario, is listed by 247Sports as the 36th-best prospect nationally.
Johnson (6-4, 220) attends Findlay Prep, and Vital (6-2, 165) is at St. Thomas More School in Oakdale, Connecticut. Both players are three-star recruits.
The key, of course, isn't simply holding on to the players who have signed but trying to grow the class.
UNLV was in the running for Kobi Simmons, a 6-5 guard from Alpharetta, Georgia, but he dropped the Rebels from his list of three finalists. Simmons, listed by 247 as the nation's No. 18 prospect, announced he is down to Arizona, Kentucky and Ohio State and will make his choice known Saturday.
But Simon and his staff are still recruiting, and they hope the positive news outshines the negative. The waiting game, though, continues.
Contact Mark Anderson at manderson@reviewjournal.com or 702-387-2914. Follow him on Twitter: @markanderson65