Stanback-led shooting clinic keys Rebels' rout of Falcons
February 28, 2010 - 12:00 am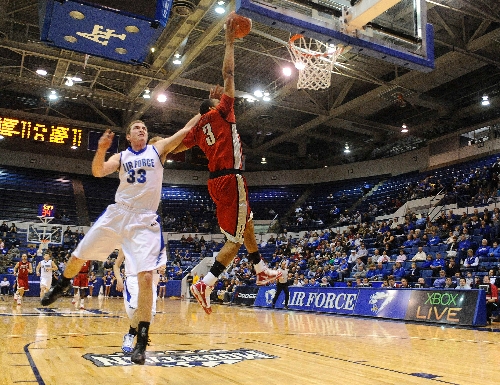 AIR FORCE ACADEMY, Colo. — If he ever appears as an instructor at a shooting clinic, UNLV sophomore Chace Stanback will probably teach the importance of the mind to the game.
"You've got to maintain that positive attitude," he said. "If you're not confident in your shot, you always think you're going to miss, and you probably are going to miss.
"If you think you're going to make a shot, chances are you probably will make it."
Stanback said he expected to hit every shot he took Saturday. He almost achieved that goal, scoring a career-high 21 points as the Rebels routed last-place Air Force 77-47 in a Mountain West Conference mismatch at Clune Arena.
"We were just knocking down wide-open shots," said Stanback, who shot 8-for-13 and made three of UNLV's season-high 13 3-pointers.
Kendall Wallace made five 3-pointers en route to 15 points, and Oscar Bellfield hit four 3s for his 12 points.
"Everyone just started knocking down shots and shooting with confidence," Wallace said.
The Rebels (22-7, 10-5) extended their winning streak to three games by putting on a shooting clinic in the first half.
Wallace hit two 3-pointers during a 17-0 run that stretched UNLV's lead to 26-7 with 8:14 remaining.
"Kendall knows his role. We need him to step in and make shots. Chace is very comfortable shooting the basketball," coach Lon Kruger said. "It was pretty solid from the start. The guys are making progress, and that's the most important thing."
The Rebels shot 58.8 percent from the field, including 13-for-27 from 3-point range, and totaled 24 assists. The Falcons' zone defense provided little resistance, and they were inept offensively.
UNLV, looking to boost its NCAA Tournament chances, has won its past three games by a total of 77 points.
"The coaches enforced that this was a really important game," said Bellfield, who had six assists. "From the beginning, I knew that we were really ready and we were going to come out strong. We needed to have a great start and a great finish."
Bellfield's 3-pointer and Stanback's two free throws put the Rebels up 33-11 late in the first half, and the crowd of 2,430 was essentially put to sleep.
Stanback's 3 with 7:30 remaining gave him a career high in scoring, and he spent the last six minutes watching from the bench.
Tre'Von Willis, UNLV's scoring leader, had seven points in the first seven minutes. But he finished with nine points, stopping his 14-game streak of scoring in double figures.
Willis was held to his lowest output since scoring four points in a loss to Southern California on Dec. 25 in Hawaii. But the Rebels didn't need him to carry the load, and that was another positive sign.
Anthony Marshall contributed eight points and five assists, and Brice Massamba added six points and five rebounds.
"It's extremely difficult for us to guard them man-to-man," Air Force coach Jeff Reynolds said. "They didn't do one play different than the previous game. They didn't do one action different than what we prepared for, but we just didn't get out there and contest shots."
Grant Parker and Evan Washington each scored 10 points for the Falcons (9-18, 1-13). In the teams' previous meeting in January, Air Force hung tough before falling to UNLV, 60-50.
"They played great defense, and we didn't play any defense," Parker said. "We did kind of play back on our heels today. I don't know why. We usually really attack them when we play them."
The Rebels, 9-3 on the road, are off until hosting Wyoming on Saturday, when guard Derrick Jasper and forward Matt Shaw are expected to return from injuries.
"We've got a lot of banged-up players," Stanback said. "We definitely need this week off."
Contact reporter Matt Youmans at myoumans@reviewjournal.com or 702-387-2907.
UNLV — 77
AIR FORCE — 47
KEY: Chace Stanback scored a career-high 21 points and made three of the Rebels' season-high 13 3-pointers.
NEXT: Wyoming at UNLV, 1 p.m. Saturday, Versus (38), KWWN-AM (1100)