Stanback set for homecoming
November 25, 2010 - 12:00 am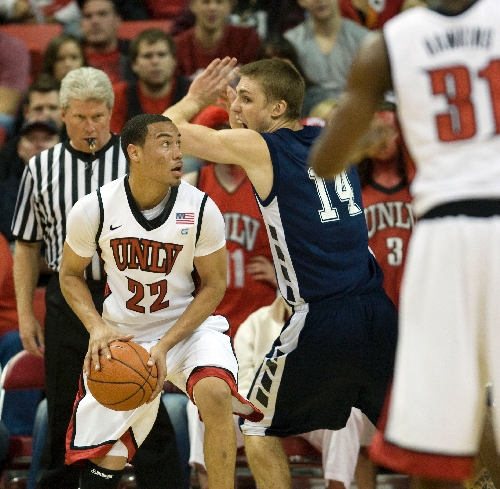 ANAHEIM, Calif. — One month into his freshman season at UCLA, Chace Stanback was plotting an escape. So he phoned a friend.
Matt Shaw is no longer a member of the UNLV basketball program, but he indirectly has a positive impact. In December 2007, Stanback called Shaw, and their discussion helped lead Stanback to Las Vegas.
"I had called Matt to ask him about the program and how he liked it, and he said it was a good fit for him and it would be a great fit for me. I trusted his opinion," said Stanback, a high school teammate with Shaw at Fairfax High School in Los Angeles.
After Stanback announced he was transferring from UCLA in May 2008, he received a call from Shaw. In August, Stanback committed to Rebels coach Lon Kruger.
Two years later, Stanback, a 6-foot-8-inch junior forward, is headed back home as UNLV's leading scorer and perhaps its best player.
The Rebels (3-0) meet Tulsa (2-1) at 8:30 p.m. today in the first round of the eight-team 76 Classic at the Anaheim Convention Center. Stanback expects several family members to be in attendance, and he said Shaw might show up, too.
Shaw was supposed to be a senior leader for UNLV. But his career ended in April when it was announced he failed a random drug test at the NCAA Tournament and was issued a one-year suspension.
Stanback's rise, meanwhile, is continuing. He scored a career-high 25 points, including the go-ahead jumper in the final minute, as the Rebels defeated Wisconsin 68-65 on Saturday.
The UCLA program he left has been in a tailspin. Stanback rarely played as a freshman, appearing in 25 of 39 games for Bruins coach Ben Howland. That UCLA team went to the Final Four, but Stanback wanted out. He is vague when describing why.
"It just wasn't a good fit for me. I don't know how to explain it," he said.
Kruger had no scholarship available in the summer of 2008, but Stanback agreed — with help from his family — to pay for school for a year while he redshirted. He also considered offers from North Carolina State and Washington.
"It's a huge commitment on his part," Kruger said. "The fact that Chace wanted to be here meant a lot. To see it work out great for him is really pleasing because he has worked hard and he's getting better and better."
Oscar Bellfield knows plenty about Stanback's talents. Bellfield, UNLV's junior point guard, starred at Westchester High in Los Angeles. In Stanback's senior year, he led Fairfax to a four-game sweep of Bellfield's Westchester team.
Stanback was the 2007 California Division I Player of the Year while averaging 25.8 points and 11.9 rebounds.
"I can see he really has his confidence like in high school," Bellfield said. "He can go off the dribble, stop and pop or set shoot it. He has it all. The sky is the limit."
Kruger said a bad left ankle sprain was the main reason Stanback started slowly last season. He didn't score in double figures until his eighth game with UNLV.
But Stanback started to score more in December and January, and he showed off a deadly midrange jumper, sort of a lost art.
"Everybody either wants to shoot 3s or dunk the ball," he said. "I like to stay in the midrange; that's my bread and butter. I've always pretty much been a natural shooter, but it's gotten better over the years."
His accuracy from 3-point range improved toward the end of his sophomore season. He shot 18-for-69 (.261) on 3s in the first 26 games and 16-for-41 (.390) in the final eight games.
Stanback averaged 10.7 points per game last season and has boosted that average to 17.3 through three games.
"I don't think people really fully realized the impact that injury had early last season. He finished the year on a pretty strong stretch," Kruger said. "That's the exciting thing about Chace is that he understands what he has to work on and is willing to do that."
He's also humble and usually reluctant to talk about his play, as was the case after he shot down Wisconsin.
"I just try to boost my teammates," Stanback said, "because if it wasn't for them, I wouldn't be getting shots."
Contact reporter Matt Youmans at myoumans@reviewjournal.com or 702-387-2907.
UNLV VS. TULSA
WHEN: 8:30 p.m. today
WHERE: Anaheim Convention Center, Anaheim, Calif.
TV/RADIO: ESPN2 (31); KWWN (1100 AM, 98.9 FM)
LINE: UNLV -5