Stephen Zimmerman Jr. officially announces he will enter NBA Draft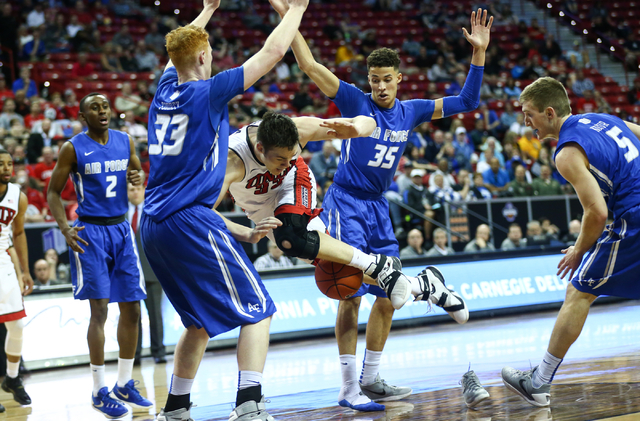 UNLV 7-foot freshman Stephen Zimmerman Jr. officially announced Monday on Twitter that he is declaring himself eligible for the NBA Draft.
"After careful deliberation, I have decided to enter the 2016 NBA draft and forego the remainder of my college eligibility," he said in a statement on his Twitter page. "I want to thank Coach Rice, the entire UNLV coaching staff, Coach Miller, Coach Augmon, Coach Good and Coach Simon, Athletic Director Tina Kunzer-Murphy, my teammates, and everyone at UNLV for their support this past season. It was a dream come true for to play in my home town for UNLV and I am no ready to pursue my dream of being an NBA player."
— Stephen Zimmerman Jr (@BIGG_ZIMM) March 28, 2016
Yahoo! ranks Zimmerman as the No. 26 prospect in the NBA Draft, which is June 23, but reported executives believed he could move up much higher because of his mobility and shot-blocking skills.
He averaged 10.5 points and 8.7 rebounds per game this season for the Rebels, but missed time because of an illness as well as injuries to knee, thigh and ankle. However, Zimmerman returned Feb. 27 from a sprained left knee to finish the season rather than play it safe with a potential pro future on the line.
On Sunday, Max Good, UNLV special assistant to the head coach, tweeted: "So pleased for Big Zimm. Not entitled and easy to deal with. Highly skilled and unselfish. With added strength and maturity, watch out!!"
How many of his soon-to-be former teammates join him remains to be seen. Derrick Jones Jr. and Patrick McCaw figure to see what kind of NBA evaluation they will receive. Jones might be close to gone anyway considering he was ruled ineligible at the end of the season because of an NCAA Clearinghouse issue.
Contact Mark Anderson at manderson@reviewjournal.com or 702-387-2914. Follow him on Twitter: @markanderson65
RELATED
Zimmerman to turn pro after one season at UNLV