Tarkanian fighting for his life at Las Vegas hospital
February 10, 2015 - 11:03 pm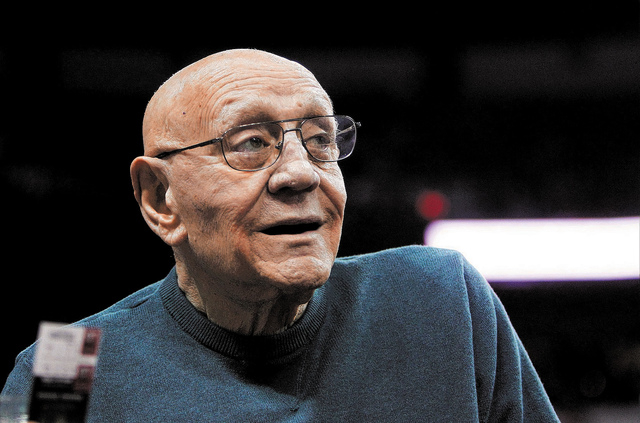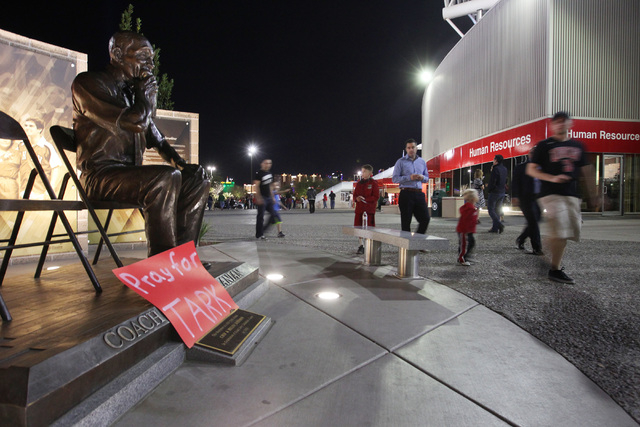 Former UNLV basketball coach Jerry Tarkanian is fighting to stay alive as relatives and friends kept a bedside vigil Tuesday night at a local hospital.
Tarkanian, 84, remains in critical condition at Valley Hospital Medical Center's intensive care unit, according to his son-in-law Dr. Zafi Diamant. Tarkanian was admitted to Valley on Monday morning after his blood pressure dropped dangerously low and he was having trouble breathing. Doctors have been working to eliminate an infection while trying to maintain his blood pressure.
"He has moments where he is improving, and there are times he goes back to where he was," Diamant said Tuesday night. "The doctors are keeping a very close eye on him."
There were reports that Tarkanian had been administered his last rites Tuesday afternoon, but the family would not confirm that. Prayers were being said by the family with clergy leading the group, the family said.
Tarkanian, the Hall of Fame basketball coach who took UNLV to four Final Fours and won the 1990 national championship, on Sunday was planning to attend Tuesday night's UNLV-Fresno State game at the Thomas & Mack Center. He had been feeling stronger and making enough progress in his physical therapy after his nearly monthlong stay in the hospital over the Christmas holiday that he would be able to make it to the game.
But Monday's events quickly scrapped that plan. Instead, Tarkanian was back in the hospital fighting for his life.
His son Danny was quoted Tuesday as saying his father's condition was "minute to minute." Several family members, including Jerry Tarkanian's brother Myron, who lives in Southern California, were with him throughout the day and into the evening.
Contact reporter Steve Carp at scarp@reviewjournal.com or 702-387-2913. Follow him on Twitter: @stevecarprj.