Thomas emerges as Rebels move on
November 27, 2010 - 12:00 am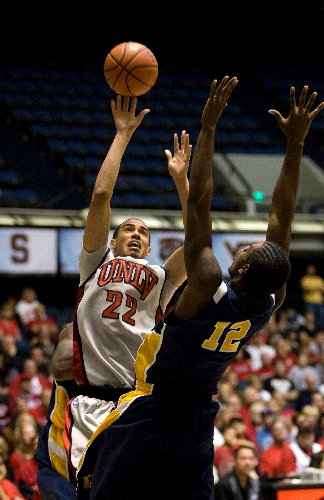 ANAHEIM, Calif. — One step behind his dance partners and uncomfortable with the music, UNLV forward Quintrell Thomas felt the need to get up to speed.
Thomas' first four games with the Rebels did not go as he hoped.
"In the beginning, I felt like I was out of sync with my teammates," said the 6-foot-8-inch sophomore transfer from Kansas. "I felt like I couldn't do anything right.
"To tell you the truth, I was feeling a little down because I felt like I was letting my team down. But my teammates reassured me it would turn around."
Thomas said his roommate, junior forward Chace Stanback, picked him up: "Chace said, 'It will get better. You can't stay bad forever.' "
Thomas turned in his strongest performance Friday night as he and Stanback led UNLV to a 69-55 victory over Murray State in the semifinals of the 76 Classic at the Anaheim Convention Center.
"Now I feel like I'm fitting in a little better," Thomas said.
Stanback scored 19 points, and Thomas had 12 points, six rebounds and two blocked shots.
UNLV (5-0) meets Virginia Tech (4-1) in the championship game at 6 p.m. Sunday. The Hokies advanced with a 56-51 victory over Oklahoma State.
Thomas, who was averaging 5.8 points and 2.0 rebounds through four foul-plagued games, shot 5-for-5 from the field and helped the Rebels outscore the Racers 26-12 in the paint.
"We need him to play big in the paint," said Stanback, who shot 7-for-8 and made three 3-pointers. "Quintrell's going to continue to get better."
Murray State (3-2), the preseason favorite in the Ohio Valley Conference, returned three starters from a team that reached the second round of the NCAA Tournament in March. But this was a mismatch.
UNLV shot 58.7 percent (27 of 46) from the field and held a comfortable lead most of the way. Oscar Bellfield and Derrick Jasper each finished with 10 points as four Rebels scored in double figures for the second straight night.
A Stanback dunk, off a lob from Bellfield, and a Bellfield 3-pointer put UNLV up 30-19.
The Rebels forced a fast pace by applying full-court pressure and rattling the Racers, who committed 13 turnovers in the first 20 minutes. Stanback and sophomore guard Anthony Marshall each scored seven points to give UNLV a 34-22 lead at halftime.
"We tried to keep the pressure on them," said Marshall, who had two acrobatic blocks and a baseline drive and dunk. "I think we had them on their heels a couple times."
Bellfield drilled a 3 from the top to extend the Rebels' lead to 52-39 with 10:30 remaining. Three minutes later, Stanback's 3-pointer made the score 61-43.
"They are pretty talented," Murray State coach Bobby Kennedy said. "They have four Division I transfers from UCLA, Kansas, Kentucky and Memphis. That's a Final Four."
Guards Isaiah Canaan and Isacc Miles led the Racers with 11 points apiece.
Stanback, a transfer from UCLA, continues to assert himself as UNLV's team leader.
"Defensively we kept the pressure on all night," Rebels coach Lon Kruger said. "We did a pretty good job of being disruptive and causing some havoc.
"Chace and Quintrell really did a nice job stepping up and making shots. It was good to see Quintrell on the floor late. He's been in foul trouble a lot."
Thomas, just happy to begin playing an important role, said, "I realized everybody helps a little bit."
Contact reporter Matt Youmans at myoumans@reviewjournal.com or 702-387-2907.
View the slideshow
UNLV – 69
MURRAY STATE – 55KEY: Chace Stanback led the Rebels with 19 points, and Quintrell Thomas scored a season-high 12.
NEXT: UNLV vs. Virginia Tech, 6 p.m. Sunday, Anaheim, Calif., ESPN2 (31), KWWN (1100 AM, 98.9 FM)