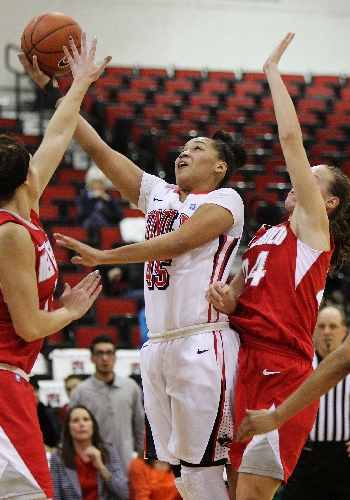 Only Kelli Thompson truly feels the pain of how UNLV's basketball season came crashing down last year, so she made sure to remind her teammates.
The Lady Rebels also can read, and if Thompson's cajoling wasn't enough, two articles on New Mexico's website got their attention.
Coach Kathy Olivier said her team hadn't been this focused all season, and UNLV served notice to the Lobos and the rest of the Mountain West by winning 68-57 in the conference opener Wednesday at Cox Pavilion.
Thompson, who had 21 points, was one of three Lady Rebels scorers in double figures. Alana Cesarz had 16 points, and Danielle Miller finished with 12.
"It's a great way to start," Olivier said. "If we can build on this, you never know what can happen."
UNLV (5-10) struggled in nonconference play, though it wasn't surprising considering point guard Mia Bell was lost before the season with a knee injury. That meant Thompson would be the lone returning starter and lone senior.
But the Lady Rebels, who were picked third in the Mountain West, were fortunate. The league appears down, so perhaps even a weakened UNLV still can be a contender.
UNLV certainly played against New Mexico (8-6) like it expected to make a real run in the conference.
The Lady Rebels had nine days off between the end of the nonconference schedule and the beginning of Mountain West play, and Thompson said that allowed the team "to self-scout" itself.
A little extra motivation also helped.
The Lobos upset UNLV 61-58 in the opening round of last season's conference tournament. Instead of possibly making the NCAA Tournament, the Lady Rebels ended up in the Women's National Invitation Tournament, where a 71-63 first-round loss at Saint Mary's ended their season at 22-10.
Thompson remembered the pain of that defeat to New Mexico and made sure her teammates understood the importance of answering for it.
"We weren't supposed to lose that game, and we did," Thompson said. The Lobos "came in here thinking they had the upper hand, and my crew had my back tonight."
The Lobos' own website also provided incentive. UNLV was referred to as "fragile" and a team that "could use a crash course on fundamentals and discipline once or twice a week."
Olivier and her staff made sure their players aware of what was written.
"That was crazy," Olivier said.
UNLV spent the night making a point to New Mexico, leading nearly the entire game. But the Lobos made a second-half run, with Caroline Durbin making back-to-back 3-pointers for a 52-50 lead with 7:45 left.
Those, however, would be the final points for Durbin, who scored a team-high 16 points. Miller spent about the final five minutes making sure Durbin couldn't take a quality shot.
"If she gets any kind of look, she's going to score," Miller said. "I had to deny her and not even let her even touch the ball."
With New Mexico's main threat removed as a factor, UNLV scored the game's final 12 points.
"We may not be the smartest, fastest and most experienced, but these girls play their heart out every day," Thompson said. "That's all you can ask for."
Contact reporter Mark Anderson at manderson@reviewjournal.com or 702-387-2914. Follow him on Twitter: @markanderson65.
UNLV — 68
NEW MEXICO — 57
KEY: Kelli Thompson had 21 points for the Lady Rebels, who scored the final 12 points.
NEXT: UNLV at Air Force, 1 p.m. PST Saturday, KSHP-AM (1400)