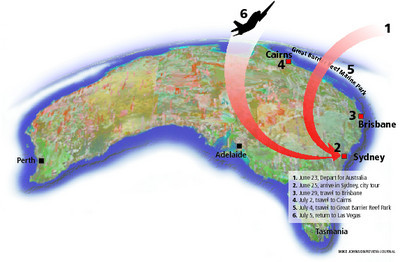 Waves as high as 10 feet crashed over him at Surfers Paradise, he saw fish bigger than him while scuba diving off the Great Barrier Reef and he admired the architecture of the Sydney Opera House.
Yes, UNLV senior Rene Rougeau brought home several memories from the basketball team's two-week, six-game tour of Australia.
But what really amazed him was watching Rebels coach Lon Kruger draw a technical foul. That was something Rougeau had never seen, and never expected to see.
"We all were in shock," Rougeau said. "Coach laughed about it, and we laughed at it."
Kruger was slapped with a technical in UNLV's final game, an 86-84 loss to the Cairns Marlins on Wednesday, but it did nothing to curb his enthusiasm about the trip.
The Rebels went 4-2. They flew 14 hours to Sydney, lost their opener to the Sutherland Sharks on June 26 and reeled off four consecutive victories.
"Everyone benefited from the experience," Kruger said. "The basketball part of it was very good, and it was a positive cultural experience. I don't know that we could have gotten more from it."
After the team returned to Las Vegas on Saturday, Kruger was on the go again immediately, catching a flight to Florida.
"Don't let jet lag catch up to you," Kruger said.
Rougeau came home convinced UNLV is destined for success in the 2008-09 season.
"We're trying to get to the Final Four. I definitely think we have that type of team. We're capable of beating any team we play," Rougeau said. "We're in some preseason top 25 polls, and we can sneak up in that top 10."
Senior guard Wink Adams led the Rebels by averaging 15.5 points per game. Sophomore point guard Tre'Von Willis, a transfer from Memphis, averaged 15.2 and had 24 points in a 77-71 victory over the West Sydney Razorbacks.
UNLV had a different high scorers in five of the games.
Kruger said Willis and 7-foot freshman center Beas Hamga showed their inexperience, but both gained invaluable playing time after sitting out last season.
"Beas and Tre'Von are going to be a work in progress, if you will," Kruger said.
The trip emphasized that Hamga, who averaged 4.5 points and 7.3 rebounds per game, is not yet an impact player on the offensive end.
"It was a good experience for Beas, who knows he needs a lot of work," Rougeau said. "He gets lost out there sometimes, but he is getting better."
Senior guard Mareceo Rutledge, rarely a factor last season, was UNLV's third-leading scorer in Australia at 13.3 points per game.
"Mo really stepped up and had some good games. He played with confidence and really shot it well," Kruger said.
"Wink showed some senior leadership. He was getting the ball to other guys. He was promoting Mo's open looks and getting the ball inside to Beas."
Kruger also complimented sophomore guard Kendall Wallace, who shot 6-for-8 on 3-pointers and scored 25 points in a 97-55 victory over the South West Metro Pirates.
The locals were hospitable to the Rebels, Rougeau said, with one exception — the officiating often was one-sided.
"The two games we lost were because of the refs, to be honest. It was horrible. It was beyond bad," Rougeau said. "But I think we learned something every game, and we got better each game."
While scuba diving, Rougeau was leery of crossing paths with a shark. He was relieved not to see one.
"I am terrified of sharks," he said. "We saw some big fish. I was terrified."
Contact reporter Matt Youmans at myoumans@reviewjournal.com or 702-387-2907.