UNLV announces hiring of Marvin Menzies as basketball coach
April 16, 2016 - 10:41 pm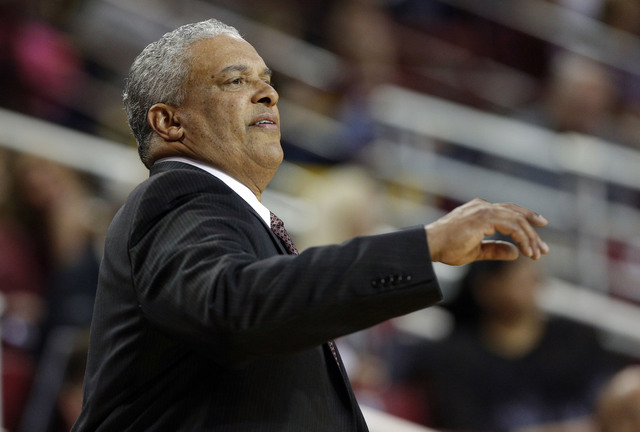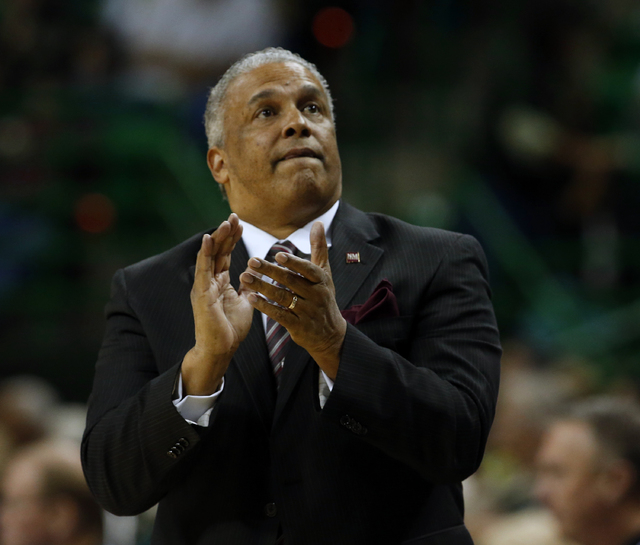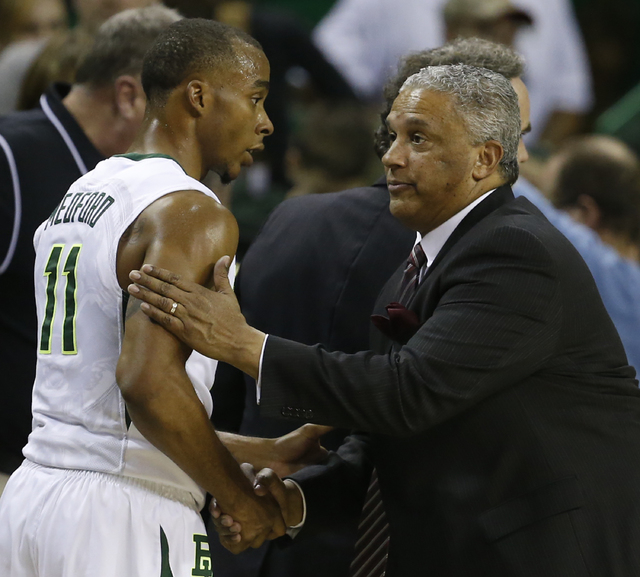 UNLV wasted no time in naming New Mexico State's Marvin Menzies its new basketball coach Saturday morning. But it will take some time to make the hire official.
Menzies won't have the job until the University of Nevada Board of Regents approves his contract. Sources said they expect a vote Friday because regents already are scheduled to meet at 9 a.m. that day.
Menzies' hire would be a bit of a homecoming. He coached under Lon Kruger at UNLV during the 2004-05 season.
"We are looking forward to bringing Marvin Menzies back to UNLV as our men's basketball head coach," UNLV athletic director Tina Kunzer-Murphy said in a statement. "He has spent almost a decade as a Division I head coach, has won regular-season and conference tournament championships and has led his team to multiple NCAA Tournament appearances.
"He has connections to our university and our community, and respects the tradition of Runnin' Rebel basketball."
Menzies isn't expected to be made available for comment before the regents meet.
The same script played out earlier this month when UNLV named Chris Beard its coach, then waited more than a week for regents to approve his contract. Beard's tenure with the Rebels lasted barely seven days, as he bolted for the Texas Tech job. The Red Raiders introduced Beard as their coach Saturday.
UNLV will collect a $1 million buyout from Texas Tech for Beard's departure. That will more than offset the buyout UNLV must pay Arkansas-Little Rock — $100,000 in each of the next two years — for hiring Beard.
New Mexico State athletic director Mario Moccia said Saturday morning that his school is not owed a buyout for Menzies.
One source said financial terms of Menzies' contract would be similar to Beard's five-year deal, which would have paid at least $900,000 next season up to a minimum of $1.4 million by his fourth year. But the source said Menzies would get less guaranteed money and have more incentives.
As for the regents' approval, sources said they expected it to be smoother than the 11-day process that Beard went through. Four regents voted against his contract in the meeting. Those who have knowledge of the negotiations said Menzies' contract more closely follows guidelines regents helped establish and alleviates some concerns that were brought up when Beard's contract was approved.
The entire search process, which included being turned down by one coach on Twitter and Beard's shocking exit, became a national punch line and a source of anger and frustration among fans and boosters.
UNLV administrators and regents have acknowledged the process was poorly executed. Those shortcomings turned up the heat on the athletic department and the president's office.
Menzies, 54, would be the first permanent African-American head coach in UNLV men's basketball history. He was a finalist when Beard was hired, but withdrew his name from consideration when it became obvious UNLV officials favored Beard.
At New Mexico State, Menzies won five consecutive Western Athletic Conference regular-season or tournament championships. The Aggies were 198-111 in nine seasons under him and appeared in five NCAA Tournaments.
Menzies was named the WAC Coach of the Year in 2015, and this past season the Aggies went 23-11 and played in the National Invitation Tournament.
New Mexico State was 10th nationally in scoring defense (63.1 points per game), 11th in field-goal percentage defense (39.2) and fifth in rebounding margin (plus 9.8 average). UNLV was 222nd in scoring defense (73.5), 68th in field-goal defense (41.4) and 204th in average rebounding margin (minus-0.5).
"Marvin is an experienced head coach with UNLV and West Coast roots who knows what it takes to build and maintain a winning college basketball program," university president Len Jessup said in a statement. "He is a dynamic recruiter and proven leader who understands the proud tradition of UNLV basketball, and we look forward to welcoming him back to campus."
Menzies won't be able to keep Ryan Miller, a UNLV assistant the past two seasons. He signed a two-year deal Saturday to coach under new Texas Christian coach Jamie Dixon, according to ESPN.
Menzies must start assembling and recruiting a new roster for the Rebels. The spring signing period began Wednesday and lasts until May 18. UNLV has many roster spots to fill because more than half of the players on this year's team, which went 18-15 and missed the postseason for the third straight year, have transferred, declared for the NBA Draft or exhausted their eligibility. More players still could leave.
Menzies becomes the Rebels' fourth head coach this year. Dave Rice was fired Jan. 10. Todd Simon finished the season as interim head coach. Beard then was hired after Cincinnati's Mick Cronin turned down the job last month.
Contact Mark Anderson at manderson@reviewjournal.com or 702-387-2914. Follow on Twitter: @markanderson65
RELATED
Chris Beard bolted UNLV to come 'home' to Texas Tech