UNLV basketball adds 2 more top recruits one day after getting Brandon McCoy
Updated April 26, 2017 - 7:31 pm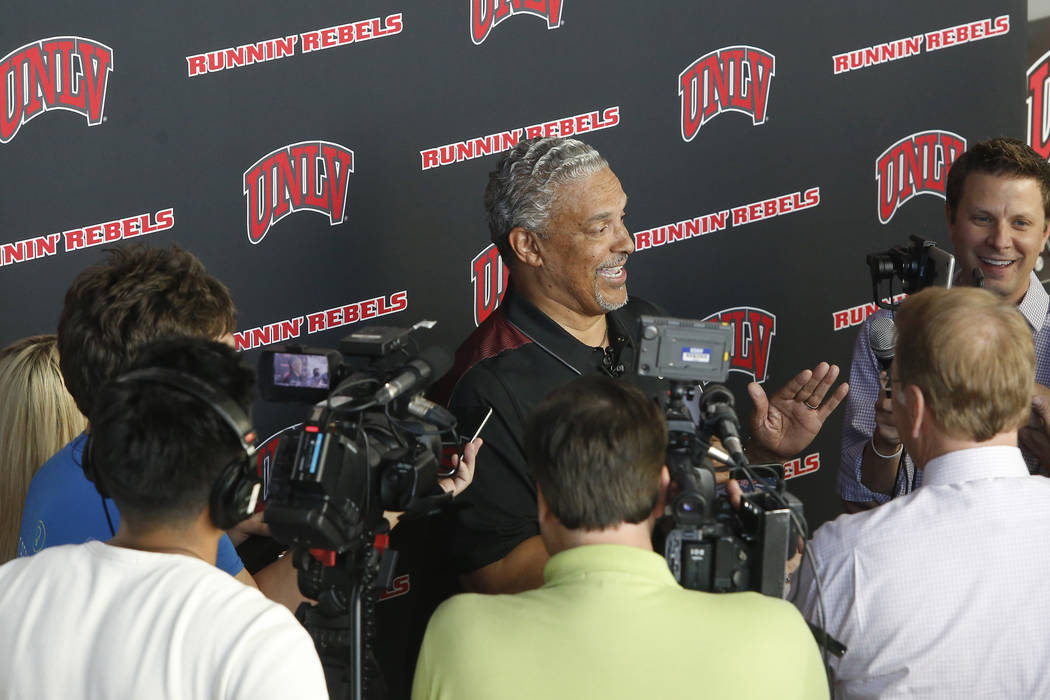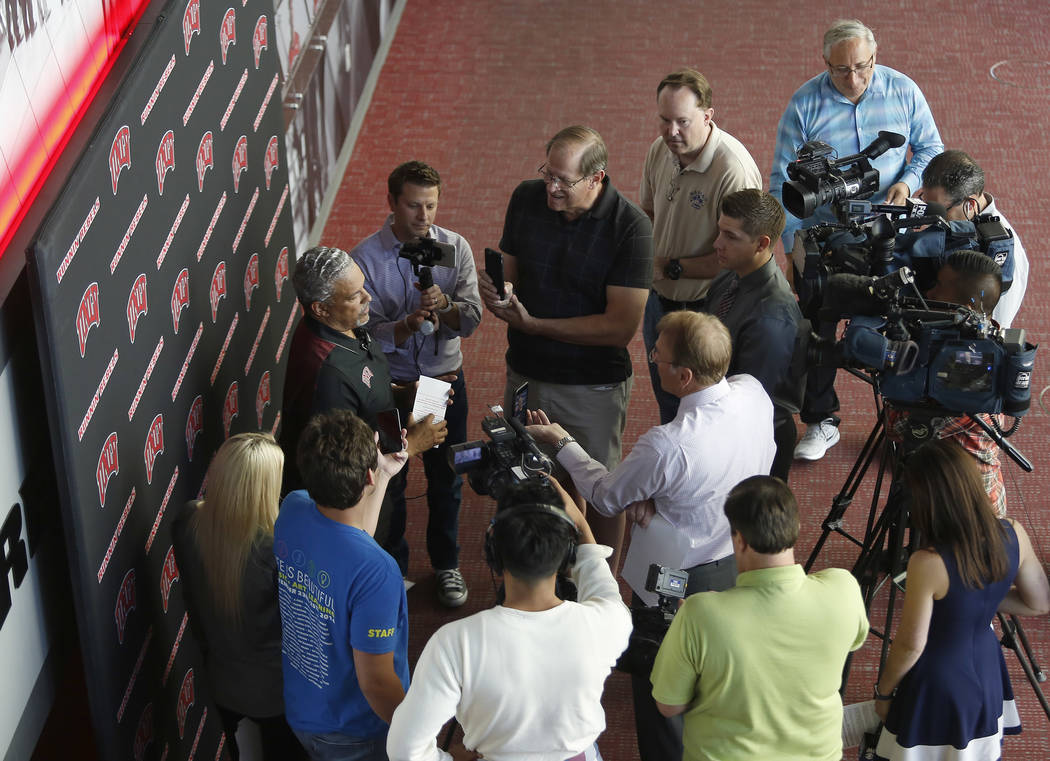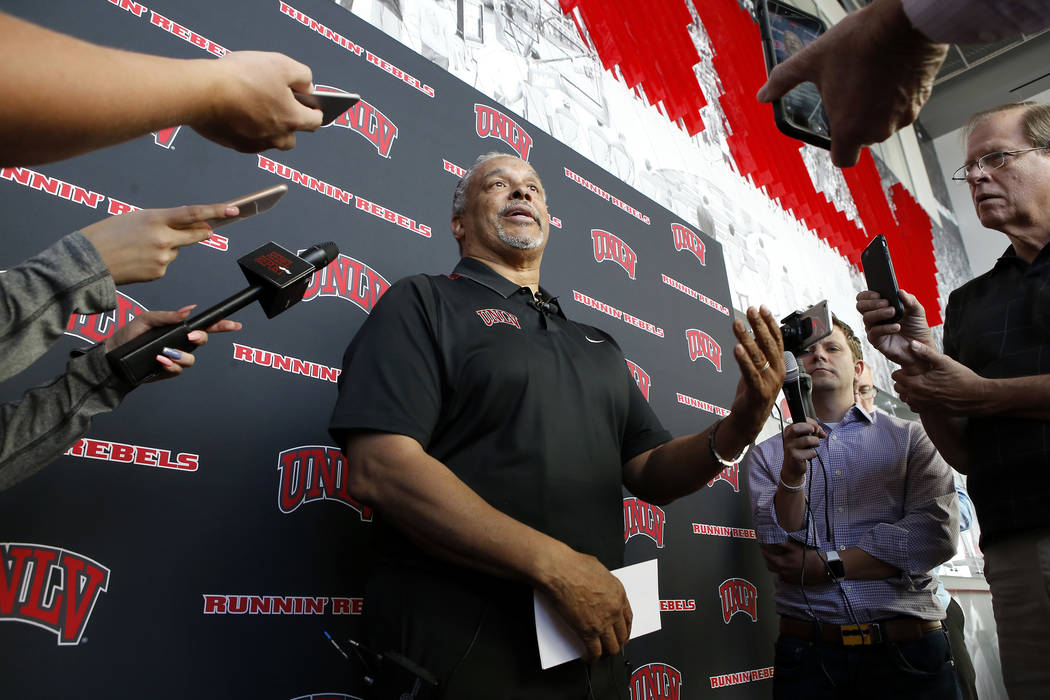 Brandon McCoy's commitment Tuesday night was the kind of jolt of energy UNLV's basketball program had badly missed.
Then came Wednesday and the addition of top recruits Shakur Juiston and Amauri Hardy, and the Rebels are quickly the talk of the Mountain West.
247Sports.com ranked the Rebels' class 12th nationally and first in the Mountain West.
"I would say it's a grand slam," UNLV coach Marvin Menzies said. "I'm tempering my excitement because we've still got to go win some games, right? But, man, this is huge."
Menzies said McCoy's decision to choose the Rebels over Oregon, Michigan State, Arizona and San Diego State created the momentum to get the other two players.
"That's how influential his ability and personality is," Menzies said.
McCoy, a 6-foot-11-inch five-star prospect, is ranked 15th by ESPN.com. He averaged 28.6 points, 12.6 rebounds and 5.3 blocked shots last season at San Diego's Cathedral Catholic High School.
"It's about relationships, and we had a lot of relationships in that circle of influence and in that family that kept us in the mix," Menzies said. "Brandon could've gone anywhere in the United States. Our goal is to help him be an NBA All-Star, and we have a very specific script that we've put into place to achieve that. The greatest thing about Brandon is that he just wants to go to work.
"He doesn't care if he leaves after this year, next year. It's not one foot in, one foot out the door. He is here to help the Rebels win. That became clear and evident to me throughout our journey together. I've constantly said I'm not really trying to get one-and-done guys unless it works, and he may be one of those guys that works. I'm optimistic he's going to be."
Juiston, a 6-7 forward from Hutchinson (Kansas) Community College, is ranked the nation's top junior college prospect. He averaged 17.3 points and 12.1 rebounds and made 60.9 percent of his shots in leading Hutchinson to the national championship, where he was MVP.
First I would like to thank God for blessing me with the opportunity further my Education and Athletics In Division 1! pic.twitter.com/6orldSthut

— 2pac Above The Rim‼️ (@TheTrill_Shakur) April 26, 2017
"Shakur's a great human being with a great family and great coaching," Menzies said. "Very humble. If you look at his tweet on how he announced it, not a lot of fanfare."
Hardy, a 6-2 point guard, originally committed to Oklahoma State. He is a four-star recruit who is ranked No. 22 at his position by ESPN. Hardy averaged 29.0 points, 7.0 rebounds, 6.0 assists and 6.0 steals at North Farmington (Michigan) High School.
Blessed to announce that I've decided to further my education & basketball career at UNLV. #Runnin'Rebels pic.twitter.com/nF3Hp6c1Z1

— BIGTIME (@Amauri_Hardy) April 26, 2017
"It was an automatic fit," Menzies said. "Great chemistry with the guy. There's no question there was a great comfort level."
Menzies said this completed his recruiting class. UNLV is one player over the scholarship limit, and Menzies said he would explore everything from asking a player to pay his own way for a year to helping someone move on.
That's a good problem for Menzies and his assistants. After the Rebels went 11-21, the worst record in school history, this two-day period is a remarkable turn of events.
"The main thing to know is we recruited to how we want to play," Menzies said. "Brandon can run the floor at 7 feet. We recruited to be Runnin' Rebels. We recruited to a defensive style of play by selecting these particular student-athletes that would help us be able to do that and create some excitement on both sides of the floor."
Follow all of our UNLV basketball coverage online at reviewjournal.com/Rebels and @RJRebels on Twitter.
Contact Mark Anderson at manderson@reviewjournal.com or 702-387-2914. Follow @markanderson65 on Twitter.
Newest Rebels
Signed this spring
— Tervell Beck, 6-7 forward, first-team All-Ohio in 2015-16 before heading to a prep school
— Chiekh Mbacke Diong, 6-11 forward, averaged 14.1 points and 11.0 rebounds at Florida high school
— Amauri Hardy, 6-2 point guard, four-star recruit and former Oklahoma State commitment
— Shakur Juiston, 6-7 forward, nation's No. 1 junior college prospect
— Brandon McCoy, 6-11 center, five-star recruit ranked No. 15 by ESPN.com
— Anthony Smith, 6-7 forward, averaged 20.5 points and 8.8 rebounds at California junior college
Signed last fall
— Jay Green, 6-5 guard, played on Arizona prep school's post-graduate team