UNLV basketball coach Dave Rice fired
January 11, 2016 - 12:36 am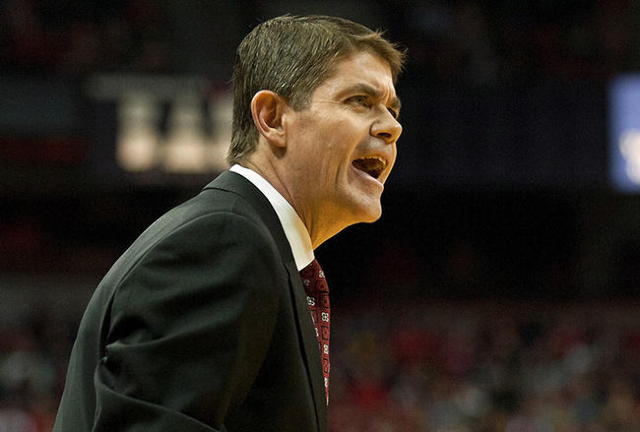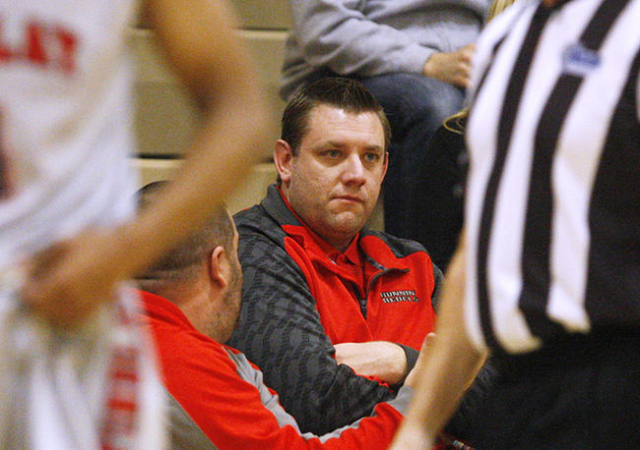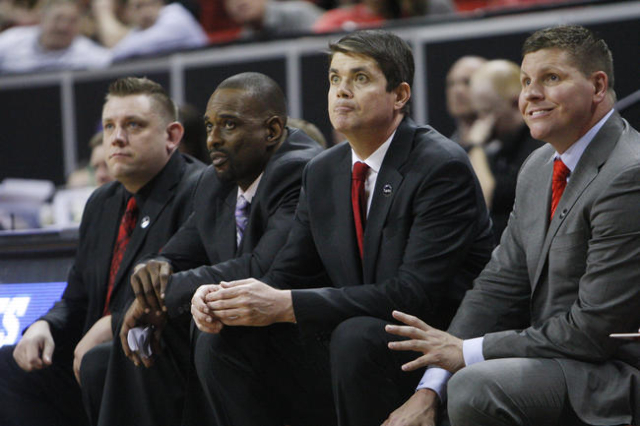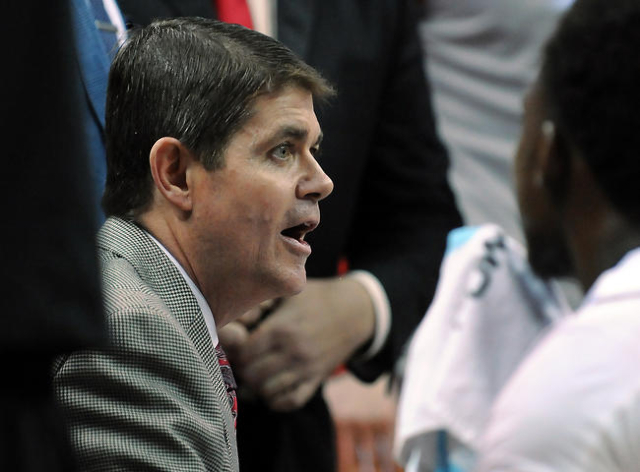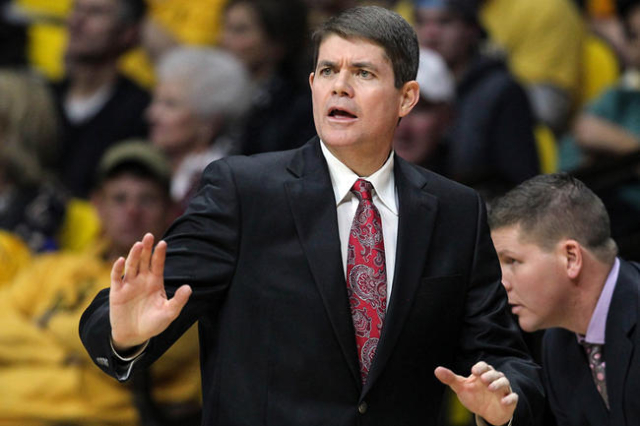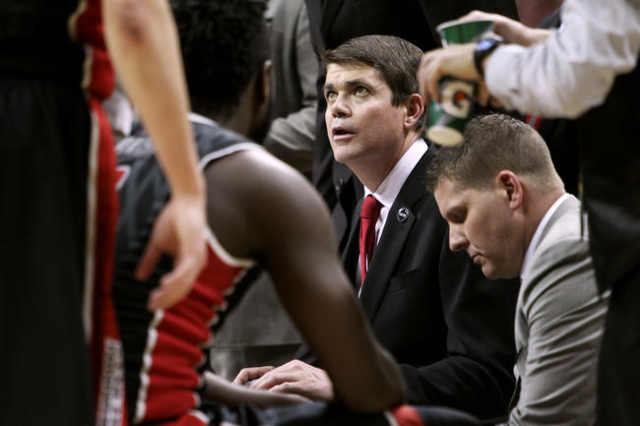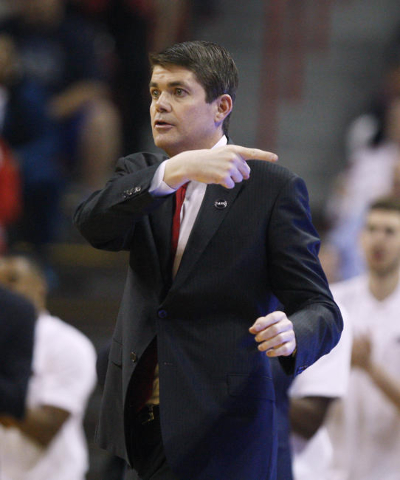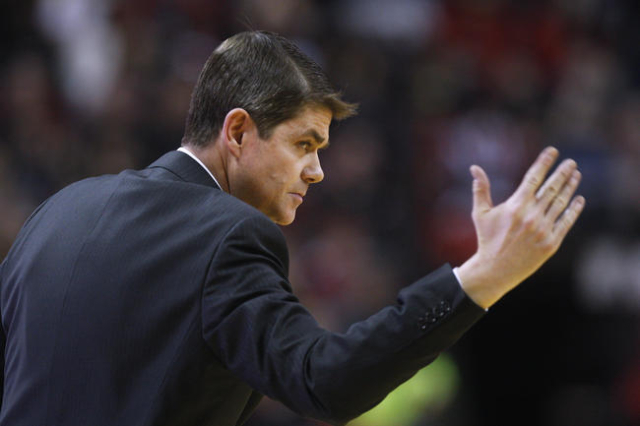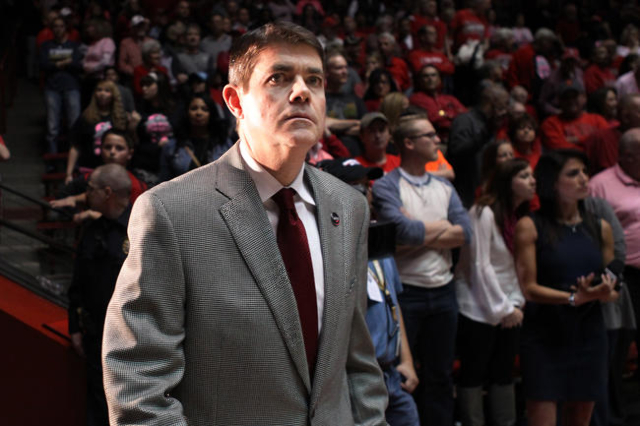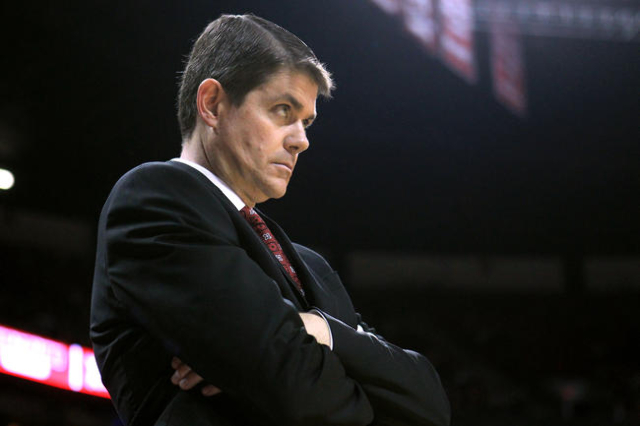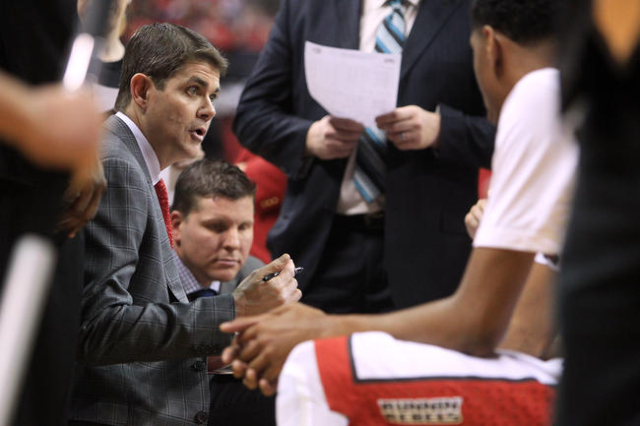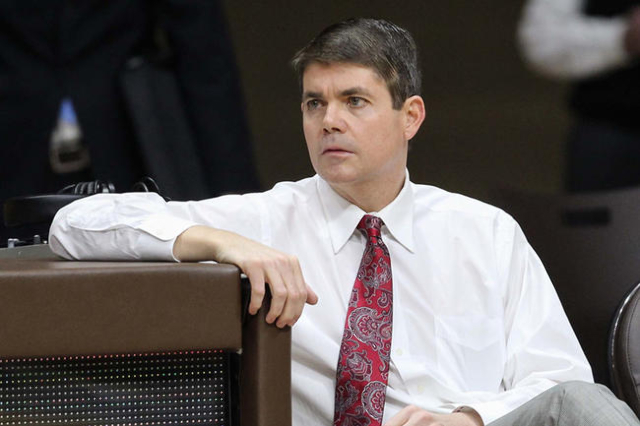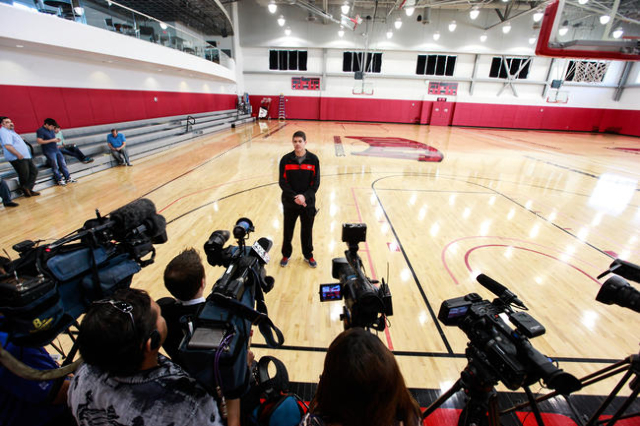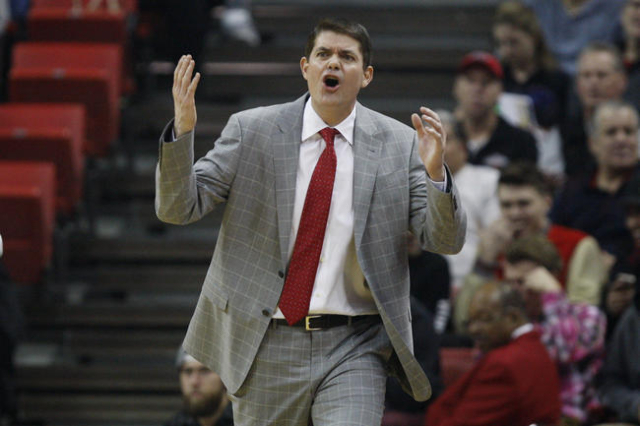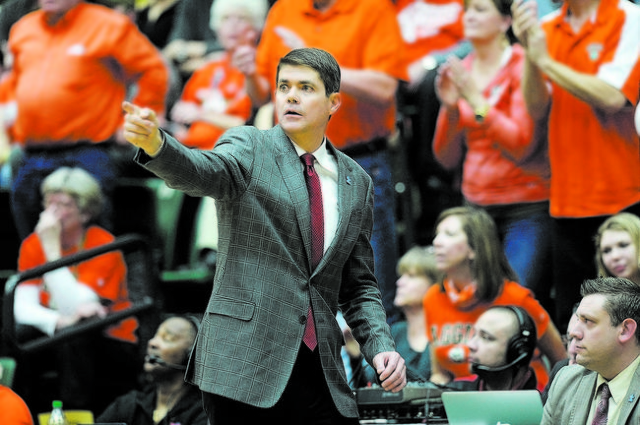 At the end of his era, Dave Rice won the news conference simply by showing up and standing tall. A short time after being fired Sunday as UNLV basketball coach, Rice met with the media and discussed his demise.
The Rebels did not win enough meaningful games under Rice, and that's one reason he was sent packing in the middle of his fifth season.
After a lengthy meeting between Rice and UNLV athletic director Tina Kunzer-Murphy, the school announced Rice had resigned. The truth is he was forced out.
"After quite a bit of discussion, we mutually agreed I would step aside," Rice said. "I want to do what's right for everyone involved. That's my personality. I'm a team guy."
Rice, 47, was a class act to the end. He had no plans to resign, and Kunzer-Murphy acknowledged as much, although she refused to admit he was fired.
"Dave is not a quitter," Kunzer-Murphy said. "We mutually agreed for him to step aside. I felt we needed to make a change. We expect to win here."
It had become obvious a change was imminent, and with the approval of UNLV President Len Jessup, Kunzer-Murphy took the unusual step of dumping her basketball coach midseason. The Rebels fell to 9-7 overall and 0-3 in the Mountain West after a 59-57 loss at Wyoming on Saturday.
Amid widespread speculation that his job was in jeopardy, Rice said he expected to coach the team Tuesday against New Mexico. But Kunzer-Murphy called him in for a Sunday meeting, and Rice's run ended with a 98-54 record.
Kunzer-Murphy appointed Todd Simon as the interim coach for the remainder of the season. Simon, who held the position of associate head coach, is in his third season on the Rebels' staff.
Rice said he had a "very emotional meeting" with his players.
"I love those guys," Rice said. "I'm proud of what we accomplished. As a coach, you always want to win more games. It's a great program. I'm honored I was able to be a part of it as a player, as an assistant coach and as a head coach."
Rice was a reserve on the Rebels' 1990 NCAA championship team. He is a UNLV graduate who stayed in the program as an assistant coach for 11 seasons. But he was fired now because several powerful boosters no longer wanted to support his underachieving program and because Kunzer-Murphy said she was aware that many angry fans wanted him gone.
Rice arrived with fanfare, leaving his post as a Brigham Young assistant to return home. Late coach Jerry Tarkanian attended his introductory news conference on April 10, 2011.
Rice started with a bang, reaching the NCAA Tournament in his first two seasons. In November of his first season, the Rebels upset No. 1 North Carolina. But the team's win totals decreased each season — from 26 to 25 to 20 to 18 — and this season was turning into a bust.
In March 2014, Kunzer-Murphy recommended Rice's contract be extended two years through the 2018-19 season. Since receiving the extension, Rice compiled a 27-22 record, including 8-13 in the Mountain West. UNLV finished seventh in the conference last season and has missed the postseason each of the past two seasons.
Asked about Rice's contract extension, Kunzer-Murphy said, "Was it the right thing to do? I thought it was. I feel very responsible for it."
In March, despite pressure to fire Rice, Kunzer-Murphy granted him a reprieve. So this was viewed as his make-or-break season, and Kunzer-Murphy recently decided the relationship had reached a breaking point.
She said December home losses to Arizona State and Fresno State signaled an alarm, and the team had become "tough to watch" in last week's losses at Colorado State and Wyoming.
Rice will be paid around $1 million by UNLV, receiving the balance of his remaining base salary ($300,000 per year) for the rest of this year and the three years left on his contract.
"I want to thank Coach Rice for all of his efforts," Jessup said in a statement. "Unfortunately, the results on the court did not reflect the passion and dedication he has for the program. Dave is a role model as a person who has demonstrated professionalism throughout his tenure. This was not an easy decision, but sometimes change is necessary to move forward."
Kunzer-Murphy said she chose Simon as interim coach instead of Rice's other assistants — Stacey Augmon, Max Good and Ryan Miller.
"All of those coaches are great coaches. I think Todd has the attributes we need," Kunzer-Murphy said. "We have a lot of basketball yet to play. There is plenty of time to turn the season around."
Simon, 35, was head coach at Findlay Prep for the 2012-13 season and posted a 35-1 record. He was a video assistant under former UNLV coach Lon Kruger from 2004 to 2006 and earned his master's degree from UNLV in 2010.
"It certainly is an emotional roller coaster of a day," Simon said. "She asked me to take on this leadership role, and you never want to really take it over in these circumstances, so from that standpoint it's mixed emotions.
"I love this team. I believe in these kids. I believe they were all-in with Coach Rice's message, but new energy probably never hurts."
Kunzer-Murphy said she expects UNLV will conduct a "national search" for its next head coach. Simon and the coaches on staff will be candidates. Other candidates who might surface include former NBA coach Mike Brown, former UCLA and St. John's coach Steve Lavin and Oklahoma assistant Steve Henson, who was on Kruger's staff at UNLV.
Rice is not going into retirement, saying, "I think I've got a lot of coaching left in me."
But his era at UNLV has ended, and not by his choice.
— Contact reporter Matt Youmans at myoumans@reviewjournal.com or 702-387-2907. Follow him on Twitter: @mattyoumans247.
TODD SIMON
Simon, 35, was named interim head coach for the UNLV men's basketball team after Dave Rice was fired Sunday.
— Third-year coach with UNLV who was serving his first as associate head coach
— Seven years on Findlay Prep's coaching staff (2006-13)
— Head coach for Findlay Prep (2012-13), when Pilots posted 35-1 record
— Coached former Rebels and current NBA players Anthony Bennett, Rashad Vaughn and Christian Wood at Findlay Prep
— UNLV video assistant (2004-06)
— Pepperdine volunteer coach (2003-04)
— Native of Fowler, Mich.; Central Michigan alumnus