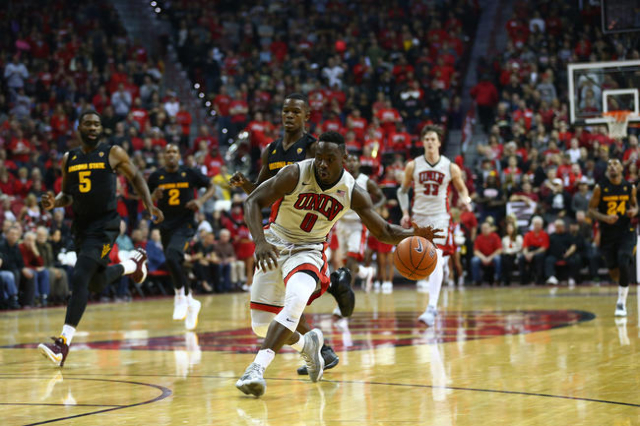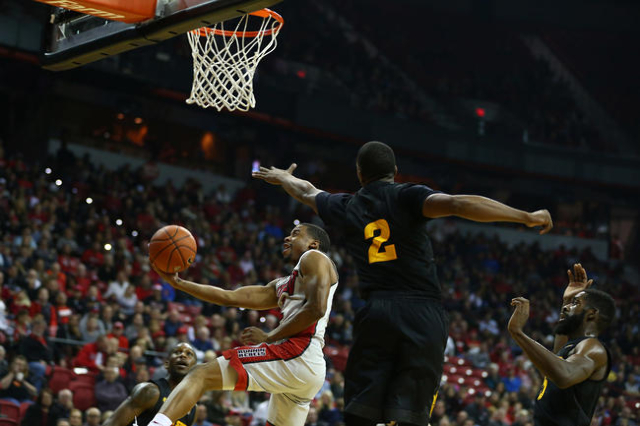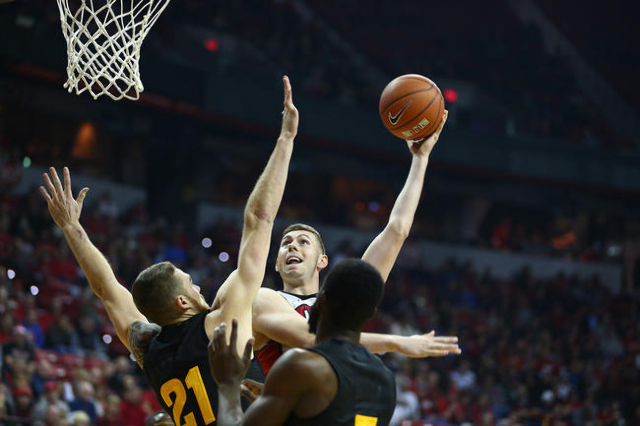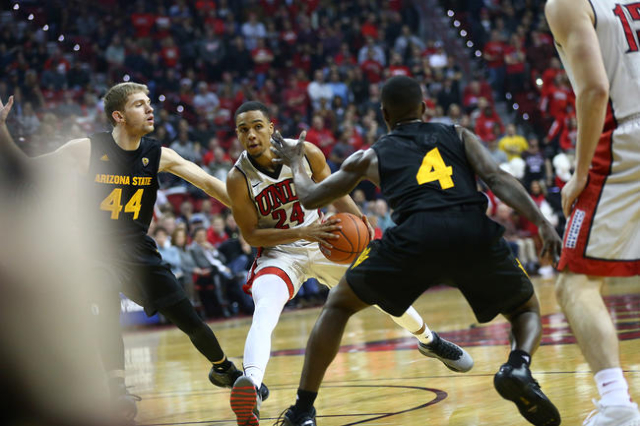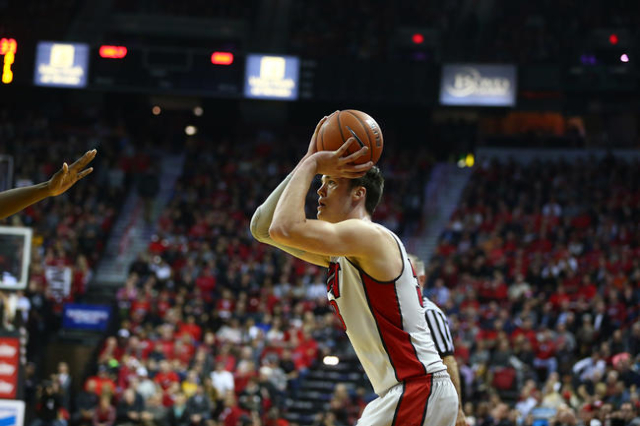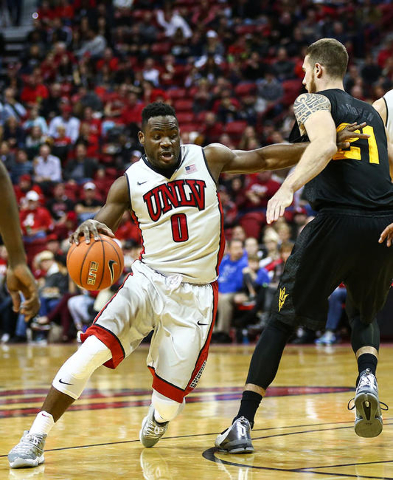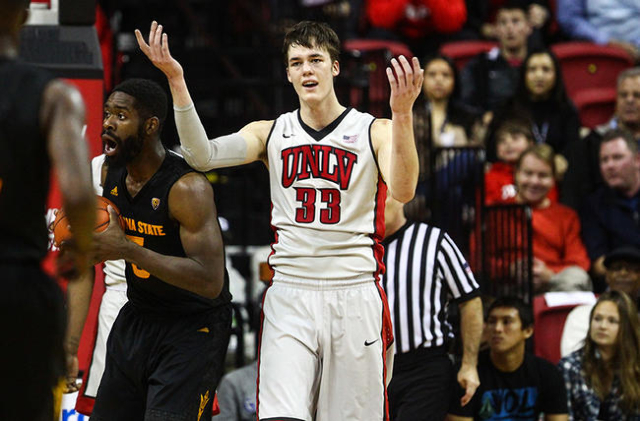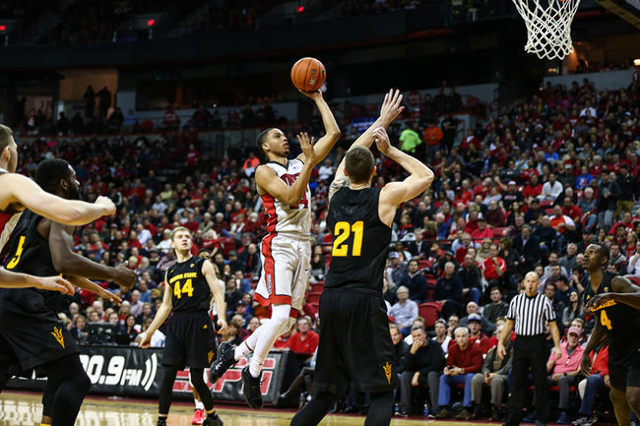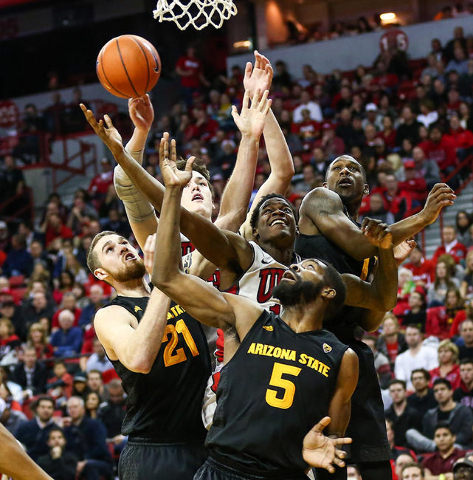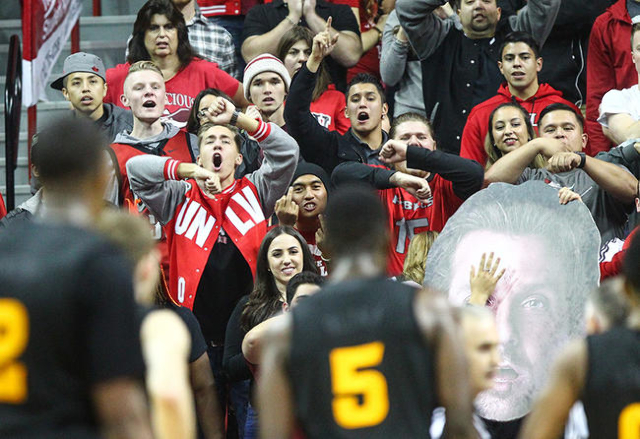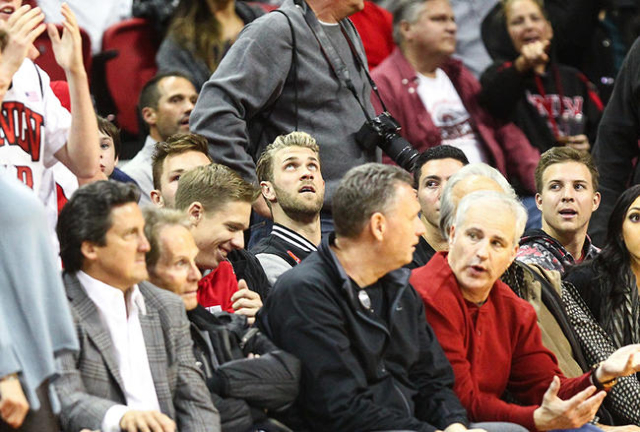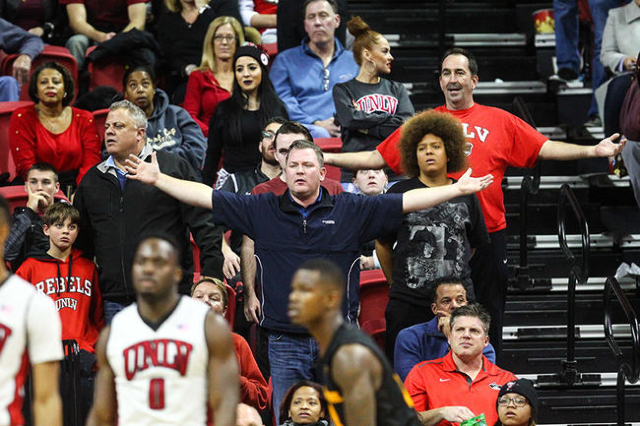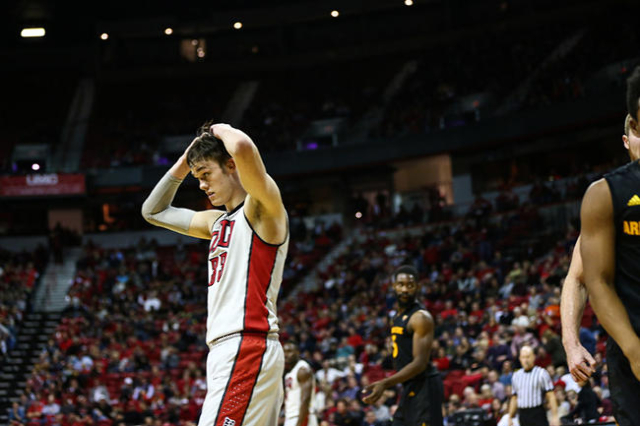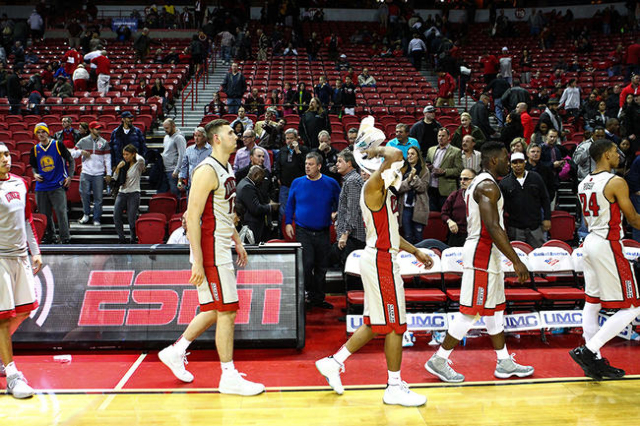 Even when UNLV surged ahead by double digits early in the second half, Tra Holder had a feeling the big lead was not going to hold up.
The Arizona State point guard started to slice through a soft defense and force the Rebels to slowly collapse.
"I knew that they were going to let us back in the game," he said.
Holder led his team all the way back and over the top, scoring 19 points as the Sun Devils erased a 14-point deficit to upset UNLV 66-56 on Wednesday night. In the final minutes, thousands of fans in the announced crowd of 13,014 rushed for the Thomas & Mack Center exits as if a fire alarm had been pulled.
It was an alarmingly poor performance by the Rebels (8-3) in a loss that could haunt them in March and hurt their NCAA Tournament chances.
"It's a very difficult loss," UNLV coach Dave Rice said. "We can't get it back. We've got to regroup. This is an incredibly agonizing lesson to have to learn."
What the Rebels learned most is their halfcourt offense against a zone is weak and their defensive rebounding needs a lot of work. There were more lessons dished out by a shorthanded Arizona State team that dominated the second half.
"We just really wanted to win," said the 6-foot-1-inch Holder, who hustled his way to nine rebounds and scored 13 of his points after halftime. "We were relentless on the defensive end."
UNLV was soft on the offensive end, shooting 5-for-26 (19.2 percent) from the field, including 2-for-11 from 3-point range, during a 19-point second half.
"We mixed it up a little bit. We threw the zone in, and I thought the zone was effective because they missed some perimeter shots," Sun Devils coach Bobby Hurley said.
Willie Atwood finished with 14 points and Gerry Blakes added 13 points and 11 rebounds for Arizona State (7-3). Blakes drove for a layup to push the Sun Devils' lead to 61-55 with 1:47 remaining.
"Perseverance, resilience," Blakes said. "It was a wake-up call, and we woke up. We did whatever it took to win."
The Rebels were coasting, leading 45-31 after Ike Nwamu's 3-pointer with 17:11 remaining. But they went more than six minutes without a field goal, and in a surprising turnaround, the Sun Devils ripped off a 24-5 run.
Atwood's 3-pointer from the top tied the score at 50 with 8:32 to go, and Eric Jacobsen's free throw gave Arizona State its first lead since 8-7. Blakes made two free throws to put the Sun Devils up 55-50 at the 6:34 mark.
"We weren't getting stops on the defensive end, and that was the reason why we gave up the game," said UNLV junior forward Ben Carter, who was on the floor for only 15 minutes and fouled out with 4:18 to go. "If we defend the ball and rebound, we win this ballgame."
Still, the Rebels were so lackluster and punchless offensively that their leading scorers, Nwamu and 7-foot freshman Stephen Zimmerman Jr., had nine points apiece.
Arizona State trailed 37-25 at halftime while allowing UNLV to shoot 58 percent from the field. Hurley said he lit into his team at the break.
"It wasn't a fun locker room to be in," Hurley said. "Their shooting percentages were way too high. We had our issues in the first half."
The Sun Devils were without junior forward Savon Goodman, the team's leading scorer and rebounder, and down to eight scholarship players. In a surprise development on the morning of the game, it was revealed Goodman did not travel to Las Vegas for personal reasons. According to multiple reports, he was suspended.
"It was a personal issue," Hurley said, "and that's really all I can say on that."
Goodman's absence sapped some intrigue from the matchup. In August 2013, after his freshman year at UNLV, he was arrested for burglary and suspended for the season. He eventually decided to transfer. The hype preceding his so-called homecoming was a false alarm.
But a thin Arizona State team still dominated a deep UNLV team in the second half. The Rebels rarely pressured and trapped full court, and when they did, Holder was quick to crack the pressure and attack the basket.
"I was actually surprised how easy I was getting to the basket," Holder said.
Rice called the Sun Devils' 16 offensive rebounds "totally unacceptable" but shot down a question about his team's lack of effort.
"I don't think it's effort, but it is a grit thing," Rice said. "It's about toughness."
UNLV faces an even tougher test Saturday on the road against 12th-ranked Arizona.
"We definitely need to have that talk," Carter said, "how do we improve from this disappointing loss?"
— Contact reporter Matt Youmans at myoumans@reviewjournal.com or 702-387-2907. Follow him: @mattyoumans247
Check our GameDay page for full coverage of the UNLV-Arizona State game.