UNLV fails to convert in final seconds of 91-90 loss at New Mexico
February 25, 2018 - 1:52 pm
Updated February 25, 2018 - 6:35 pm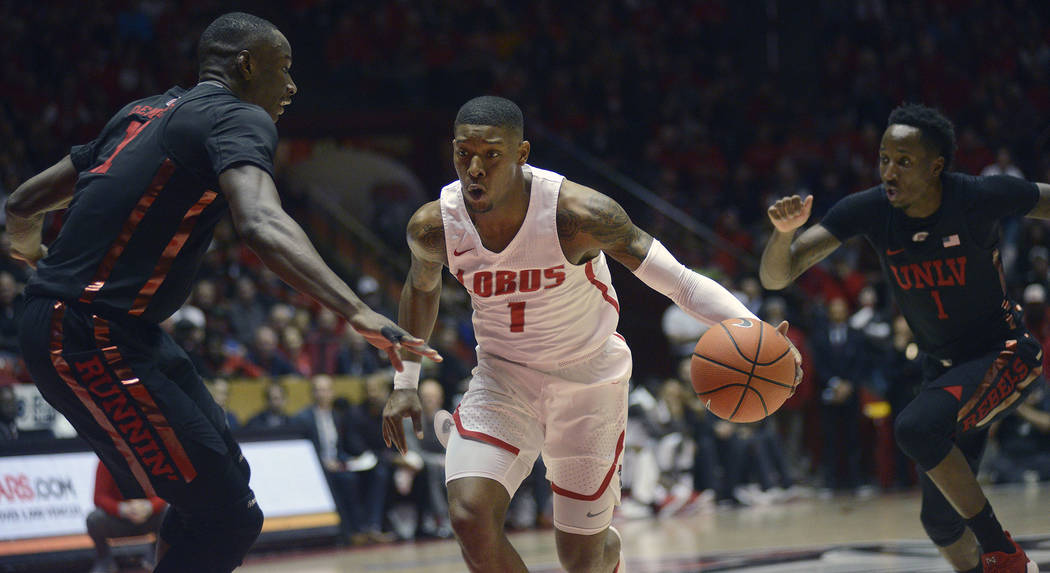 ALBUQUERQUE, N.M. – First a 3-pointer, then a put back and finally a tip all drew iron Sunday for the UNLV Rebels.
But each of the final attempts in the closing seconds fell awry, leaving UNLV with a frustrating 91-90 loss to New Mexico at DreamStyle Arena The Pit.
The loss was the third in a row for UNLV (19-10, 8-8 in Mountain West play) and dropped the Rebels to seventh in the conference standings. The top five teams receive byes into the quarterfinals of the Mountain West tournament, leaving the Rebels with a slim chance of securing one with only two games left.
New Mexico (15-14, 10-6) has won three consecutive games and is in fourth place.
"I feel bad for my guys because I felt like we played well enough to win on the road, which is a challenge," UNLV coach Marvin Menzies said. "But we fell a little short. Literally one foul, one free throw short."
Point guard Jordan Johnson, who equaled a career high with 25 points while adding nine assists and six rebounds, led the Rebels. Shakur Juiston added 18 points and 13 rebounds and Brandon McCoy bounced back from first-half foul issues to finish with 15 points and eight boards.
"There were a lot of guys that did it collectively," Menzies said. "It's hard to celebrate individual accolades after a loss."
UNLV did not make any players available postgame because of time constraints to catch a flight back to Las Vegas.
But New Mexico coach Paul Weir said Johnson's performance was remarkable.
"That might have been the best point guard against our press we've seen in conference play," Weir said. "He played really well. You have to give him a lot of credit. We had to adjust over the course of the game. We made a couple of different adjustments and we still had difficulty stopping him."
Johnson started the final sequence of near-misses following a timeout with 10 seconds left after a 3-pointer from Makuach Maluach put the Lobos ahead 91-90.
Johnson drove into the lane and the Lobos defense collapsed on him. He then he kicked it out to a Kris Clyburn at the 3-point arc.
But Clyburn's shot kicked high off the front of the rim, and Jovan Mooring's put-back attempt rolled off, before Juiston tipped it up, only to have it too come off the rim as time expired.
"We drew up what happened," Menzies said of the final play. "We didn't get the ball to go down. I thought we had a great offensive rebound effort. There may have been some contact on that put-back effort. But it wasn't called so…"
Under an onslaught of second-half 3-pointers, New Mexico built its lead to 11 points on several occasions.
The Lobos connected on 8 of 13 3-point shots in the second half and made 11 in all, compared to the Rebels total of four.
UNLV was able to turn up its defensive intensity, creating an 18-3 advantage in fastbreak points and a 17-11 scoring edge off turnovers.
"We did a good job of covering out and taking away the 3," Menzies said. "Threes is why they went up. And then I thought we did a better job of guarding them late. Made them make tough twos. And then we were able to keep scoring. We were on the free throw line early and I think that aided us as well."
Eight minutes into the second half, the Rebels were in the bonus and finished 28 of 40 from the line.
But it was a crucial miss that cost UNLV after Mooring was fouled hard on a 3-point shot with 30.7 seconds left. He made two of three free throws to put the Rebels ahead 90-88, before Maluach hit his crucial 3-pointer from the top of the arc.
"They got better (Sunday) and fought hard," Menzies said. "Our young ones are learning that life in the Mountain West, we are not a low-major conference. So it was good to see them fight back when we got down."
More Rebels: Follow all of our UNLV coverage online at reviewjournal.com/Rebels and @RJRebels on Twitter.