UNLV guard Willis arrested in Henderson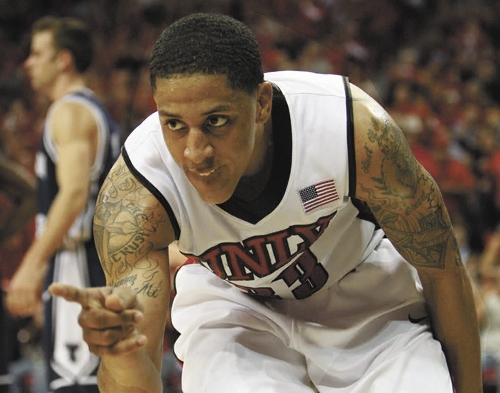 With senior leader Tre'Von Willis behind bars Tuesday, the UNLV basketball team was hit with another black eye and potentially a major setback for next season.
Willis, 22, was arrested by Henderson police on charges of felony domestic battery by strangulation, felony grand larceny and misdemeanor coercion for an incident involving 28-year-old Skye Sanders.
Henderson police spokesman Todd Rasmussen said Sanders called police just after 3 a.m. Tuesday claiming she had been attacked by her boyfriend. Willis was not there when police arrived at the apartment complex on Green Valley Parkway, near Warm Springs Road.
Officers contacted Willis about 10:30 a.m. at his apartment in Las Vegas. Police determined there was a domestic relationship between the two and arrested him.
University of Nevada, Las Vegas coach Lon Kruger, who was in Reno, said he had not spoken to Willis about the matter.
"We really don't know too much. We're gathering more information, and then we'll respond to that," Kruger said. "We'll find out what's true."
The grand larceny charge was in connection with the disappearance of Sanders' cellular telephone, according to police.
Willis was at the Henderson Detention Center on $18,637 bail Tuesday evening, jail records showed. He has a court date scheduled for 3 p.m. today.
Willis, a 6-foot-4-inch guard, averaged 17.2 points per game and was the Rebels' top scorer as a junior last season. He was voted first-team All-Mountain West Conference and named to the league's all-defensive team.
Kruger said he is delaying judgment on Willis' status for the 2010-11 season.
"It would be premature and inappropriate to comment further until this matter has been resolved through the judicial process," UNLV athletic director Jim Livengood said in a statement.
Willis is the second Rebels basketball player to encounter offseason problems.
Matt Shaw, a 6-foot-8-inch forward, saw his career end April 27 when it was announced he failed a random drug test at the NCAA Tournament in March and was issued a one-year suspension. Shaw tested positive for marijuana in an NCAA-mandated test after UNLV's 69-66 first-round loss to Northern Iowa.
Willis, Shaw, Derrick Jasper and Kendall Wallace were expected to be the Rebels' four scholarship seniors next season.
A high school star in Fresno, Calif., Willis attended the University of Memphis as a freshman. He played sparingly and transferred to UNLV before the 2007-08 season, which he sat out as a redshirt.
Willis made 23 starts and played in all 32 games as a sophomore, averaging 11.4 points per game.
He emerged as one of the top players in the conference as a junior. In his most memorable game, he scored a career-high 33 points and had eight assists in an 88-74 victory over Brigham Young on Feb. 6.
The loss of Willis for any length of time could be a blow to the Rebels, who are ranked by some as a preseason Top 25 team.
UNLV guard Anthony Marshall, a former Mojave High School star who will be a sophomore next season, said on his Twitter account: "I have no idea wut happened with my teammate. So plz don't ask me."
According to police, Sanders referred to Willis as her boyfriend. But sources said Willis was dating Erica Helms, a 5-foot-7-inch guard on the UNLV women's team. Helms, the Lady Rebels' leading scorer last season at 13.3 points per game, has one year of eligibility remaining.
Sanders maintains a Facebook page that lists Rene Rougeau, who played for UNLV from 2005 to 2009, as a friend. Willis is not listed on Sanders' page as a friend.
Kruger, who has repeatedly praised Willis for maturing as a team leader, said his star player has avoided problems in the past.
"Tre has handled things really well," Kruger said. "As we learn more as the process unfolds, we'll take a wait-and-see-type attitude."
Contact reporter Lawrence Mower at lmower@
reviewjournal.com or 702-383-0440. Contact reporter Matt Youmans at myoumans@reviewjournal.com or 702-387-2907.