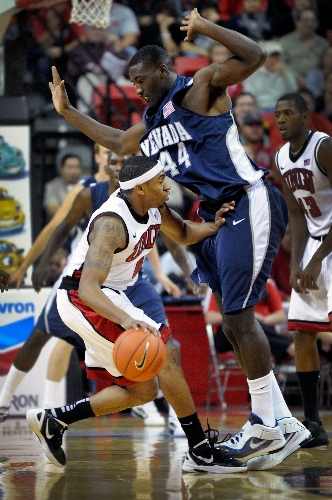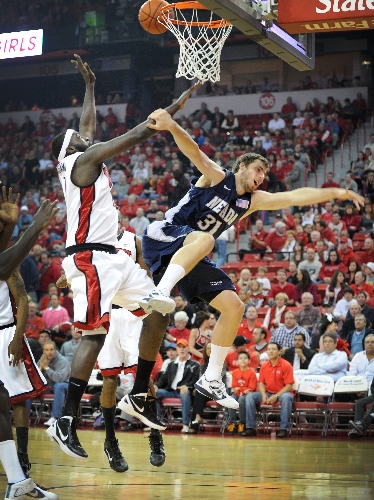 It took only 24 seconds for UNLV senior Chace Stanback to knock down his first jump shot of the season. In his return from a one-game suspension, Stanback was sharp from the start.
But the Rebels lost their edge, and almost the game, toward the end.
After watching an 18-point lead whittled to one in the final minute, Justin Hawkins and Anthony Marshall made crucial free throws to help UNLV hold off UNR 71-67 on Monday at the Thomas & Mack Center.
"I don't think we relaxed," Stanback said, "but we kind of opened the door a little bit for them."
The Rebels (2-0) won the in-state rivalry game for the sixth straight year. This was the closest of the six, however, and it went down to the final few seconds.
Deonte Burton chased down a loose ball and buried a clutch 24-footer from the sideline to pull the Wolf Pack to within 68-67 with 20 seconds remaining.
Marshall was fouled near midcourt and made two free throws with 15 seconds to go. With a shot to tie for UNR, Malik Story hurried a 3-point attempt that was way off the mark with six seconds left.
"I thought there was less time on the clock than there was. I rushed the shot," said Story, who made three 3s and scored 19 points. "I'll never take a shot that early like that again. That was my mistake."
UNLV sophomore Mike Moser grabbed his 11th rebound and handed the ball to Hawkins, who was fouled and made the second of two free throws with 3.3 seconds left.
"We need to close out games better," Rebels coach Dave Rice said. "Our guys came out with a lot of energy, and we did a good job building the lead. We really showed guts down the stretch and got some big stops."
Hawkins came off the bench and had 13 points to lead UNLV in scoring for the second time in two games. Stanback finished with 12. But they did most of their scoring in the first half.
Stanback's 3-pointer from the corner pushed the Rebels in front 26-16 with 5:18 before halftime. A minute later, Hawkins hit a 3 from the same spot.
Burton kept the Wolf Pack (0-2) within striking distance by scoring 20 points in the half, including a long 3 at the buzzer. UNLV's defensive pressure forced UNR into 7-for-27 shooting and 10 turnovers in the opening 20 minutes.
Hawkins had 10 points and Stanback nine to lift the Rebels to a 38-29 halftime lead, and a breakaway dunk by Hawkins extended the margin to 61-43 with 6:36 to play.
But the Wolf Pack, who committed no turnovers after halftime, charged back and trailed 66-59 after Story's three-point play with 2:31 to go. Story's two free throws cut UNLV's lead to 68-64 with 1:03 left and put the crowd of 14,827 on edge.
"The shots were the same, but we were just making them," Burton said. "We just have to take care of the ball. We had to if we wanted to get back in it and make it a close game."
Burton, a sophomore guard who was named the preseason player of the year in the Western Athletic Conference, finished with 28 points. He hit 11 of 14 free throws as UNR outscored UNLV 22-12 at the line.
"He's a good player, and he's going to be a lot for us to deal with the next (two) years," Rice said.
Aside from Burton and Story, the Wolf Pack had no consistent offensive source. The Rebels got key contributions from Oscar Bellfield (11 points), Carlos Lopez (nine) and Moser (eight).
"Carlos did a terrific job and gave us a post presence," Rice said.
Lopez, a sophomore forward, returned from a sprained right ankle to play 18 minutes. He scored in the lane three times in the second half when UNR went to a zone defense.
"I told Coach at the beginning of the game that if he needed me, I would be there," Lopez said.
The Rebels, who were forced into playing at a slower pace in the second half, shot 7-for-26 from 3-point range, with Bellfield going 3-for-8.
"We're still learning how to become a running team," Rice said. "The bottom line is we will get better offensively, but we can always count on our defense.
"It's a really, really good win because it's a rivalry game. We're a good team and we've got a chance to become a great team."
Contact reporter Matt Youmans at myoumans@reviewjournal.com or 702-387-2907.
UNLV – 71
UNR – 67
■ KEY: Anthony Marshall hit two free throws to put the Rebels ahead by three points with 15 seconds to play.
■ NEXT: Canisius at UNLV, 7 p.m. Thursday, KWWN (1100 AM, 98.9 FM)