UNLV looks for positives in MW tournament after infamous regular season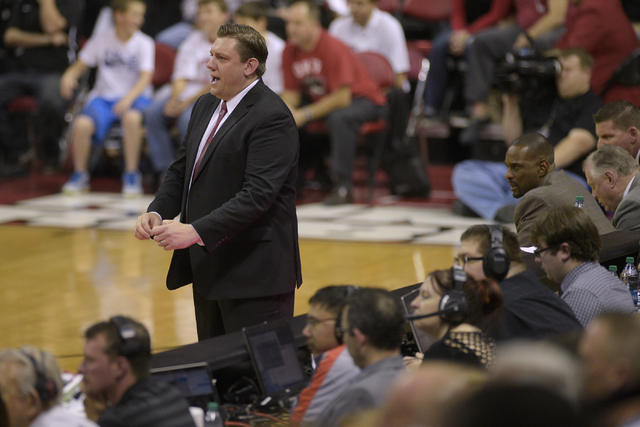 Four mannequins stand just inside the Mendenhall Center, and three have UNLV basketball jerseys draped on them.
The jersey from the fourth mannequin had to be removed late last week because the Rebels needed it for an actual living player who hadn't been on the roster.
UNLV added Bryan Glenn, a 6-foot 11-inch, 235-pound center, just in time for Saturday's regular-season finale at San Diego State, underscoring what kind of wacky season this has been for the Rebels, who were down to five scholarship players against the Aztecs.
"It's fairly insane to think about adding players in general in March," UNLV interim coach Todd Simon said. "It's not something you want to do, and to have him for half a practice to prepare for San Diego State.
"Very rarely do you ever have this many unfortunate injuries and circumstances. I have a coaching friend and mentor. He said, 'In 25 years, I haven't had all that period, and you had it all in one season.' So that kind of puts in perspective a little bit just how crazy and how unfortunate these injuries have piled up."
The Rebels are coming off a 92-56 loss at San Diego State, their worst defeat in 16 years. But even with all the adversity and the uncertainty about who will be available this season, UNLV appears to enter the Mountain West tournament upbeat.
"A lot of the guys came into the locker room (Monday) with a positive energy and saying we have a chance in the Mountain West tournament," UNLV guard Patrick McCaw said.
No. 7 seed UNLV (17-14) opens the single-elimination tournament against No. 10 Air Force (14-17) at 1:30 p.m. today at the Thomas & Mack Center. The Rebels are 11½-point favorites, but they must win four games in four days to win the tourney clinch the league's automatic berth to the NCAA Tournament.
"When we were going through the handshake line after we got done playing SDSU, they were saying, 'We'll see you back in the tournament,'" Rebels forward Stephen Zimmerman Jr. said.
If the Rebels were to face top-seeded San Diego State again, it would be in Saturday's championship game.
Simon said Tuesday he didn't have any update regarding the status of Jerome Seagears, Dwayne Morgan or Derrick Jones Jr.
Seagears has been battling right heel and hand injuries, and his foot kept him out of the San Diego State game. Morgan has been out since Feb. 20 with a separated right shoulder. Jones was sidelined last week by the NCAA over an American College Test score that was vacated due to concerns at a Baltimore exam site.
The lack of healthy bodies is why UNLV made the unusual move last week of grabbing Glenn, a former walk-on who last played during the 2011-12 season, off campus. Glenn not only had been attending school as a student only, but was working the front desk at Wynn Las Vegas.
"He was enrolled and was eligible once we got through that process," Simon said. "We needed a body. When we have gone 5-on-5 or even 4-on-4, coach (Ryan) Miller's been in practice for a couple of weeks now."
Even if the Rebels can get just one player back, that would be important. And there is real hope that Seagears and Morgan will return.
This is a team that should have the emotional advantage, clearly remembering the last time it faced Air Force.
UNLV visited the Falcons on Feb. 16 and came out flat, which was understandable given the Rebels' 36-point victory a month earlier in Las Vegas. Air Force was unhappy with what it thought was a running up of the score in the first game, and beat UNLV 79-74 in the rematch.
"I haven't forgotten," Air Force coach Dave Pilipovich said afterward. "Every dog has his day. I've been in this business for 30 years. I didn't forget; our team didn't forget."
Now it's UNLV's turn to not forget.
"I think a lot of guys are excited and ready," McCaw said. "I'm excited, too."
Contact Mark Anderson at manderson@reviewjournal.com or 702-387-2914. Follow him on Twitter: @markanderson65