UNLV picks Beard as new basketball coach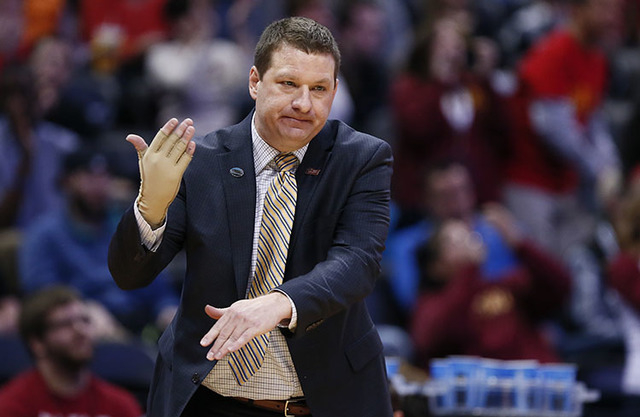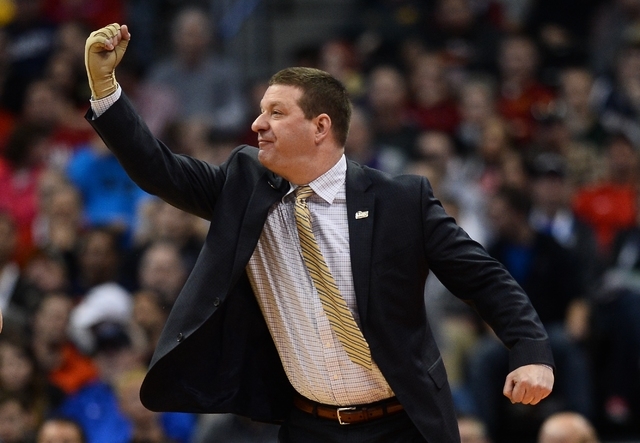 Chris Beard oversaw a 17-game turnaround this season at Arkansas-Little Rock, and UNLV hopes he can pull off a similar feat at UNLV.
He agreed in principle Sunday to become the Rebels' next basketball coach, according to sources close to the search.
Momentum already was headed toward Beard getting the job when New Mexico State coach Marvin Menzies pulled his name from consideration earlier Sunday night.
Beard's agent is scheduled to meet with UNLV officials this morning, one source said, and this time it probably will be to finalize the details of what is expected to be a five-year deal.
Athletic director Tina Kunzer-Murphy said in a text message Sunday afternoon that there was nothing new to report regarding a potential agreement but did not return a text that night asking about the agreement with Beard.
Kunzer-Murphy, university president Len Jessup and radio analyst and former UNLV standout Robert Smith made the decision on who will be the next coach. Attempts to reach Jessup and Smith for comment were unsuccessful.
But Menzies, 54, ended part of the speculation by withdrawing his name from consideration.
"I appreciated going through the process at UNLV, but timing is everything, and at this point I've chosen to not pursue this particular opportunity any longer," Menzies said.
One source close to the search said before the agreement that talks between UNLV officials and Beard went well, and the coach now would be in line for a considerable pay raise barring a late unforeseen snag closing the deal.
According to his Little Rock contract, Beard earns an annual salary of $260,000 in base pay and for media compensation. He also made more than $90,000 in bonuses this season. UNLV paid former coach Dave Rice an annual salary of $750,000.
The buyout for Beard is $200,000 spread out over two years.
Beard, 43, has been at Little Rock just one season but turned around a program that won only 13 games the previous season. The Trojans went 30-5 this season, won the Sun Belt Conference regular-season and tournament championships and defeated Purdue 85-83 in double overtime in the first round of the NCAA Tournament.
He was named the Sun Belt Coach of the Year.
Little Rock hadn't made an NCAA Tournament since 2011 or finished more than two games above .500 since 2008.
UNLV has fallen on its own hard times, going 18-15 each of the past two seasons. The program that once considered making the NCAA Tournament a natural part of the basketball calendar hasn't been to the postseason since 2013.
As for Beard, his greatest influence came on the Texas Tech bench for 10 seasons, seven of those learning under the legendary Bob Knight.
He became a head coach in 2011, taking over the South Carolina Warriors of the American Basketball Association. They went 31-2 and made the finals.
The following season, Beard was hired as coach of McMurry, which had just become a Division II school. Beard went 19-10 in his lone season there.
From there, Beard went to Division II Angelo State, spending two seasons there and going 47-15. The team made the Sweet 16 in 2015.
He has some serious decisions to make, such as whether to retain assistants Stacey Augmon and Ryan Miller. Beard also will have to keep the Rebels' roster together as well as the three-player recruiting class. He knows he will lose Stephen Zimmerman Jr. to the NBA Draft, and Dwayne Morgan reportedly will ask for his release, though no official news release has been issued.
Beard also won't have an easy schedule next season. UNLV hosts Kansas, plays Oregon in Portland, visits Arizona State and probably will face Duke at T-Mobile Arena.
Contact Mark Anderson at manderson@reviewjournal.com or 702-387-2914. Follow him on Twitter: @markanderson65
UPDATE:
Arkansas-Little Rock announces Chris Beard's departure for UNLV
RELATED:</b
Cronin, recruited by UNLV, stays in Cincinnati
Like Vegas Sports News on Facebook: