UNLV pulls away late, beats Wyoming 66-56
Updated February 19, 2019 - 11:21 pm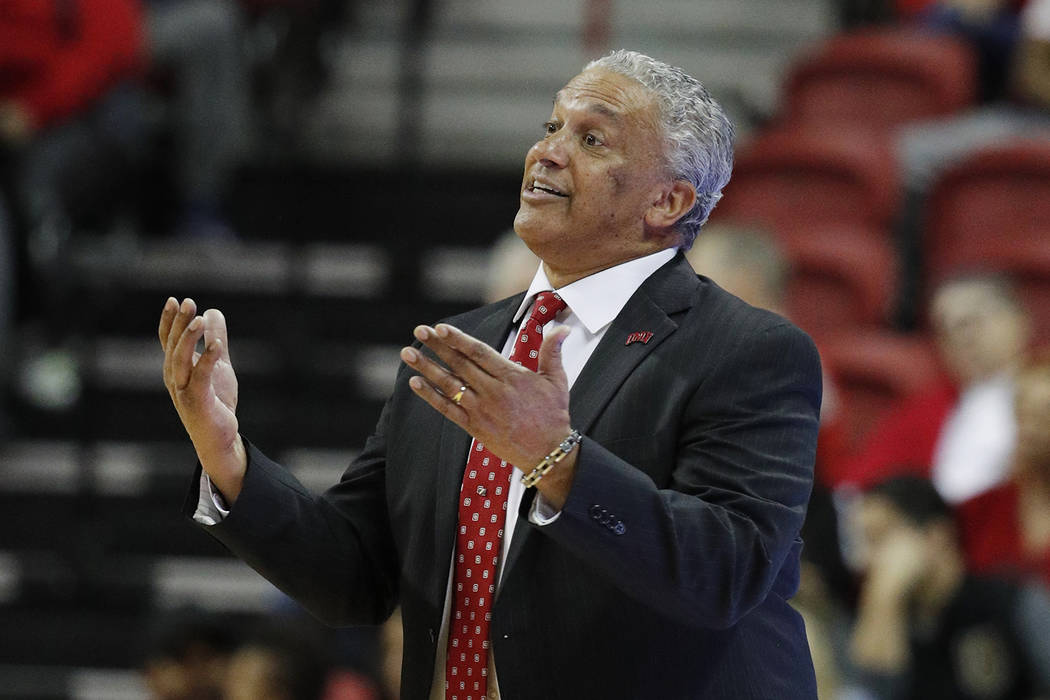 UNLV looked as if it would pull away in the second half before Wyoming charged back.
With momentum and the thin air of the 7,220-foot elevation on the Cowboys' side, UNLV could have fallen apart and given away what appeared to be a sure victory.
Instead, the Rebels regrouped and used a late seven-point run Tuesday night for a 66-56 triumph at Arena-Auditorium in Laramie, Wyoming.
UNLV (15-11, 9-5 Mountain West) guaranteed a winning conference record for the first time since 2014. And the victory at Wyoming (6-20, 2-11) was the Rebels' first since 2013, ending a three-game skid there.
The victory also marked UNLV coach Marvin Menzies' 400th career game.
The Rebels improved to 5-4 on the road by winning their third in a row away from the Thomas &Mack Center. They return home Saturday to face San Diego State at 7 p.m.
"The road is tough," Menzies said. "People don't quite understand it. They'll talk about how we didn't shoot well from 3 (4 of 22), or they'll talk about all of the statistics that give them something to chatter about. We coach games to win games, and we coach games to get our kids better."
The Cowboys pulled to within 55-53 with 3:34 left before UNLV answered to stretch its lead to 62-53 with 1:11 remaining. Amauri Hardy made two free throws, Joel Ntambwe hit a jumper, and Noah Robotham drilled a 3-pointer in a 7-0 spurt.
"I didn't feel like our energy was high on the floor all the time," Menzies said. "I felt like it kept coming and going. That's just working through it. That's the same old song that I always sing about our youth and the growing pains. As long as you get lessons with 'Ws' — I've said that for all three years now — you're ahead of the curve."
Kris Clyburn led the Rebels with 17 points and Ntambwe added 15. For Clyburn, he responded after missing all 12 shots in Saturday's 71-64 win at San Jose State.
"I thought Kris' game was the reason we won the game," Menzies said. "Especially late, he turned (Justin) James over a few times, but Kris played 35 minutes also. It wasn't like James was tired and we weren't. Kris was phenomenal, I thought, on the defensive side of the ball. James had 25, but he scored a lot of those on other guys when he got switched off on to them.
"When we really needed to get stops out of him, that's when Kris was special."
James, who entered the game averaging a conference-best 20.7 points, committed nine of his team's 19 turnovers.
UNLV was perfect from the free-throw line, making 16. The Rebels' record for highest percentage was 96.2 in 1988 against UC Irvine when they made 25 of 26.
More Rebels: Follow at reviewjournal.com/Rebels and @RJ_Sports on Twitter.
Contact Mark Anderson at manderson@reviewjournal.com. Follow @markanderson65 on Twitter.