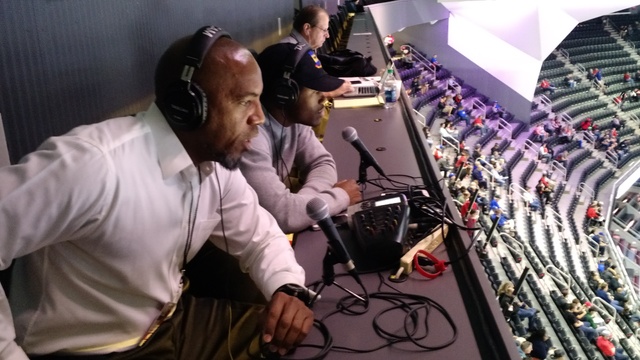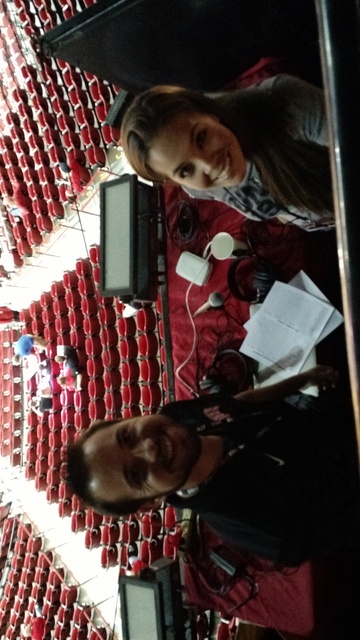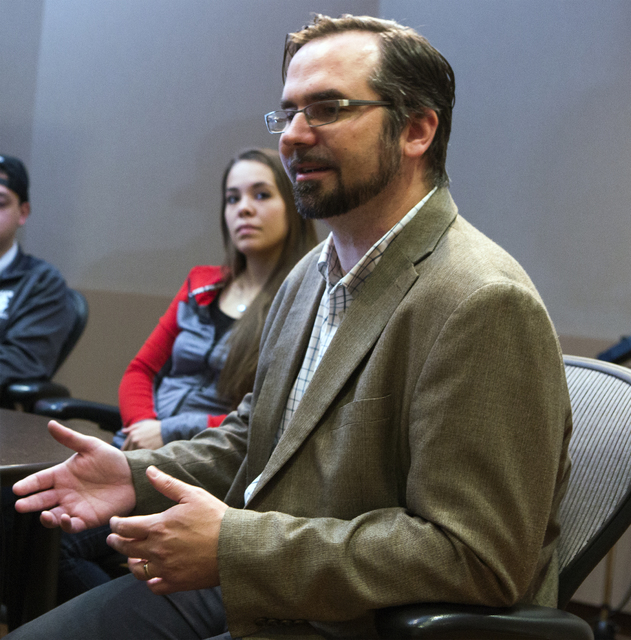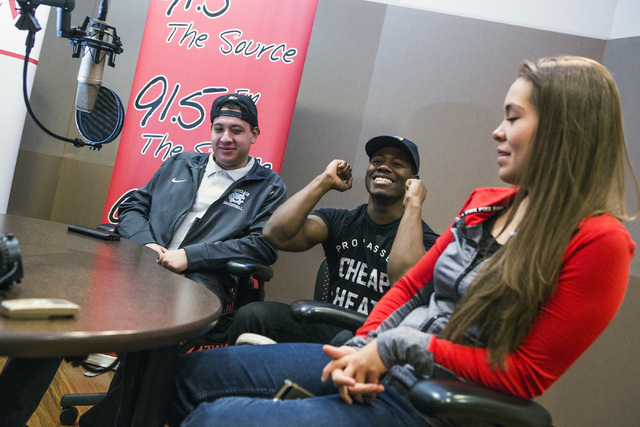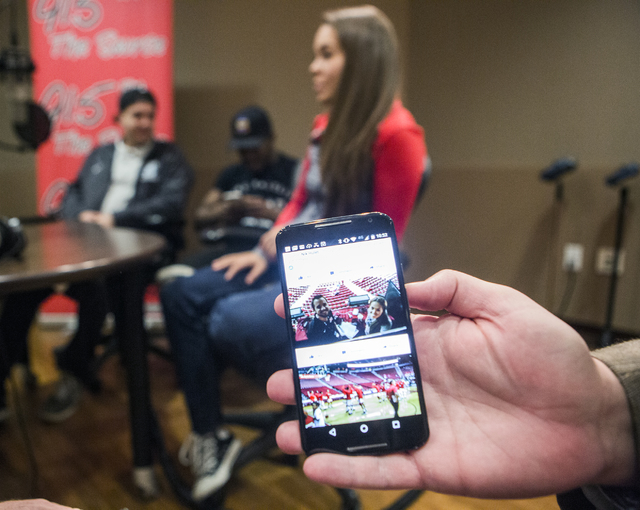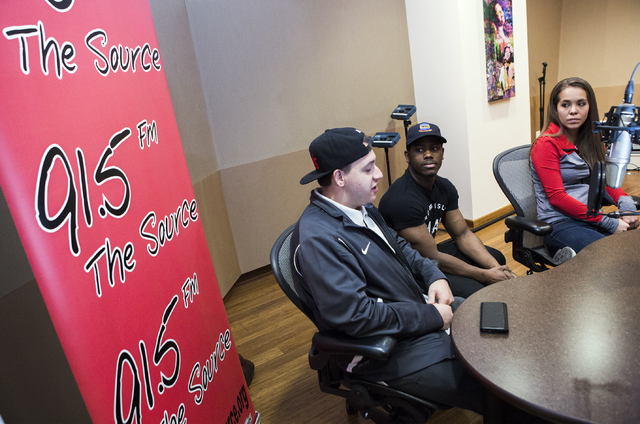 As UNLV's game against Duke quickly got away Saturday, D'mon Cotton knew he had a lot of time to fill on the radio broadcast, knowing most listeners no longer would care much about the play-by-play.
He had learned from experience in the spring, broadcasting seven UNLV baseball games, a sport that by its methodical nature forces announcers to look for various ways to fill time.
So Cotton and his broadcast partner, Raheem Bennett, had to scramble as the Blue Devils dominated in a 94-45 victory.
"We were talking more about like, do you think Duke is actually forcing UNLV to play so terrible?" Cotton said. "Then we started talking about players a lot."
Cotton is a sophomore journalism major at UNLV and among more than 25 students who take part in broadcasting Rebels athletics on KUNV-FM (91.5). The student-run station began broadcasting UNLV baseball games in the spring, and this fall handled football and now men's basketball.
Students will be part of the on-air talent and in the background producing the broadcast when the Rebels (5-4) return to the Thomas & Mack Center to play Incarnate Word (5-3) at 7 p.m. Wednesday. The station was given permission to air games even though Lotus Broadcasting owns the rights for KWWN (1100 AM, 100.9 FM).
Seven to 10 students signed up to cover baseball. Then in the summer, KUNV general manager Frank Mueller sent an email wondering who would be interested in broadcasting football and men's basketball games, and the response was strong.
The station, which averages about 60,000 listeners each week, didn't cover the football opener against Jackson State on Sept. 1 because it was still working out the operational kinks, but was at the other home games. It also has covered every home men's basketball game, as well as the one against Duke at T-Mobile Arena.
"This is one of those areas where they can get their hands on, and they can really see what it's like to be at the game and to talk to the coaches and to talk to the athletes and to have that pressure of knowing there are potentially thousands and tens of thousands of people listening to this game that are hearing them," Mueller said.
Cotton has worked play-by-play or color commentary in basketball games against Duke, UC Riverside and Cal State Fullerton.
Isaiah Torres, a sophomore journalism major, was a producer for the games against South Alabama and Northern Arizona. He considered going into print and then TV journalism.
"It's nice to know more things because it benefits you," Torres said. "While I was taking that (TV broadcasting) class, I realized it wasn't for me, and then that's when I got more into the radio."
Kim Trejo, a junior journalism major, was an analyst for the exhibition against New Mexico Highlands and producer for the game against UC Riverside. She would like to become a producer.
Being a commentator "gave me a chance to look at the other side of things, so when I got to producing, I already knew what was going on at the Thomas & Mack," Trejo said. "So when I was producing, I knew when the breaks were going to come in and what to put in the (public-service announcements) and play the play-back music so (the announcers) knew when to come back in and start talking.
"It was definitely a learning experience."
Contact Mark Anderson at manderson@reviewjournal.com or 702-387-2914. Follow @markanderson65 on Twitter.
UNLV vs. Incarnate Word
When: 7 p.m. Wednesday
Where: Thomas & Mack Center
TV/Radio: Online stream at UNLVRebels.com; KWWN (1100 AM, 100.9 FM)
Line: Not listed