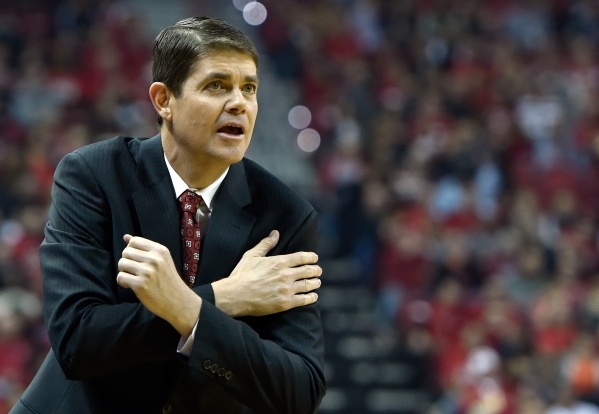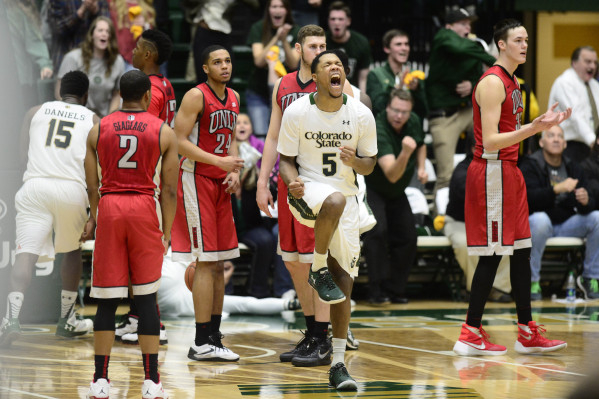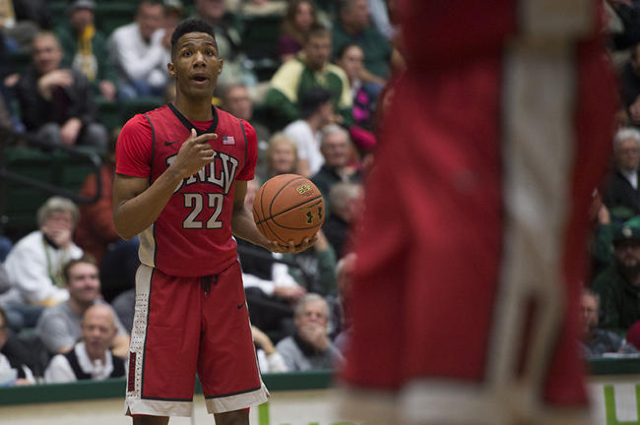 FORT COLLINS, Colo. — A snowstorm hit this region Thursday, when coach Dave Rice put the UNLV basketball team on a bus to Denver for practice. It made for a fitting scene.
Rice is leading the Rebels into the eye of a storm.
In his five seasons, Rice has been forced to offer explanations for several bizarre losses. But never did he lose his cool as he did Wednesday night, three times saying he was "pissed off" after a disconcerting 66-65 defeat to Colorado State.
Never has he needed a win more than he does Saturday, when UNLV wraps up a two-game trip at Wyoming. The Rebels (9-6, 0-2) are buried near the bottom of the Mountain West standings, a year after finishing seventh, and Rice's job status is becoming a hotter topic.
After the fiasco in Fort Collins, junior forward Ben Carter made statements to support his coach and said in a roundabout way that Rice is not losing the team.
"Nothing is wrong in our locker room right now," Carter said. "Obviously, guys hate losing, and that's the only thing that's wrong."
Rice entered the season likely needing to reach the NCAA Tournament to keep his job. Here's the reality for UNLV: Win the conference tournament or bust.
By beating Indiana and Oregon, the Rebels put two nice lines on their postseason resume. But some numbers are nasty. UNLV, which has a 7-6 record against Division I opponents, is 91st in the nation in the Ken Pomeroy ratings (Kenpom.com) and 112th in the Ratings Percentage Index.
In losses to Fresno State and Colorado State, the Rebels averaged 65.5 points and totaled 39 turnovers. In Mountain West play, UNLV ranks 10th in the league in offensive efficiency, ahead of only Air Force. San Jose State (0-3) is the only team lower in the standings.
Against the Rams, the Rebels had a 10-point lead with 5½ minutes remaining and a five-point lead with 50 seconds to play. What followed was a turnover by Carter, a missed free throw by freshman Stephen Zimmerman Jr., a foul by Zimmerman and a foul by Carter, who tried to prevent John Gillon's layup with 1.1 seconds left after UNLV's transition defense completely collapsed. Gillon made the winning free throw, and the inbounds pass was botched as time expired.
"It comes down to mental toughness," Rice said. "Mental toughness to make physical plays down the stretch that have to be made to win a college basketball game on the road. We put ourselves in position to win the game and gave it away. We've just got to count on our guys to make better plays than that."
Rice was right. The players blew the game in the final minute. But a coach who pins a loss on his players is usually a coach who senses he's in trouble.
UNLV's sloppy, undisciplined play for a majority of the game cannot be swept under the rug, and in the big picture, the loss extends a troubling trend that goes back two or three seasons. Rice's teams too often find ways to give away games that should have been won, and his teams too often get outworked by less talented opponents.
Carter asked to be blamed for the meltdown, but he was the Rebels' most valuable player, shooting 8 of 10 and finishing with 16 points and 12 rebounds. Zimmerman had nine points and eight rebounds, and freshman guard Jalen Poyser had 12 points off the bench.
UNLV's most experienced guards — Patrick McCaw, Ike Nwamu and Jerome Seagears — combined to shoot 6 of 20 with six assists and five turnovers.
If there is a positive, it's that the Rebels will be favorites in their next three games.
An emotional Carter said, "We're going to come back strong."
Contact reporter Matt Youmans at myoumans@reviewjournal.com or 702-387-2907. Follow him on Twitter: @mattyoumans247