UNLV's Marvin Menzies must get busy after regents approve his deal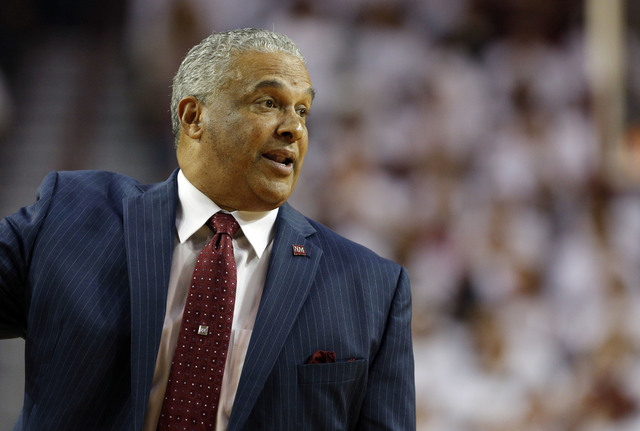 After Gerald Ford became president in 1974 during the greatest political scandal in U.S. history, he uttered the famous phrase: "Our long national nightmare is over."
Those who follow UNLV basketball even on a casual basis know the past three months have been anything but a dream, but one of the rockiest stretches in the program's history finally is almost over.
Or it should be. All indications are the University of Nevada Board of Regents will approve new coach Marvin Menzies' five-year contract when it meets at 9 a.m. Friday at the Nevada System of Higher Education building at 4300 S. Maryland Parkway.
Barring some unforeseen hitch that prevents his contract from being approved — it pays a guaranteed $700,000 each of the next three seasons and $800,000 each of the subsequent two years — UNLV fans can quickly forget about all the injuries and departures and coaching search that was anything but smooth and focus on the future.
For Menzies, that means getting work done quickly.
Here are his priorities:
Assemble a coaching staff
Sources said — until the regents vote on Menzies' contract, no one will speak on the record — that Providence associate head coach Andre LaFleur and New Mexico State special assistant to the head coach Brandon Mason will join the staff.
LaFleur was at Providence for five seasons after spending 10 years at Connecticut. Mason, a former Aggies player, spent one season at New Mexico State and has two years of experience in the Mountain West, as he was the video administrator at New Mexico. It was uncertain whether Mason would remain in the same role at UNLV as he had at New Mexico State or be one of Menzies' three assistants.
So Menzies still could have up to two spots to fill, and New Mexico State associate head coach Paul Weir might get one of them. But Weir is a strong candidate to succeed Menzies in Las Cruces.
Hang on to players onboard
Part of that objective was accomplished when Dwayne Morgan announced Wednesday he was staying. But Ben Carter visited with Arizona and Arizona State the same day, and he has visits planned with Miami, Michigan State and North Carolina State. Convincing Carter to stay would be a coup, but as a graduate transfer with just one season to play, he wants to compete in the NCAA Tournament.
And then there are the signees. Jaylen Fisher and Justin Jackson still list themselves as committed to UNLV, and no news has broken about either looking to visit any other schools, so the closer to the May 18 signing period deadline the Rebels get, the better it looks.
Findlay Prep's Carlos Johnson reopened his recruiting, but tweeted Thursday that he had a great talk with Menzies. So Johnson might return to the fold.
Look hard for new players
At this late date in the process, most of the top high school recruits are gone, and Menzies will have plenty of roster spots to fill. Even if Carter returns and the three recruits indeed become Rebels, UNLV still has six open spots. Lose Carter and don't get back Johnson, and the number climbs to eight.
That's a lot of work in a short amount of time.
Menzies and his staff will try to stitch together a roster of high school players, junior college transfers, four-year and graduate transfers and international students.
All in less than a month.
Contact Mark Anderson at manderson@reviewjournal.com or 702-387-2914. Follow on Twitter: @markanderson65
RELATED
Here's a look at what has happened during UNLV's men's basketball coach search
UNLV adds two coaches to men's basketball staff
UNLV coach Marvin Menzies' contract reveals he will make less than Chris Beard
UNLV announces hiring of Marvin Menzies as basketball coach