UNLV's Rice has promising class of 2016 recruits
November 23, 2015 - 1:59 pm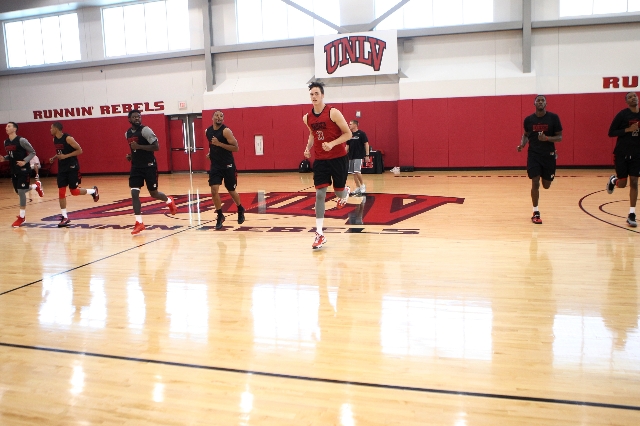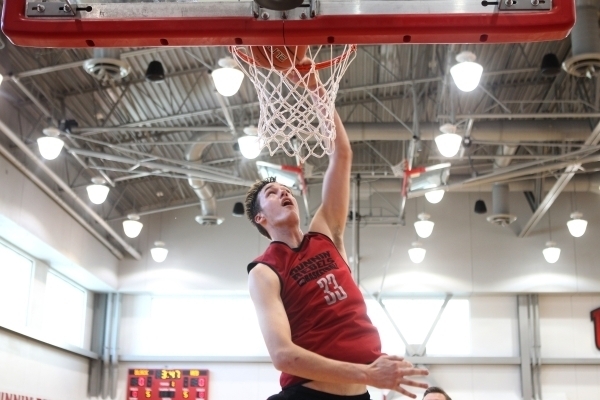 Recruiting has been a strength for UNLV basketball coach Dave Rice, who reeled in McDonald's All-Americans and classes ranked in the nation's top 10 the past two years. His next class might not attract as much hype, but there's a lot for Rice to like about it.
All of the players who committed to the Rebels — Jaylen Fisher, Justin Jackson, Carlos Johnson and Christian Vital — have signed their letters of intent, Rice announced.
Jackson, originally part of the 2015 class, is a 6-foot-9-inch forward who graduated from Findlay Prep in the spring. Instead of enrolling at UNLV, he went to The Hill Academy, a prep school in Ontario, Canada. Jackson, who averaged 14.1 points and 7.1 rebounds as a senior for the Pilots, is ranked as the No. 26 recruit in the class of 2016 by ESPN.
"Justin is a versatile wing with a point-guard mentality," Rice said in a news release issued by the school Monday. "He is highly skilled and is very efficient making plays on the perimeter and in the paint. He is a great rebounder and a fantastic leader."
Fisher, a 6-2 point guard from Bolton High School in Memphis, is the top-ranked senior in Tennessee. He is ranked by Rivals.com as the No. 55 player in the class.
"Jaylen is a dynamic leader and a true point guard," Rice said. "He is a tenacious defender and great competitor."
Johnson, a senior at Findlay Prep, is a physical 6-4 forward from Oakland, Calif. He played last season at El Cerrito High near Berkeley, Calif., and averaged 15.9 points and 8.3 rebounds.
"Carlos is extremely tough and is a relentless competitor," Rice said. "He is a lock-down defender and a great finisher in transition and in the half court."
Vital, a 6-2 guard from Queens Village, N.Y., attends St. Thomas More School in Oakdale, Conn. He's not as highly touted as the other three signees.
"Christian is a highly skilled combo guard with deep 3-point shooting range," Rice said. "He is versatile playmaker with a great work ethic."
Contact reporter Matt Youmans at myoumans@reviewjournal.com or 702-387-2907. Follow him on Twitter: @mattyoumans247