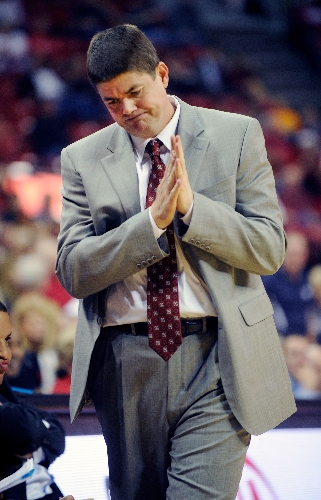 Eventually, coach Dave Rice believes his plan will come together, and UNLV will become a running basketball team. But it appears the transition might happen in slow motion.
In their first dress rehearsal, the Rebels in no way resembled the Los Angeles Lakers of the "Showtime" era.
With offensive execution that was excruciating to witness, UNLV stumbled to a 58-50 victory over Division II Washburn (Kan.) in Tuesday's exhibition. Rice reviewed the tape, sorted out the mess and reacted with patience.
"The adjustment period for us offensively is we've just put in a system that is different from what our guys are accustomed to, and it's just going to take some time," he said.
The Rebels shot 2-for-18 from 3-point range and committed 19 of the teams' combined 40 turnovers. But Rice promised the next time his team takes the floor, a Washington Generals intrasquad scrimmage won't break out.
Exhibitions are on the schedule for a reason, and as junior guard Anthony Marshall said, "Progress is a process."
The next step for UNLV is a closed scrimmage against Loyola Marymount on Saturday afternoon at the Thomas & Mack Center. It will be played as a normal 40-minute game, but NCAA rules prohibit fans and media from attending.
The Lions, coached by Max Good, defeated LaVerne 94-49 in an exhibition Tuesday. Good was the Rebels' head coach for the final 22 games of the 2000-01 season.
Rice opted to alter UNLV's offensive approach in the second half in order to defeat Washburn. Instead of forcing a transition attack, the Rebels used more ball screens in half-court sets, a system similar to the one directed by former coach Lon Kruger.
"It was really important for us, even though it was an exhibition game, to figure out a way to win," Rice said. "We weren't going to sacrifice that. I wasn't going to be stubborn.
"We still want to push the ball on every possession. We will probably find a way that works best for our guys that maybe is a little bit of a hybrid. It's just a matter of getting more comfortable and adjusting to what we're doing. I think the hardest thing when you play fast is to play fast but to not get in a hurry.
"I'm not trying to sound cliche, but it really is true. Making decisions at a high rate of speed is a hard deal."
Marshall was one of the few players who performed well Tuesday, but it took awhile for him to find a rhythm as he scored 12 of his 14 points after halftime. He also had 11 rebounds, four assists, four steals and five turnovers.
Sophomore forward Mike Moser has excelled in practices, but the UCLA transfer admitted to feeling uncomfortable in his first game situation for UNLV. Moser shot 4-for-13 and had 14 points and nine rebounds.
The Rebels' other perimeter shooters — Oscar Bellfield, Justin Hawkins and Kendall Wallace — were a combined 2-for-15 from the field.
Wallace, 14 months removed from surgery on a torn anterior cruciate ligament, said he wore a brace on his right knee in Wednesday's practice for "safety reasons" because of minor soreness and swelling.
"We need Kendall to be healthy," Rice said. "He's a really important part of our team."
Senior forward Chace Stanback, the team's top returning scorer, is the most important missing part. Stanback is serving a suspension and also will be sidelined for UNLV's regular-season opener against Division II Grand Canyon on Nov. 11.
"I think we obviously will be better when we have our whole team," Rice said.
The need for stronger defensive rebounding, Rice said, is a "recurring theme" and his top priority. He's also evaluating different lineup combinations while looking to fine tune the offense.
"It's just a matter of time of playing in the system," Wallace said. "You can't expect with a whole new system, with three or four weeks of practice, that we're going to come out and have it perfected."
■ NOTE — Sophomore forward Carlos Lopez, who scored 11 points against Washburn, suffered a right ankle injury in Wednesday's practice. Lopez had X-rays Thursday that showed a severe sprain. "Carlos will miss a significant amount of time," Rice said.
Contact reporter Matt Youmans at myoumans@reviewjournal.com or 702-387-2907.