Vaughn: 'No excuses' for Rebels
December 12, 2014 - 11:40 pm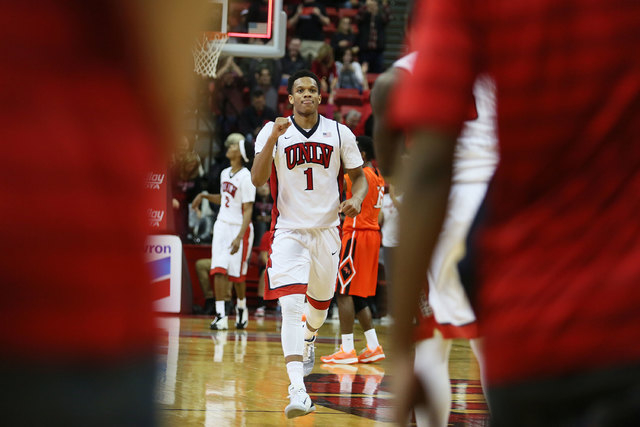 SIOUX FALLS, S.D. — After two months of practices and seven games, UNLV freshman Rashad Vaughn has seen and heard enough. The time for using youth to explain away losses has passed.
"We can't use 'we're a young team' as an excuse anymore," he said. "We really have no excuses. Everybody should be grown up. We have to go out and play how we know we can play. I think it's time as a team to make that next step."
Vaughn is running again and will be in the starting lineup when the Rebels (5-2) face South Dakota (3-7) at 5 p.m. today at the Sanford Pentagon, a 3,250-seat arena about an hour from the Coyotes' campus in Vermillion.
The game was scheduled in part as a homecoming for Vaughn, who is from Minneapolis, and arranged by UNLV assistant coach Ryan Miller, who grew up in Mitchell, S.D.
Vaughn said there is no doubt he will play, and a large group of family and friends will be in attendance to see him.
When he last took the court in a game on Dec. 3, Vaughn was unable to walk off it.
He suffered from back spasms in the second half against Arizona State and needed assistance to limp to the locker room and the bus.
With nine minutes remaining, Vaughn spun in the lane and hit a short jumper. The 6-foot-6-inch guard took a few steps before falling to the floor in pain. The Rebels went on to fall to the Sun Devils 77-55.
"I'm back to normal," Vaughn said. "It was weird. When I turned to shoot, I might have twisted too fast or landed wrong. But I'm good now."
Vaughn, UNLV's leading scorer at 16.2 points per game, practiced at full speed four times this week.
"It was really bad back spasms that didn't allow him to walk on his own," coach Dave Rice said. "He has been fine since Monday. He never had it before and hopefully never has it again."
Vaughn and senior guard Jelan Kendrick sat out of the Rebels' 60-point victory over Saint Katherine on Dec. 5 at Orleans Arena.
Kendrick was bothered by groin and lower back injuries, but he and Vaughn "will both start and there should be no restrictions," Rice said.
UNLV has been pounded by two Pacific-12 Conference opponents, also losing to Stanford by 29 points on Nov. 21. The Cardinal and Sun Devils combined to connect on 25 of 42 3-pointers in those blowouts.
Rice is playing six freshmen in his nine-man rotation, and the Rebels' inexperience has been exposed in transition defense and in guarding the perimeter.
"I think the biggest issue in those two games was our inability to defend the 3-point line," Rice said. "We need to stop making the same mistakes and be more consistent with our execution.
"I told the guys that we're now seven games in, and we are not a new team anymore. It's time."
South Dakota, which competes in the Summit League, has lost three games in overtime, including a 91-88 double-overtime defeat at Creighton on Tuesday. Tyler Larson, Casey Kasperbauer and Brandon Bos all shoot 39 percent or better from 3-point range.
"After watching film, they have a lot of shooters, and we have to go in there thinking South Dakota is a great team," Vaughn said.
In November, Vaughn said he realized UNLV would not look like a great team, or even a good one, on some nights.
"I would rather have our growing pains early in the season," he said.
There might be more on the way. The Rebels' opponents the next three weeks include Utah, Arizona, Wyoming and Kansas.
"We're hitting a pretty tough stretch of games," Rice said.
■ NOTES — South Dakota is scheduled to play at the Thomas &Mack Center next season. … Coyotes coach Craig Smith is in his first year. Smith was an assistant to Tim Miles at Nebraska for the past two seasons and at Colorado State from 2008 to 2012. … Khem Birch, who left UNLV after his junior season and was not selected in the NBA Draft, is with the Sioux Falls Skyforce in the NBA Development League. Birch averaged 16.5 points and 10.3 rebounds through the team's first eight games. Sioux Falls is the Miami Heat affiliate.
Contact reporter Matt Youmans at myoumans@reviewjournal.com or 702-387-2907. Follow him on Twitter: @mattyoumans247.
UNLV vs. SOUTH DAKOTA
■ WHEN: 5 p.m. today
■ WHERE: Sanford Pentagon, Sioux Falls, S.D.
■ RADIO: KWWN (1100 AM, 100.9 FM)
■ LINE: UNLV -3½