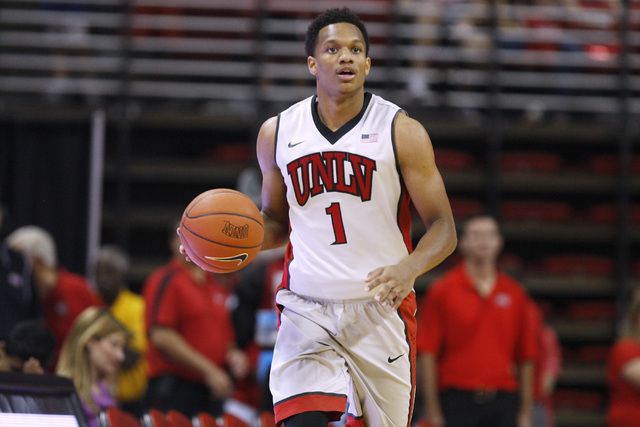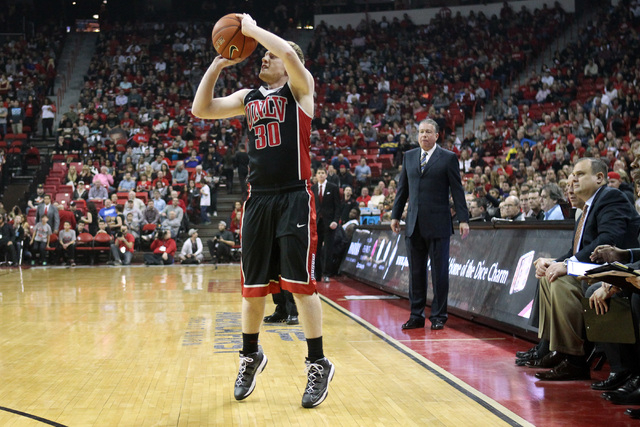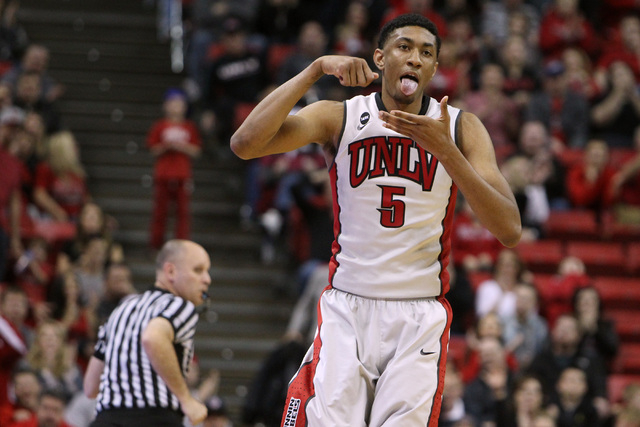 Each report about Rashad Vaughn signing with an agent has been followed by a denial, but the story is trending in the direction of the UNLV freshman declaring for the NBA Draft.
Sophomore forward Chris Wood, another NBA prospect, is considering his options. The one certainty is that redshirt freshman guard Dantley Walker plans to transfer.
"Everyone else is committed and excited about coming back next season," coach Dave Rice said.
The Rebels finished 18-15 and missed the NCAA Tournament for the second straight year, leaving Rice to face a potential make-or-break fifth season. He spoke confidently about the future Monday and is preparing to move forward with or without Vaughn and Wood.
"Obviously, Chris and Rashad are in the process of making decisions," Rice said. "When you recruit at a relatively high level like we have, you're going to have situations where every spring you've got a couple guys who have decisions to make. We do have contingency plans.
"It excites me that the core of our group will be back next season. We have everything in place to have a very good season. I'm as excited about this group as I've been about any team."
Rice said freshmen Patrick McCaw, Dwayne Morgan, Goodluck Okonoboh and Jordan Cornish indicated in postseason meetings that they plan to return.
It was reported Friday by Yahoo Sports that Vaughn intended to enter the NBA Draft. Vaughn responded via Twitter by calling that "false information."
Another report Monday stated Vaughn had signed with an agent. His dad, Troy, told a member of the UNLV coaching staff the report was untrue.
Vaughn, a 6-foot-6-inch shooting guard from Minneapolis and Findlay Prep, was a McDonald's All-American last year. He is projected as a second-round pick, and only first-round picks get guaranteed contracts in the NBA.
Two minor knee injuries in the past year have complicated Vaughn's decision. He suffered a torn meniscus in his left knee on Feb. 10, underwent surgery Feb. 18 and has returned to on-court workouts at full strength.
Vaughn averaged 17.8 points in 23 games for the Rebels. He shot 38.3 percent (54 of 141) from 3-point range, and his natural scoring ability is what intrigues pro scouts.
Despite missing seven conference games, he was voted Freshman of the Year by the Mountain West coaches. Vaughn scored a season-high 31 points in a victory over Utah State on Jan. 24 and scored 30 in a loss at Colorado State on Feb. 7.
The 6-11 Wood, another Findlay Prep product, made dramatic improvement last season. He was voted to the all-conference first team by the media and is projected to be a first-round pick if he enters the draft.
Wood was the team's No. 2 scorer (15.7) and leading rebounder (10.0) while adding 90 blocked shots in 33 games. As a freshman, he averaged 4.5 points and 3.2 rebounds in limited minutes.
In one of his top performances, Wood totaled 27 points and 19 rebounds in a victory over Fresno State on Feb. 10, when Vaughn played his last game.
Rice said Vaughn and Wood each applied for an evaluation from the NBA Undergraduate Advisory Committee, which provides early-entry candidates with information regarding their potential draft status. Those evaluations should be available to the players within two weeks.
The deadline for underclassmen to enter the draft is April 26. If Vaughn has signed with an agent, as reported, his college career is over.
Walker's two-year career at UNLV is history. The 5-11 shooting guard averaged 2.4 points and 5.8 minutes in 11 games. He suffered a sprained medial collateral ligament in his right knee on Feb. 14 and missed the rest of the season.
At Lincoln County High School in Panaca, Walker became the leading scorer in Nevada prep history with 3,304 points. He scored 26 points for the Rebels, after redshirting for the 2013-14 season.
"Dantley enjoyed his experience here," Rice said, "and he just indicated he wants to go to a place where he can play a bigger role."
Contact reporter Matt Youmans at myoumans@reviewjournal.com or 702-387-2907. Follow him on Twitter: @mattyoumans247.