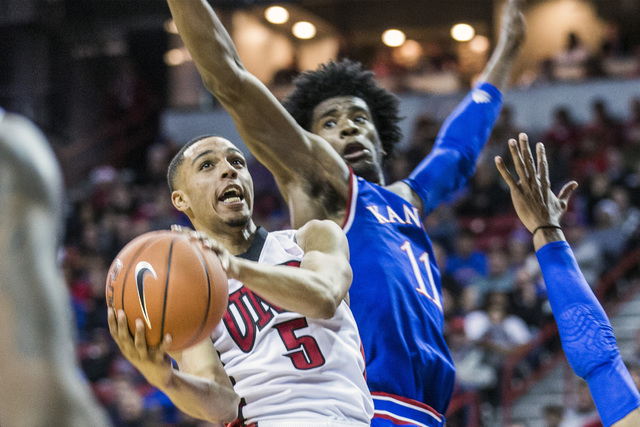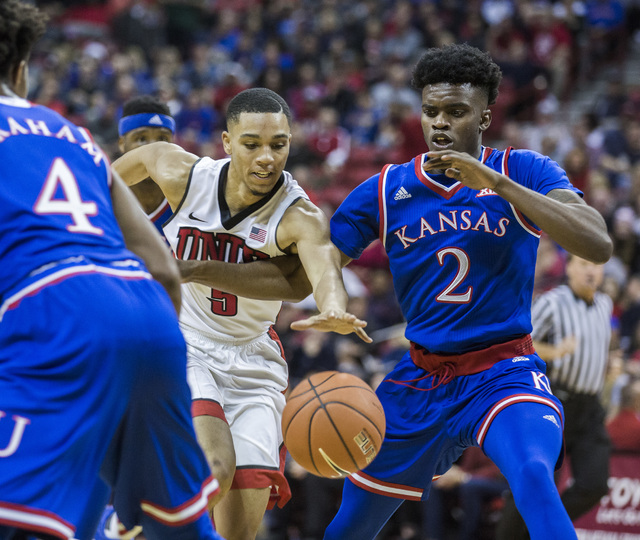 What the UNLV basketball team said after its 71-53 loss to No. 3 Kansas on Thursday at the Thomas & Mack Center:
Coach Marvin Menzies
"Some of the mistakes we made tonight were on-court discipline. We've got to shore that up quickly. Unfortunately, those things take a little bit of time, but we've fixed a lot of things already. Now we've got to carry it over into conference."
"Now it's a matter of getting in these guys' heads to understand the little things on film. We've got a bunch of guys who are going home for a couple of days, so we'll send them their edits to review, and we'll do some phone stuff with them. There are four or five guys staying back, and we'll have them by the house to watch film together and get them some rehab and some conditioning. Then we'll go back to work on the 26th (Monday)."
"I wish we would've shot better from the free-throw line (10 of 24). That was one of those mental toughness things. We were over 70 percent (for the season), and we shot 41 percent tonight. That is just unacceptable. They've got to be tougher mentally. You can't shoot like that against anybody in conference and think you're going to win on the road. So we've got to do a better job, and we will."
Forward Tyrell Green
On the team's improved play in the second half: "We needed to pick up our effort a little bit on the defensive end. We were missing a lot of shots the first half, but we knew they were going to fall. … I felt like we had it for a little bit, and it got away from us."
Forward Christian Jones
On playing 27 minutes in his return from an ankle injury: "It was really about how I felt conditioning-wise. I was out here just trying to help my teammates the most I could."
Contact Mark Anderson at manderson@reviewjournal.com or 702-387-2914. Follow @markanderson65 on Twitter.