Wood, Okonoboh push Rebels past UNR
January 27, 2015 - 10:44 pm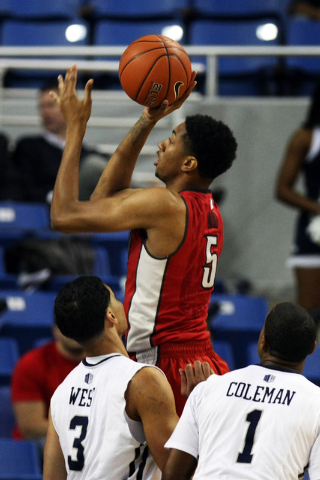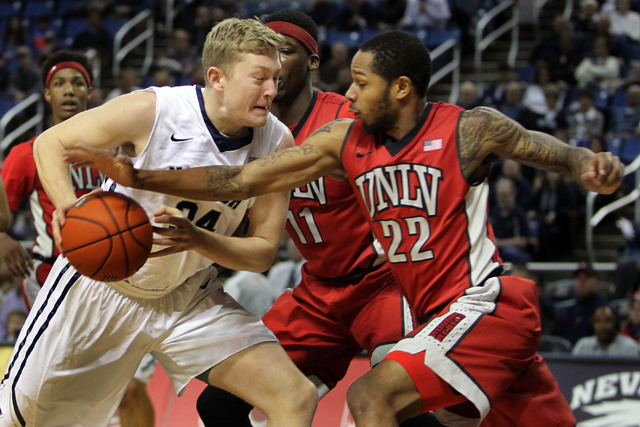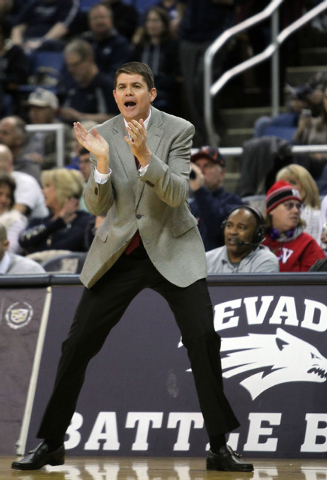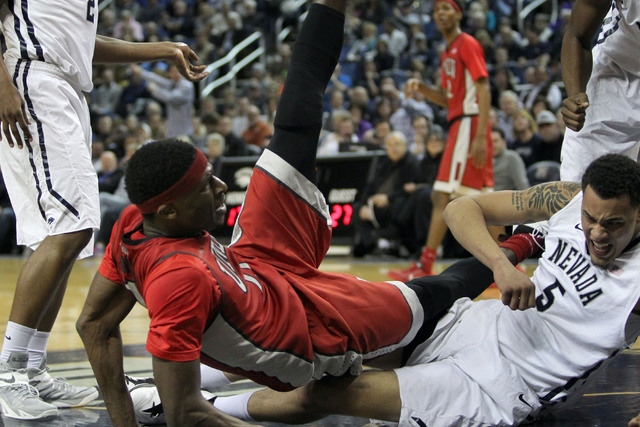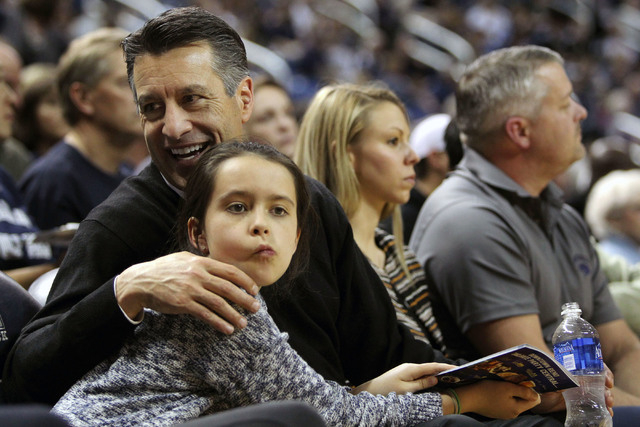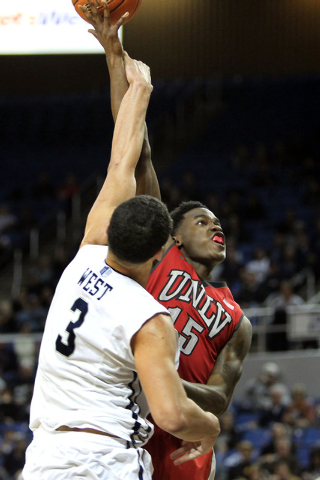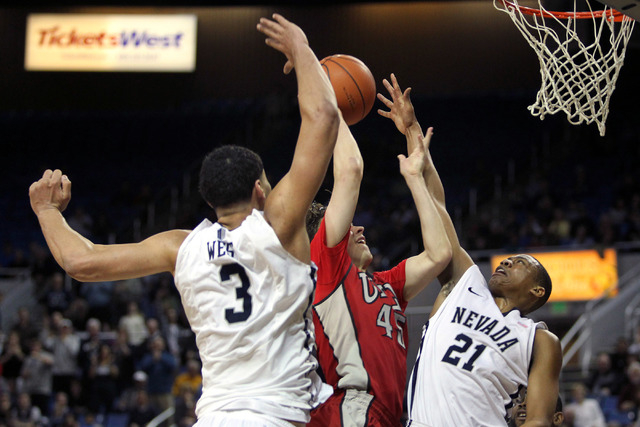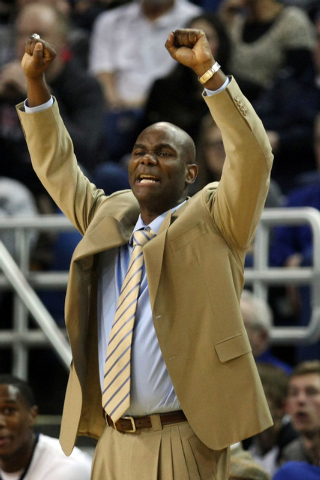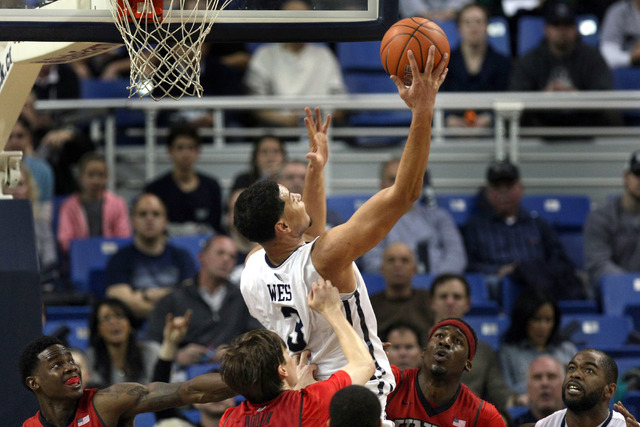 RENO — It was becoming a familiar story, with UNLV letting a lead slip away in the final minutes. But, this time, doubt never crept into Chris Wood's mind.
The sophomore forward, who last week promised his team would not lose again, pulled the trigger with confidence and hit the biggest shot of the night.
"I felt like I already knew what was going to happen down the stretch," he said. "I knew we were going to get the win."
Wood's latest prediction proved true. He totaled 16 points and 11 rebounds as the Rebels held on to defeat UNR 67-62 on Tuesday at Lawlor Events Center.
In earning its first true road win of the season, UNLV (12-9, 3-5 Mountain West) avenged a Jan. 7 loss to the Wolf Pack and stopped a three-game losing streak in the rivalry.
Goodluck Okonoboh could see it coming, too. The freshman forward did not start because of a right foot injury, but he came off the bench and made a major impact by finishing with 13 points, nine rebounds and five blocks in 26 minutes.
"We've been in so many close games," Okonoboh said. "I'm going to be honest, I knew we were going to win that game."
Wood and Okonoboh each made several key plays. With the shot clock down to four seconds, Wood took a pass from Patrick McCaw and buried a 3-pointer from the wing to put UNLV up 60-56 at the 1:40 mark.
AJ West's layup attempt was blocked by Okonoboh with a minute to go. The Rebels pushed the ball ahead to Wood, who was fouled and made one free throw. Okonoboh fouled out with 42 seconds to play, but UNR's Marqueze Coleman missed both free throws.
UNLV extended its lead to 63-56 on Jelan Kendrick's two free throws with 36 seconds to play.
Eric Cooper Jr. scored 16 to lead the Wolf Pack (6-13, 2-5). West had 15 points and 15 rebounds, including 10 on the offensive end, and Tyron Criswell also scored 15.
Coleman made the winning shot for UNR in the teams' first meeting in Las Vegas, when the Rebels came out flat and got upset.
"We played by far our worst game of the year," UNLV coach Dave Rice said of the 64-62 loss early this month. "It's a big deal for us, after the way we played in the first game, to be able to come up here and get the win.
"We have a lot of experience in close games. We told our guys whoever is tougher for the entire game is going to win this game, and we were tough down the stretch. It was a win that was all about toughness."
Rashad Vaughn was off most of the night, shooting 3-for-10 and recording 10 points. Kendrick scored nine and McCaw eight for the Rebels, who shot 49 percent (24 of 49) from the field.
UNLV's problems at the free-throw line (13 of 25) did not prove costly in this close game.
UNR took its first lead, 50-49, on Cooper's three-point play with 5:50 remaining. West's free throws made the score 54-51 with 4:36 left.
Cody Doolin scored on a drive through heavy traffic, and a dunk by Okonoboh put UNLV ahead 55-54.
"I thought Goodluck and Jelan were the difference in the game," Rice said.
The Rebels led by as many as 12 points in the first half and 33-26 at halftime. Okonoboh, who called his foot injury "really painful," showed plenty of spring in his step when he entered the game and totaled eight points and seven rebounds in the half.
Establishing control early, UNLV shot 50 percent from the field in the first 20 minutes. Still, UNR took some momentum to the locker room when Cooper Jr. banked in a 3-pointer at the buzzer.
West picked up his second foul 3:40 into the game, and when he went to the bench, it was a setback for the Wolf Pack. But West got his team back into the game after the half.
After Vaughn committed back-to-back turnovers, a jumper by West and a fast-break layup by Coleman cut UNR's deficit to 38-37 with 15:44 remaining.
The Wolf Pack tied the score at 43 on a Criswell free throw with 11:11 to go. With a shot to give UNR its first lead, Criswell missed the second attempt. Vaughn countered on the other end with a 3-pointer.
"We executed really well down the stretch," said Wood, who called the end of the Rebels' losing streak in the rivalry an "amazing" feeling.
Contact reporter Matt Youmans at myoumans@reviewjournal.com or 702-387-2907. Follow him on Twitter: @mattyoumans247.