Ex-Liberty star Kenyon Oblad adjusting to next level at UNLV
Updated March 6, 2018 - 5:54 pm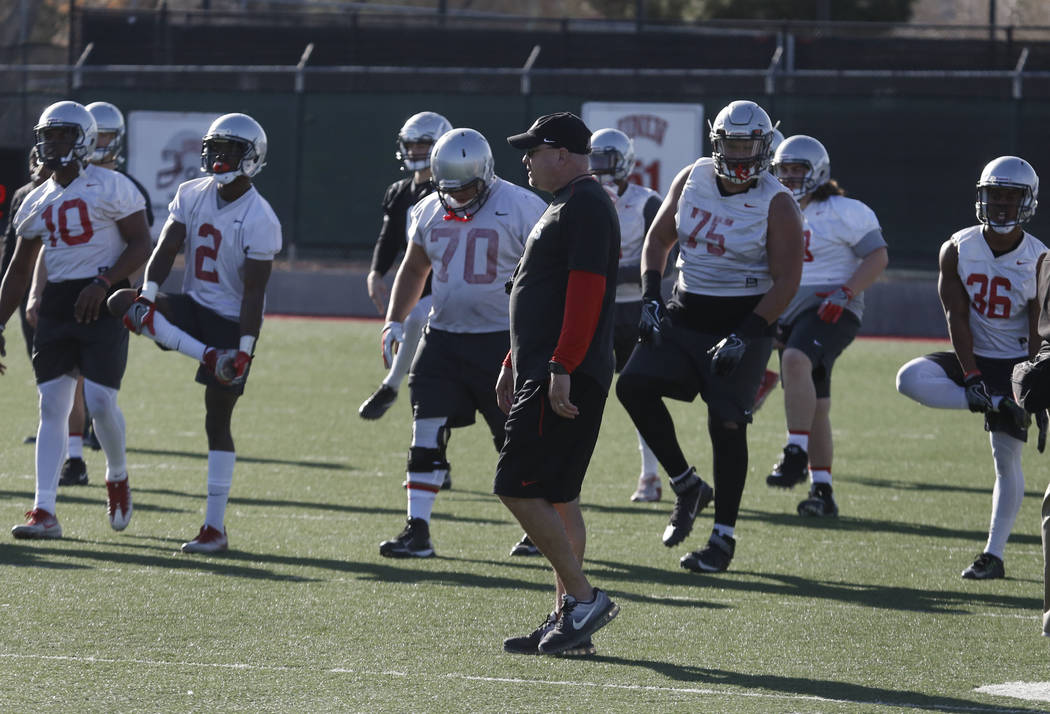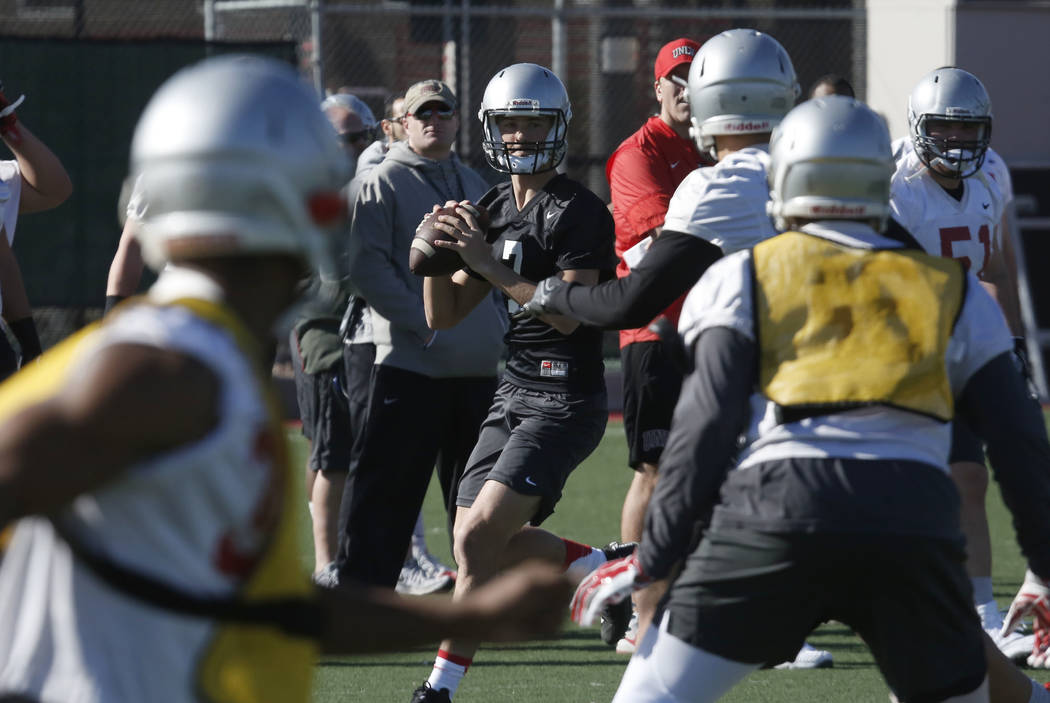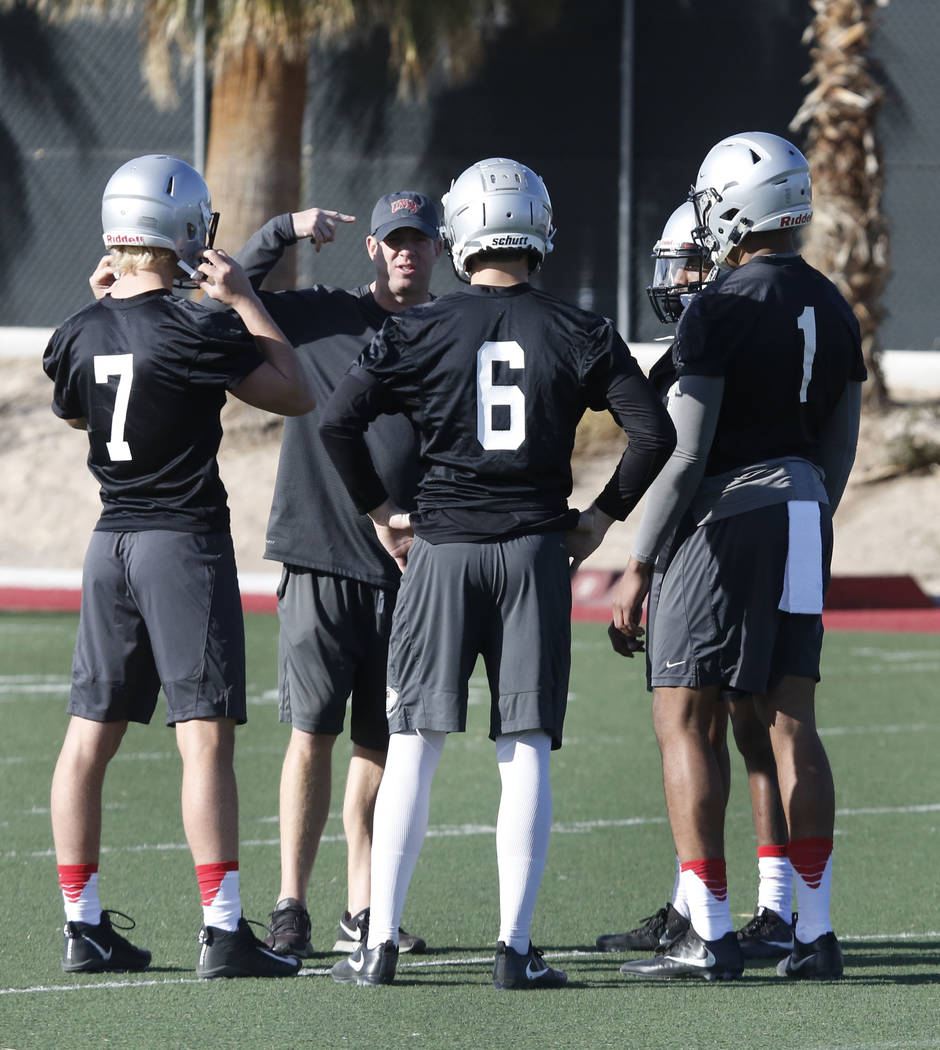 The ideal scenario next fall is for Kenyon Oblad to sit, which is what makes this spring even more important.
He is the first high school player to graduate early and enroll at UNLV in time for spring practices, and all 15 sessions are important steps in his development as a quarterback.
Even Tuesday, the first day for spring practices at Rebel Park, was an eye-opener for Oblad. Players practiced without pads, and he quickly understood the difference between the speed of college football and what he was used to while setting records at Liberty High School.
"There were a couple of times where the players were a lot faster than I expected and got to me," Oblad said. "I'll get used to that, but definitely the speed of the game" stood out.
If all goes as expected this spring and in preseason training camp, sophomore Armani Rogers will start for the second consecutive season. He was the Mountain West Freshman of the Year last season after throwing for 1,471 yards and six touchdowns and rushing for 780 yards and eight TDs. The rushing yards were a UNLV record for a quarterback.
Junior college transfer Max Gilliam is the probable backup, and redshirt freshman Marckell Grayson also will try to push for playing time.
Oblad (6-foot-3-inches, 185 pounds) would like to make his own push, and especially having arrived at UNLV early, he could make a surprising impact. But given the personnel ahead of him on the depth chart, he is expected to redshirt.
"We have to see the four guys, how they do and how they mature," coach Tony Sanchez said. "If Max ends up fighting and being that No. 2 guy, maybe we can redshirt (Oblad). That's great. If (Oblad) ends up winning that spot or even pushing the (No.) 1 spot, that's a good deal, too."
Much is expected of Oblad, who chose the Rebels over Brigham Young, Colorado State, San Diego State, UNR and Western Kentucky. He quarterbacked Liberty to four consecutive Class 4A state tournament appearances, and last season he passed for 2,699 yards and 28 touchdowns with six interceptions.
By staying in town, Oblad eased his transition into college life. He still can head home for weekend dinners, and his dad, Jeromy, attended practice Tuesday.
And, by staying nearby, Oblad can return to Liberty for his senior prom if he so chooses. Then again, he sounded as if he had moved on.
"So far, I haven't missed anything (about high school)," Oblad said. "I don't think I'm going to go to prom. I've really liked college so far, so I'm really happy I made the move."
He has other matters on his mind, such as making a good impression at quarterback for UNLV, whether it's next season or beyond.
"When you watch him in warmups before practice starts and you watch him throw the ball and the way the ball explodes off his hand, he's really, really gifted," Sanchez said. "Now it's just getting (him) comfortable."
More Rebels: Follow all of our UNLV coverage online at reviewjournal.com/Rebels and @RJRebels on Twitter.
Contact Mark Anderson at manderson@reviewjournal.com. Follow @markanderson65 on Twitter.
Rebels notebook
Notes from the first day of UNLV's spring football practice Tuesday at Rebel Park:
— Redshirt freshman center Justice Oluwaseun underwent knee surgery Thursday. He's expected to return toward the end of preseason training camp. He was the leading candidate to start at center.
— Junior Jaron Caldwell played offensive tackle in his first season before switching to guard last year. Now he's expected to move back to tackle. Senior Zack Singer will play guard and center.
— UNLV coach Tony Sanchez said sophomore wide receiver Drew Tejchman is healthy after previously battling groin and sports hernia injuries. "He is now the most explosive, fastest, strongest guy we've got," Sanchez said. "He finally got his body right."
Mark Anderson Review-Journal