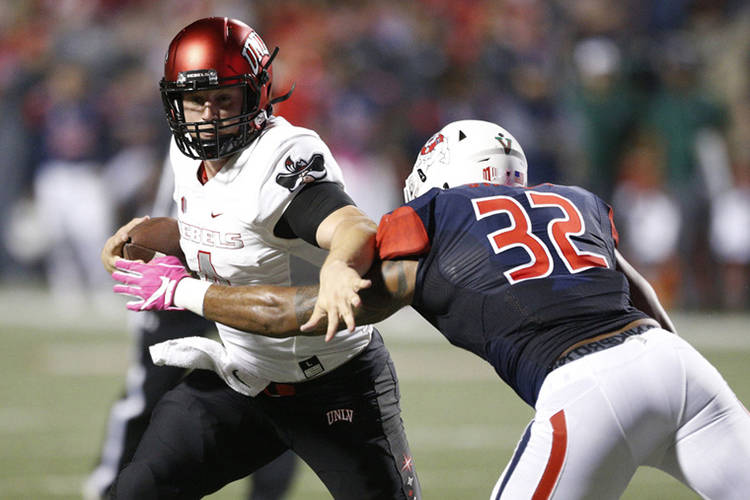 The victory at Fresno State last Saturday was a potential turning point for UNLV's football season.
That potential will only be fulfilled if the Rebels win at 3 p.m. Saturday when Hawaii visits Sam Boyd Stadium.
UNLV (3-5, 2-3 Mountain West) is a 7½-point favorite over the Rainbow Warriors (3-5, 1-4), who has lost five of their past six games. A loss to Hawaii means the victory at Fresno State was a one-off in an otherwise disappointing season. A victory means the Rebels have a real shot at bowl eligibility, given they don't face a team with a winning record the rest of the way.
A victory also would mean some level of consistency. UNLV hasn't won consecutive games since beating Idaho State and UNR in 2015.
"It would be huge to get two wins in a row," wide receiver Brandon Presley said. "That back-to-back win would definitely motivate the guys. Our mindset, I feel like, has been trying not to lose instead of trying to win. I think we finally kind of flipped the script on that to where our mindset is way more on trying to win the game instead of trying not to lose."
One problem for the Rebels is even if they become bowl eligible, there is no guarantee they will play in the postseason. Three Mountain West teams have reached bowl eligibility, leaving two spots for conference-affiliated postseason games. Fresno State and Wyoming each need just one more victory to become eligible.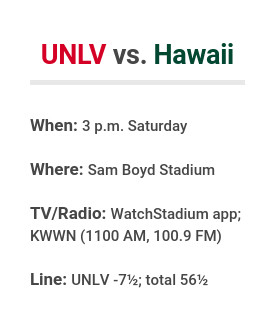 That probably means, if UNLV becomes eligible, it will hope a bowl elsewhere needs to fill a spot.
This all is likely moot should the Rebels lose to Hawaii, a team UNLV has beaten three of the past four seasons. The winner of what now is called Ninth Island Showdown gets the newly created Island Showdown Trophy, a gold pineapple supported by a base that resembles the Las Vegas welcome sign.
UNLV coaches have spent the week gauging how to best use their quarterbacks, with Armani Rogers and Johnny Stanton each working with the first-team offense. Rogers didn't play at Fresno State because of a concussion, and in his place Stanton completed 17 of 29 passes for 155 yards to lead the Rebels to a 26-16 victory.
"I saw (Stanton) playing with a lot of confidence and being a leader in the huddle," Presley said. "Talking to him throughout the game, he was really in tune to what the game plan was."
Coach Tony Sanchez said Thursday no decision had been made on the starter and it could be made on game day. The question goes beyond who starts to how playing time will be decided, especially if both quarterbacks play. It's possible coaches don't know that answer until the game begins to play out.
This is the most important game so far for Sanchez, who is in his third season at UNLV. And if the Rebels win, that makes the following game against Brigham Young even more vital.
But, first, they have to win this one.
Beating Fresno State "kind of puts us back in the fight a little bit," Sanchez said. "We'd love to give our fans a victory here at home. We've had some tough sledding here the last couple of opportunities that we've been here. This is one of those Mountain West games you've got to be focused on and go out and prepare each day and have a great week of prep and go out there and play for a win."
More Rebels: Follow all of our UNLV coverage online at reviewjournal.com/Rebels and @RJRebels on Twitter.
Contact Mark Anderson at manderson@reviewjournal.com. Follow @markanderson65 on Twitter.