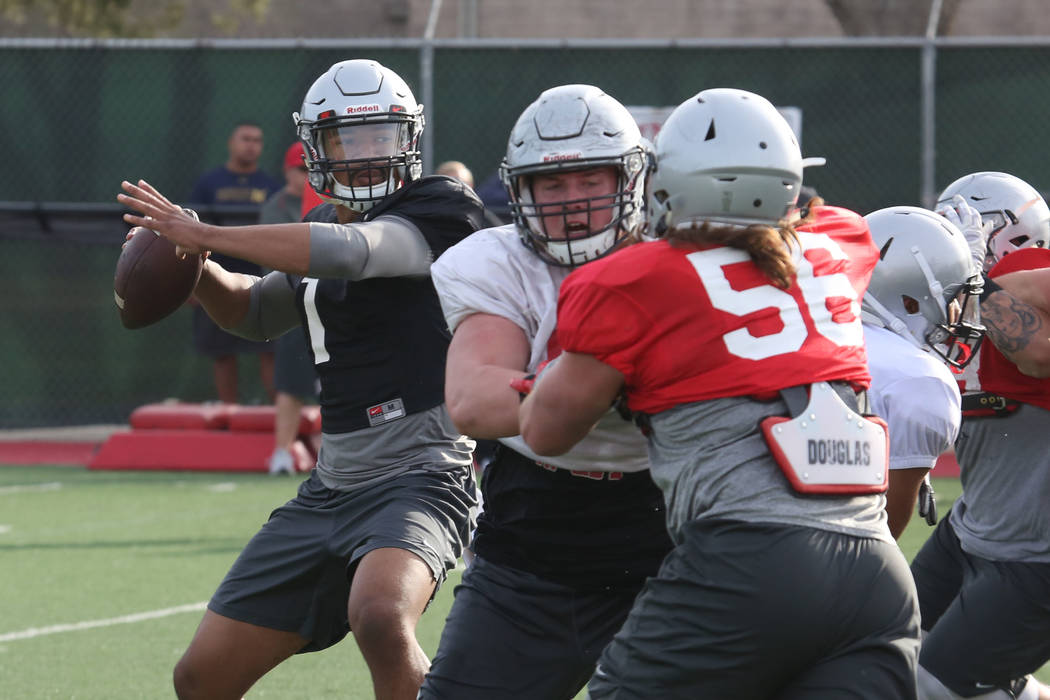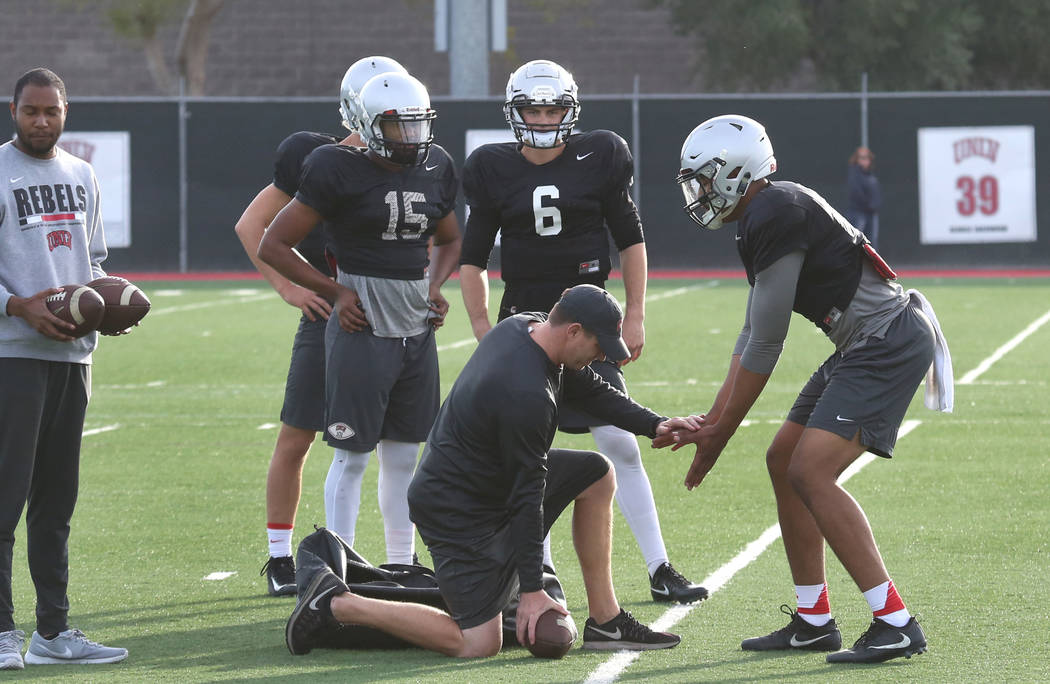 As UNLV circulated through quarterbacks two seasons ago, Rebels coaches were almost forced to play everyone but their best option.
And when the Rebels had two plays to pick up 1 yard in last season's finale at UNR, UNLV coaches didn't have the luxury of calling runs behind a fresh and talented center to put away the Wolf Pack and qualify for a bowl.
That's because if coaches had played quarterback Armani Rogers two years ago or center Justice Oluwaseun in 2017, it would have cost each player a season of eligibility. They chose the future over the present, as nearly every coach in their situations would have done.
But perhaps such a choice won't have to be made much longer, at least if the American Football Coaches Association has its way. The AFCA came out in unanimous support in January of a proposal by the Atlantic Coast Conference to allow teams to use a player for up to four games without costing that athlete an entire season.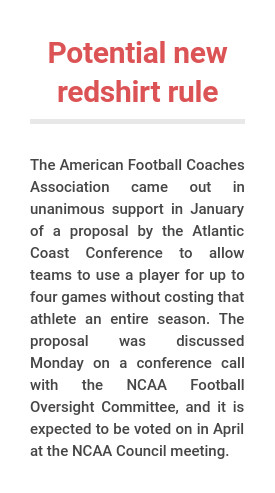 "When (new players) come in, a lot of times they're mentally not where they need to be," UNLV coach Tony Sanchez said. "Physically, they're not far away. So you sit down as a staff at the end of camp and say, 'Is this guy really ready to help contribute?' And they're not. And then you get to Week 6 and Week 7, they're picking it up now. They're getting more comfortable with being a college student, being on campus and practicing, and they're ready to help out.
"If we're really doing what's best for the players, this is what's best for those guys."
The proposal was discussed Monday on a conference call with the NCAA Football Oversight Committee, and it is expected to be voted on in April at the NCAA Council meeting.
Sanchez knows what such a rule would have meant to his team.
Two seasons, ago, the Rebels started three quarterbacks while Rogers watched from the sideline. UNLV lost four of its final five games and missed bowl eligibility by two victories.
Rogers said the opportunity to play also would have greatly benefited him entering last season when he became the starter.
"I think it would've helped a lot being able to know what the college speed is like and the pace and how to read everything differently and how fast everything is going to come at you," Rogers said. "The first game, I felt like everything was moving super fast. By the time you get to the last game, you start seeing the same coverages, and it's at that point the game's finally starting to slow down."
By the end of that season, UNLV needed a victory at Reno to become bowl eligible. UNLV, however, failed to convert a third-and-1 and a fourth-and-1 that would have all but put away the victory over UNR.
The Rebels were down to their third-string center and unable to effectively run the ball inside. Maybe being able to insert Oluwaseun, who has shown great promise in practice, would have made a big difference.
"We should've picked it up anyway, but with some of those guys down, if a guy like that's in, you feel a whole lot more comfortable picking that up," Sanchez said.
Contact Mark Anderson at manderson@reviewjournal.com. Follow @markanderson65 on Twitter.
Surgery for WR Keys, injuries to offensive line
— Senior wide receiver Kendal Keys will undergo surgery this week on his right ankle and leg. Coach Tony Sanchez said Keys will be out for three months. Keys caught 27 passes last season for 260 yards and three touchdowns. He missed the 2016 season with a knee injury.
— The offensive line is experiencing its share of injuries as well. Redshirt freshman center Justice Oluwaseun (ACL) is out this spring, and junior guard Julio Garcia II (back) was held out of Tuesday's practice as a precaution. Sophomore guard Matt Brayton had a foot stepped on, and his immediate status was unknown.
— Redshirt freshman Ashton Morgan worked at first-team offensive left tackle. "He's had a great offseason," Sanchez said. "He's a guy who's fighting and has a good chance to start at left tackle."