UNLV could beat UNR and still lose out on bowl bid
November 20, 2017 - 5:17 pm
Updated November 20, 2017 - 5:25 pm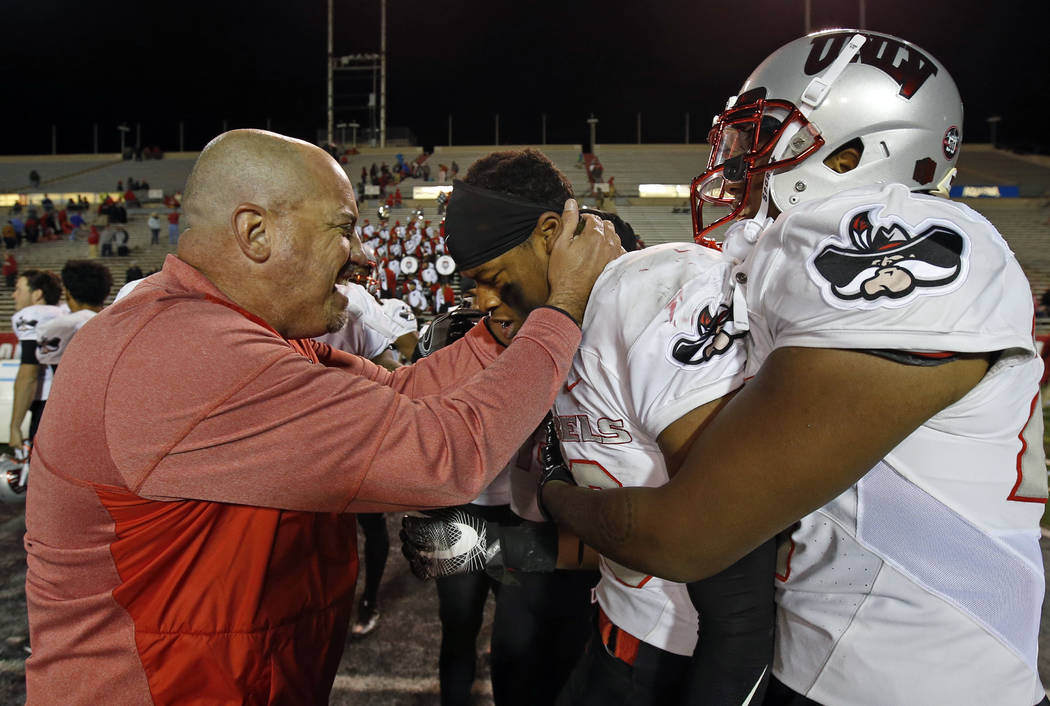 UNLV will do what it can on the football field Saturday in Reno to become bowl eligible.
Yet even if the Rebels beat UNR in the noon game, their bowl fate might still be out of their hands.
Though UNLV appeared in at least four national bowl projections this week, the math isn't in its favor. There are 78 bowl slots and 70 teams already are eligible. The Mountain West has six eligible teams for five contracted bowls, so UNLV would make it seven with a victory over the Wolf Pack.
"Part of it will depend on the (national bowl) system, which the last couple of years has been short, and we've had 5-7 teams," Mountain West deputy commissioner Bret Gilliland said Monday. "It's looking now like the system could be walled.
"Compared to past years, we're much closer to filling all the bowl slots with 6-6 teams and maybe even having an extra team or two."
Part of the problem for the Rebels (5-6) is the best they can do is reach .500, and at least five Mountain West teams will finish the regular season with winning records. Though it's not stated in the conference guidelines that a team with a winning record must be selected ahead of one at .500, those schools with seven or more victories will take priority.
The Mountain West has backup deals, but the Cactus Bowl on Dec. 26 in Phoenix and the Foster Farms Bowl on Dec. 27 in Santa Clara, California, are looking less likely they will have availability. There is a possibility the Frisco Bowl on Dec. 20 north of Dallas will be open.
If those bowls are gone, the Mountain West will search for a non-contracted game that is unable to fill one of its spots.
That is if any such games exist.
Eight five-win teams face each other Saturday, meaning four of the remaining eight open slots nationally will be taken. So the Mountain West will have to hope other five-win teams lose.
And then there are two four-win Sun Belt Conference teams, Louisiana Monroe and New Mexico State, each with two games remaining. Florida State is in the same situation with four victories and two games to play, but one is against Monroe on Dec. 2, ensuring that one of those teams doesn't qualify.
"It's just not cut and dry," Gilliland said. "It's a moving target. It'll change again this weekend. At the end of the day, the goal remains — get all of our bowl-eligible teams placed in the best possible slots we can. You don't always hit that perfectly, but that can happen lots of different ways."
Contact Mark Anderson at manderson@reviewjournal.com. Follow @markanderson65 on Twitter.
UNLV bowl projections
College Football News
Heart of Dallas Bowl, Dallas, Dec. 26, vs. Utah
College Football Talk (NBC)
Quick Lane Bowl, Detroit, Dec. 26, vs. Western Michigan
ESPN (Kyle Bonagura)
Gasparilla Bowl, St. Petersburg, Fla., Dec. 21, vs. Southern Mississippi
SB Nation
Frisco Bowl, Frisco, Texas, Dec. 20, vs. Houston