UNLV ends series skid with blowout of San Jose State
September 30, 2017 - 10:57 pm
Updated October 1, 2017 - 12:25 am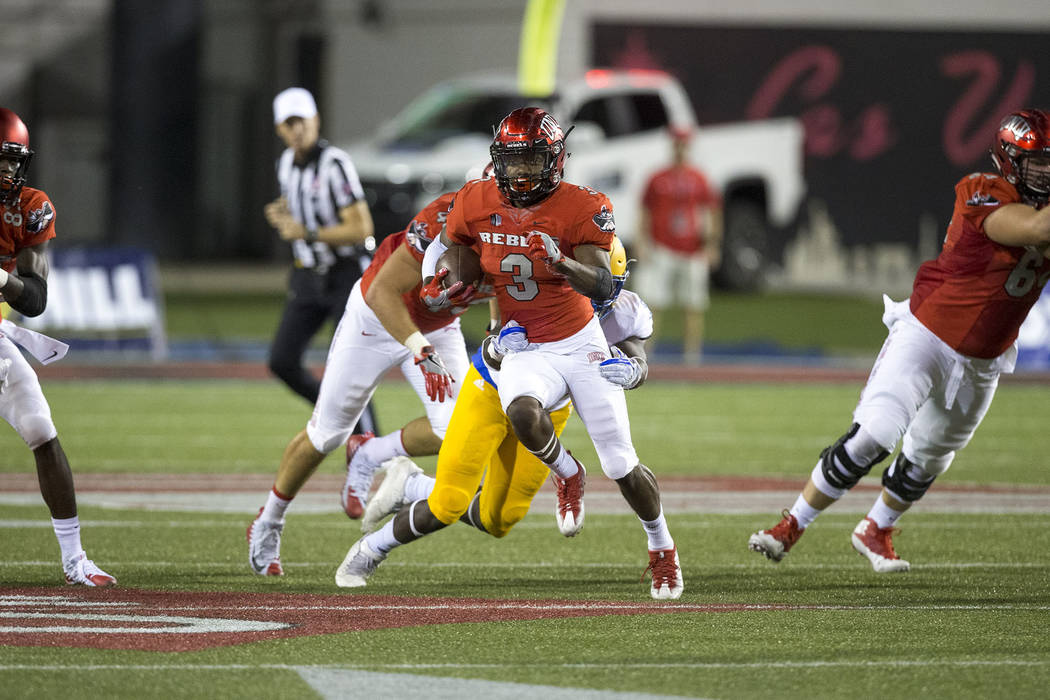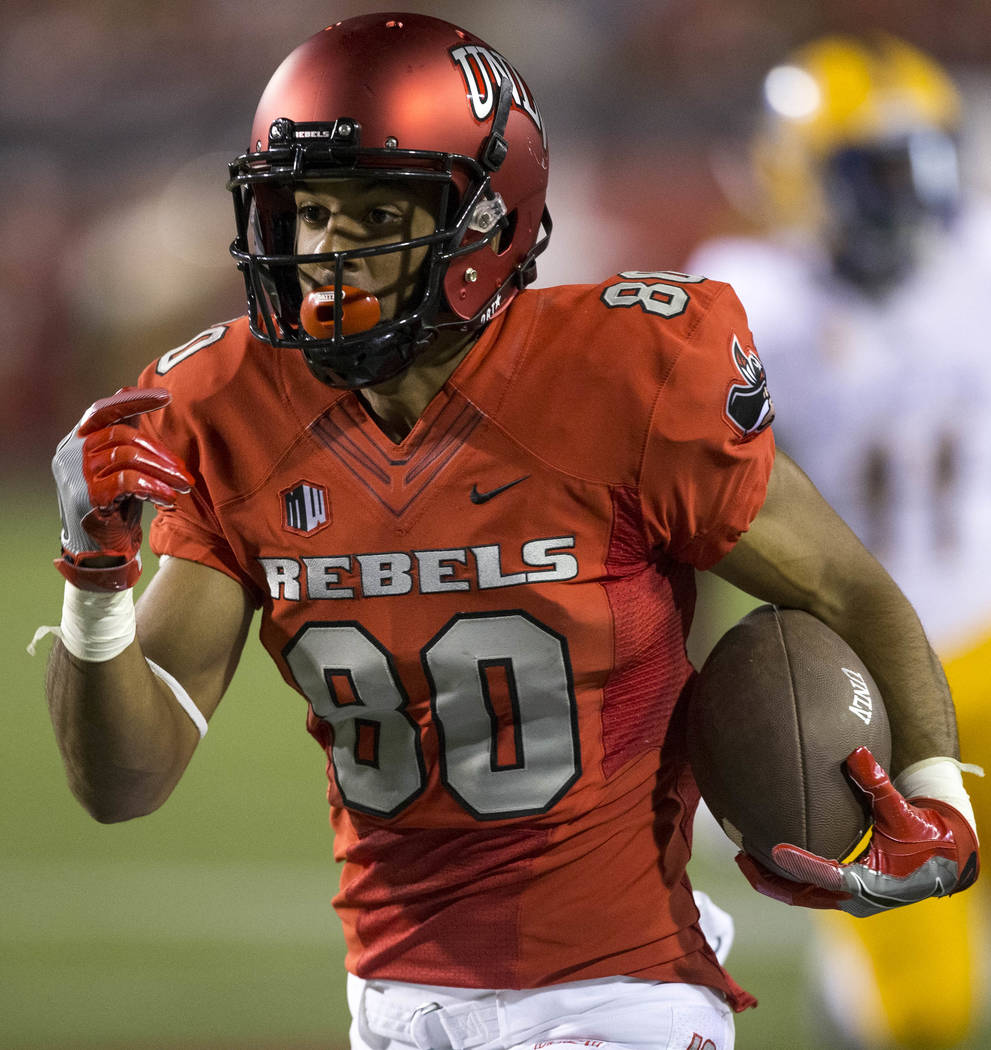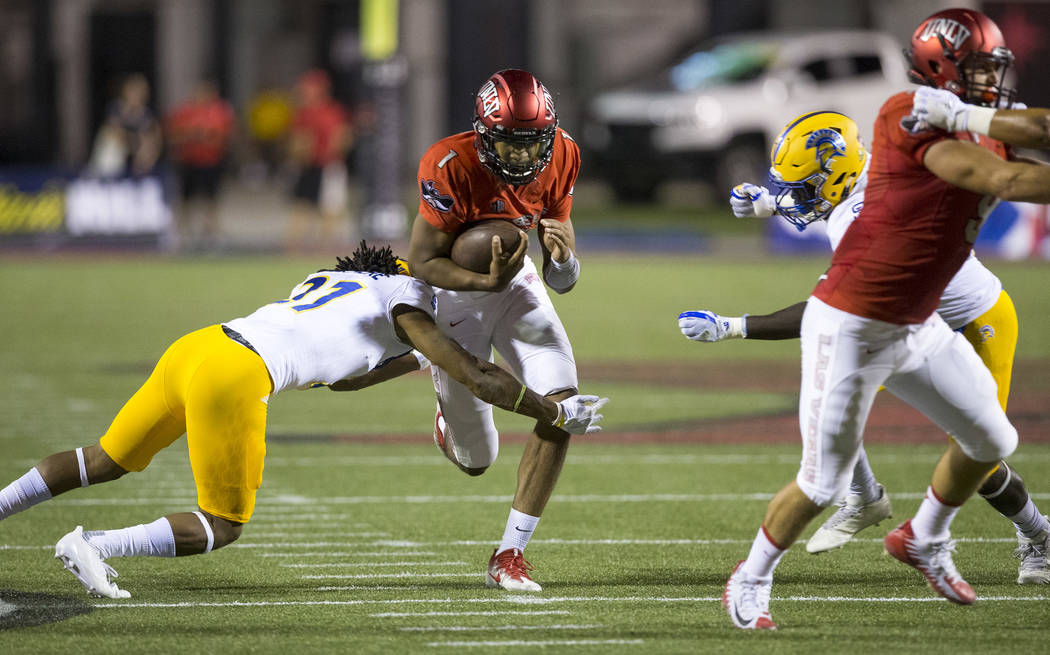 UNLV ended its seven-game series losing streak to San Jose State in a big way Saturday night.
The Rebels dominated throughout, with quarterback Armani Rogers accounting for four touchdowns in defeating the Spartans 41-13 at Sam Boyd Stadium.
San Jose State (1-5, 0-2 Mountain West) had defeated UNLV (2-2, 1-0) each of the past four seasons and seven times overall going back to the 199os when the teams competed in the Western Athletic Conference.
"Since I've been here, we haven't beaten them," said UNLV junior running back Lexington Thomas, who rushed for 146 yards and two touchdowns on 18 carries. "It felt great to beat them. These are the winnable games we lost the first two times since I've been here. Today, we showed that we're a new team."
San Jose State defeated UNLV by six points in each of the past two meetings, but the outcome of this game was decided early. UNLV took a 35-6 lead late in the second quarter.
"They played better than us," Spartans coach Brent Brennan said. "They're doing a great job trying to get this program going here. You can tell they're further ahead than we are. I thought we had some chances in the game to make it fun, or make it competitive. Small mistakes that led to unfavorable outcomes continue to plague us."
The victory was important for the Rebels' hopes of making the postseason, with difficult tests coming up the next two weeks. No. 19 San Diego State visits next Saturday, and UNLV plays at Air Force on Oct. 14.
"To get our first victory in conference is a statement," Rogers said. "Now we've got to keep going forward."
Thomas broke the 100-yard mark by halftime, and he had two impressive but different touchdown runs.
On one, he put a tremendous juke on Spartans safety Chandler Hawkins and dashed untouched for a 56-yard TD. On the other, he rushed into the pile at the goal line and pushed forward into the end zone.
"I've just got the drive to get everything done," Thomas said. "I said before, I don't think I'm just a speed back. I can get in between the tackles and make 1-yard runs, 5-yard runs."
Rogers completed 11 of 16 passes for 203 yards and two touchdowns. He also rushed 17 times for 71 yards and two TDs.
"I'm really proud of his maturation," UNLV coach Tony Sanchez said. "We're tough on him. I thought early on he did some really good things, and there were some great learning opportunities in the second half, learning not to take so many shots and getting down. But to come out and go 7-for-7 in the first half and execute the offense the way he did, to run the ball and extend plays, every week he's becoming a better and better football player, and that's why we recruited him."
Rogers' top target was wide receiver Devonte Boyd, who caught five passes for 105 yards.
Sanchez said he found some inconsistencies in his team's offense and defense.
The offense, which had 548 yards for the game, scored only six points and gained 218 yards in the second half after the strong start. The defense allowed 50 plays in the first half, but then gave up 32 in the second 30 minutes while recording a shutout over that time.
UNLV's defense also forced three turnovers, with an interception and fumble each occurring in the end zone.
Those plays helped keep in check a San Jose State offense that gained 462 yards. The Spartans scored only one touchdown in five trips inside the red zone.
"We gave up some things that we definitely didn't want to do," said UNLV safety Chauncey Scissum, who had eight tackles, an interception and a pass breakup. "When they got in the red zone, we knew we had to tighten up on some things and make a play and keep some points off the board. I think we did that."
More Rebels: Follow all of our UNLV coverage online at reviewjournal.com/Rebels and @RJRebels on Twitter.
Contact Mark Anderson at manderson@reviewjournal.com. Follow @markanderson65 on Twitter.