UNLV hopes to repeat history at Utah State
Updated October 12, 2018 - 10:51 am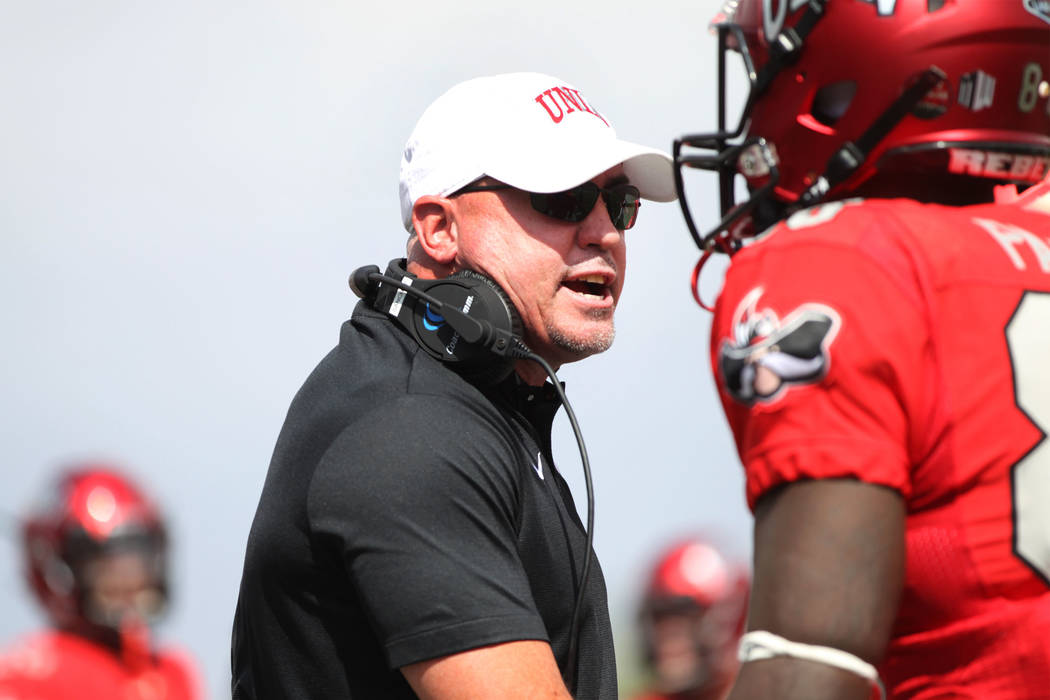 LOGAN, Utah — A backup quarterback, a season seemingly going nowhere and a road trip to face arguably the Mountain West's best team.
This is not unfamiliar territory for UNLV.
The Rebels were 2-5 when they headed to Fresno State last year as roughly three-touchdown underdogs. Behind reserve quarterback Johnny Stanton, UNLV emerged with a 26-16 victory over the eventual West Division champion.
Now UNLV (2-3, 0-1 Mountain West) plays the conference's hottest team in Utah State (4-1, 1-0) as nearly a four-touchdown underdog, with Max Gilliam starting in place of Armani Rogers (toe). Kickoff at Maverik Stadium is at 1 p.m., and the game will be streamed on Facebook.
"This is an experience that we've had before," UNLV coach Tony Sanchez said. "Can you replicate it? I don't know, but we're going to find out a whole about the group we have as men on Saturday."
Like last season, the Rebels are in danger of having their season slip away. They were beaten 50-14 at home by New Mexico on Saturday, and the Rebels can't let this one bad loss turn into a string of defeats.
Gilliam, who received his first start against the Lobos, is in charge of UNLV's offense. Rogers is out for about another month.
"The main thing from that game is watch it and learn from it and put it behind us," Gilliam said. "Once we learn from it, that's about all we can do."
UNLV didn't pick up a first down against New Mexico until less than two minutes remained in the first half, though Gilliam showed some late-game promise with two touchdown passes in the fourth quarter.
"I think Max is going to do perfectly fine," UNLV wide receiver Brandon Presley said. "He has this last game under his belt, and we've seen in practice (he's) super confident. I think as the game progressed, he got more comfortable back there, and that's really going to show this week."
Without a passing game to relieve stress on the running attack, UNLV rushed for just 43 yards last weekend, the first time the Rebels were held to less than 300 yards. Rogers, who was averaging 122 yards, was a key part of the running attack.
The lack of offensive production meant a defense that was on the field for 81 snaps. That wear was a factor, though not the only one, in allowing more than 500 yards for just the second time — Southern California totaled 501 in the Sept. 1 season opener.
And now UNLV must defend a Utah State offense that averages 50.2 points, second only to No. 1 Alabama's 56.0. Aggies quarterback Jordan Love has completed 66.3 percent of his passes for 1,235 yards with nine touchdowns and three interceptions.
The chances of UNLV winning at Fresno State were not great last season, but the Rebels found a way.
They need a similar performance at Utah State and forget what happened against New Mexico, in which the Rebels were favored by more than a touchdown.
"We've got to realize we still have a long way to go in building this program to have sustained success," Sanchez said. "Part of that is being locked and loaded and knowing you're always the underdog. It's going to take us years to get out of that, no matter what people say, no matter what people think going into the game. We've got to learn how to win consistently here."
More Rebels: Follow all of our UNLV coverage online at reviewjournal.com/Rebels and @RJ_Sports on Twitter.
Contact Mark Anderson at manderson@reviewjournal.com. Follow @markanderson65 on Twitter.
Game day
Who: UNLV vs. Utah State
When: 1 p.m. Saturday
Where: Maverik Stadium, Logan, Utah
TV/Radio: Facebook (streaming); KWWN (1100 AM, 100.9 FM)
Line: Utah State -27; total 64