UNLV playing for Fremont Cannon, bowl berth
November 24, 2017 - 1:27 pm
Updated November 24, 2017 - 2:16 pm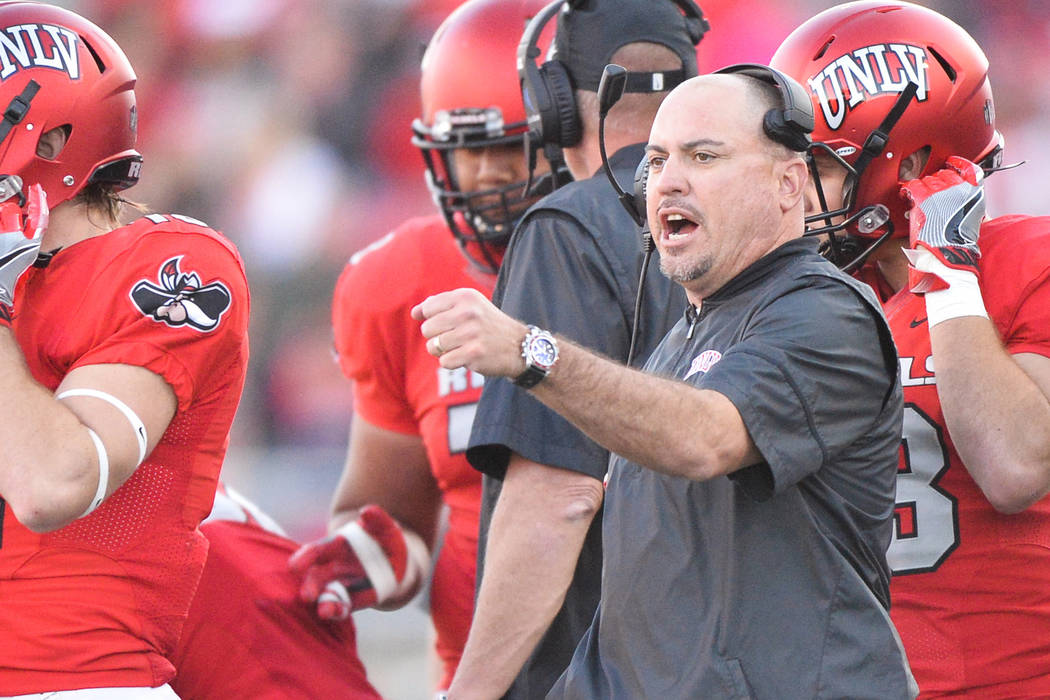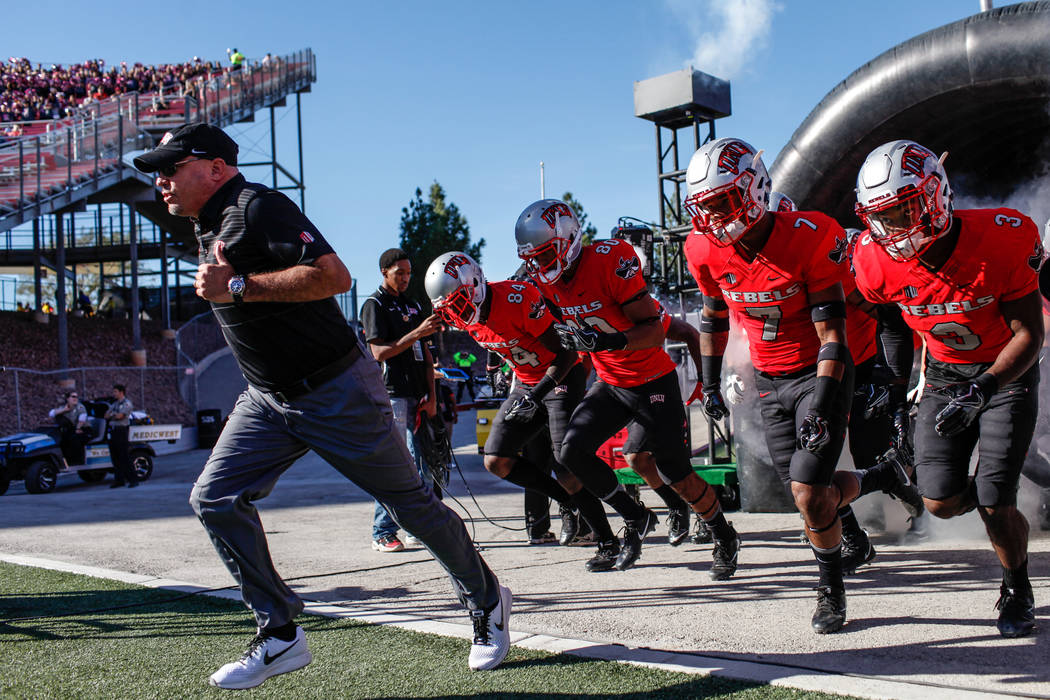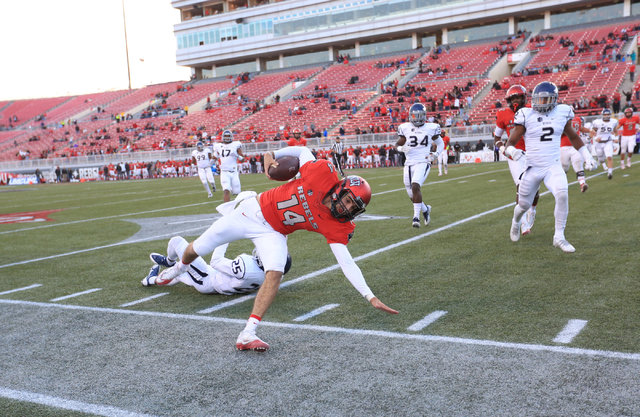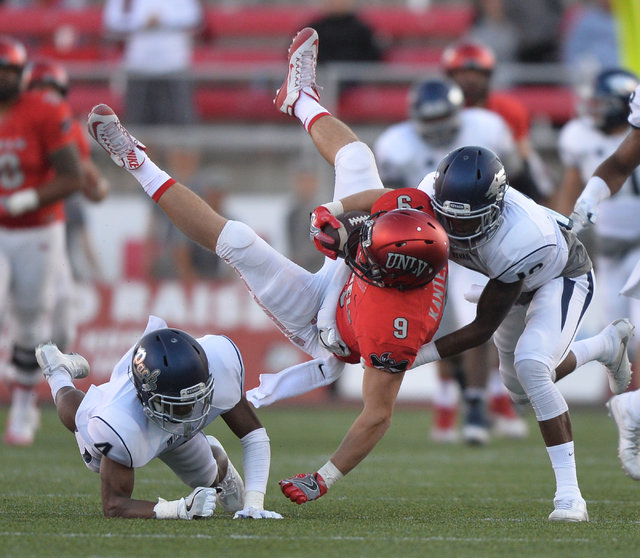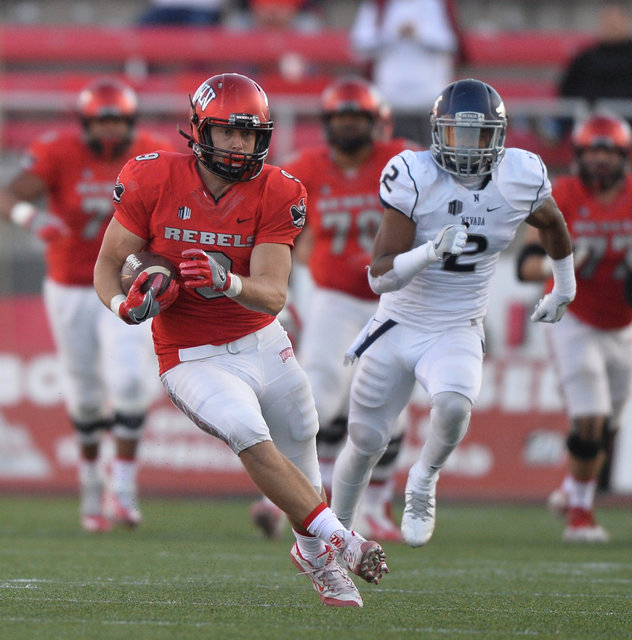 RENO — All season, UNLV football players have walked by an empty spot in their campus locker room, a near daily reminder of what was missing.
The Rebels will try to fill that space Saturday with the Fremont Cannon.
UNLV wants the 545-pound trophy back and painted red, and will play for it, state bragging rights and bowl eligibility when it visits UNR at noon at Mackay Stadium. AT&T SportsNet will televise the game.
"Seeing it rolled out at the end of (last season's) game, that's a picture that's been in my mind all year," UNLV defensive tackle Mike Hughes Jr. said. "So I'll definitely be looking forward to bringing it back home."
UNR (2-9, 2-5 Mountain West) is a 3-point favorite, and even if the season was lost long ago for the Wolf Pack, first-year coach Jay Norvell said last week this was his team's bowl game. UNLV (5-6, 4-3) wants to play in an actual bowl, and the Rebels need to win to get there.
Rebels coach Tony Sanchez didn't have trouble getting his team's attention this week, but the concern is the Rebels don't get too high.
"That's the big thing, is making sure you have the right approach and demeanor to it," Sanchez said. "You've got to be so careful of not getting so jacked up that they're not executing at a high level. At the same time, you can't come out even-keeled about it. You've got to go out there and do a really good job of matching energy.
"I think after the first five minutes and all the craziness, can you come to balance, stay focused, play with a high level of energy and execute at a high level for four quarters? That's really what it comes down to."
The series has taken a strange turn in recent years, with the away team winning the past five meetings. For that trend to continue and the Rebels to leave Reno as winners, UNLV probably will need to win a high-scoring game.
Both teams average about 30 points, and both give up more than 32 a game. But the Rebels are more balanced, averaging 247.1 yards rushing and 189.4 passing. Norvell has introduced the Air Raid offense to the Wolf Pack, and behind quarterback Ty Gangi, they average 268.3 yards passing to 128.1 rushing.
The Rebels, however, allow an average of 250.5 yards rushing, and Sanchez said he was concerned about UNR trying to establish a ground game, which would benefit the Wolf Pack's wide-open passing attack.
"We've got to do a really good job of making them one-dimensional," Sanchez said. "If we can stop them from running the ball, they're a good throwing team. They've done a good job of developing (the passing game) throughout the course of the year, but that will give us the best opportunity to create turnovers and be really aggressive on defense."
UNR would love nothing more than to spoil UNLV's shot at a bowl, and because the Rebels have so much on the line in trying to make their first postseason appearance in four years, the pressure is more on them to get the job done. The Rebels have talked about making a run at a bowl since the preseason, and even though they have continued to show progress, a defeat would be a bitter disappointment and cast a pall on the season.
But if the Rebels win, it will be the strongest statement yet that under Sanchez, nearing the end of his third season at UNLV, the program is on the right track.
UNLV remembers the feeling last season when the Wolf Pack went to Las Vegas and dominated 45-10 and then painted the cannon blue and took it north.
"I saw the look on everybody's faces last year and how hurt everybody was about the rivalry game," UNLV redshirt freshman quarterback Armani Rogers said. "It's not a good feeling, so when we go out there, it's an important game for us and our city."
Contact Mark Anderson at manderson@reviewjournal.com. Follow @markanderson65 on Twitter.
Game day
Who: UNLV vs. UNR
When: Noon Saturday
Where: Mackay Stadium, Reno
TV/Radio: AT&T SportsNet; KWWN (1100 AM, 100.9 FM)
Line: UNR -2½; total 68