UNLV's Smith focusing on basketball to move past tragedy
October 31, 2013 - 8:58 pm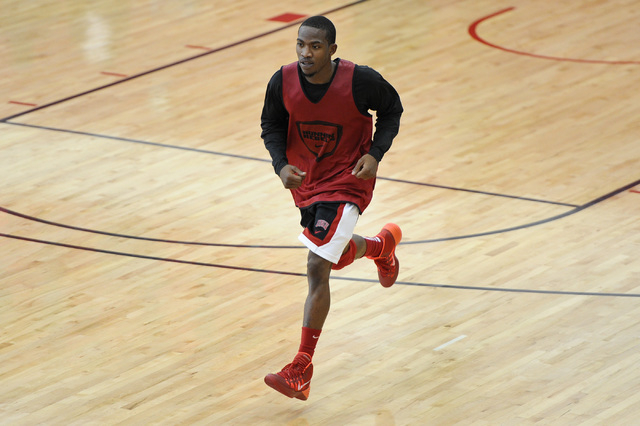 It was not a wonderful life he was leaving behind, so Deville Smith listened when family members pleaded for him to get out of Mississippi and take a higher-percentage shot at success.
UNLV is his third college in three years, and his second chance.
After basketball practice last Friday, Smith caught a flight to his hometown of Jackson, Miss., for an unplanned family reunion. He went to attend the funeral for his cousin, Ricky Smith Jr., who was shot five times around midnight on Oct. 17.
"I was real close to him," Smith said. "It was a very hard thing for me. It was a hard time for the family."
His 25-year-old cousin was a big winner at a dice game on the steps of an apartment complex in Jackson and was shot in his car after leaving, according to a news report. The suspects fled, and no arrests have been made.
Smith returned home for the weekend, reminded of why he left Mississippi, which ranks as the No. 2 state for homicides in a recent FBI report. Smith was a high school freshman when his oldest brother, Michael, was shot and killed at age 20.
"My family really wanted me away from home because of all the stuff going on," he said. "To see my auntie go through the same thing my mom had to go through when I was in ninth grade is hard.
"My job is to just continue what I'm doing to make the family proud. I have a big family, and they all just want to see me play."
The soft-spoken Smith, who spent his freshman year at Mississippi State and transferred to Southwest Mississippi Community College last year, is earning the Rebels' starting point guard job.
He will carry memories of his cousin to the court tonight when UNLV plays its first exhibition against
Division II Dixie State at 8 p.m. at the Thomas & Mack Center.
Smith appears to be the heir apparent to Anthony Marshall, who graduated and is playing professionally in Ukraine. Marshall was a converted shooting guard learning the point on the fly, and the 6-foot Smith is a pass-first guard who runs a fast-paced offense.
"I really don't like to shoot," he said. "I love to pass and love to get everyone involved. We're always running. I want to return it back to 'Lob City' like it's 1990."
Larry Johnson and Stacey Augmon won't be soaring in to throw down his lobs, but junior Khem Birch and redshirt freshman Demetris Morant will be on the receiving end of more than a few, if the first three weeks of practice are an indication.
Smith scored 48 points in a game and averaged 22.2 points as a senior at Callaway High, which he led to two state titles. He said he left Mississippi State in search of a more up-tempo style of play.
Last season in junior college, he made 42 percent of his 3-pointers, so he is enough of a shooting threat to keep defenses guessing.
"Deville is a true point guard. He's always looking to make a play for teammates, and he's perfectly comfortable never shooting the ball," coach Dave Rice said. "But we need him to shoot and we need him to score when he's open."
Smith's ability to run the team has convinced Rice to shift Jelan Kendrick, another junior-college transfer, to shooting guard and junior Bryce Dejean-Jones to the 3-spot.
"Jelan is versatile. He's a guy with a point guard's mentality, but he's 6-6 and I'm going to slide him over and play him on the wing," Rice said. "He can play a number of spots on the court."
Smith, Kendrick, Dejean-Jones, Birch and junior forward Roscoe Smith form the Rebels' projected starting five. Rice might use different starters tonight and will evaluate several player combinations in the two exhibitions. One position competition to watch is for the backup point role between sophomore Daquan Cook and freshman Kendall Smith.
Deville Smith said he's trying to move past his family's tragedy and focus on school and basketball.
"I really didn't want to go home. I didn't want to see my family get together like that," he said. "I'm just going to keep playing ball and try to make the team better."
NOTES — The Rebels narrowly avoided their first exhibition loss since 2001 by defeating Dixie State 81-80 in overtime last year. UNLV blew a 17-point halftime lead. … Senior guard Kevin Olekaibe, a former Cimarron-Memorial High star and a transfer from Fresno State, is practicing but cannot play in games until the NCAA rules on his eligibility. … Walk-on junior guard Barry Cheaney plans to redshirt this season. … A live video stream of tonight's game will be produced by the Mountain West Network and available for free at UNLVRebels.com.
Contact reporter Matt Youmans at myoumans@reviewjournal.com or 702-387-2907. Follow him on Twitter: @mattyoumans247.
DIXIE STATE vs. UNLV
When: 8 p.m. Friday
Where: Thomas & Mack Center
Radio: KWWN-AM (1100)