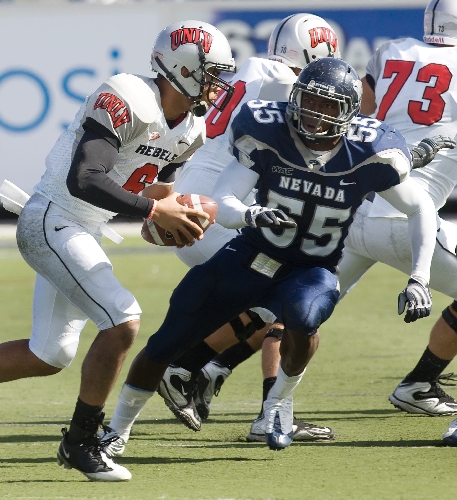 RENO — Expectations couldn't be higher for a UNR football team picked to have the best chance of dethroning league champion Boise State in what could be the last season for both teams in the Western Athletic Conference.
Quarterback Colin Kaepernick and running back Vai Taua are back for their senior seasons with the offense that led the nation in rushing last year, averaging 345 yards per game — with Taua posting an NCAA-best 7.8 yards per carry.
On the other side of the ball, NFL scouts have their eyes on senior defensive end Dontay Moch, the WAC's 2009 Defensive Player of the Year.
UNR coach Chris Ault doesn't blame the Wolf Pack faithful for getting their hopes up about the team that went 8-5 last year. He said Kaepernick is the best running quarterback in the country and Moch is the fastest defensive lineman he's ever coached, and that includes former Washington Redskins standout Charles Mann.
"My expectations are always high," said Ault, whose team started 0-3 last year but won the next eight before closing with losses to Boise State and to SMU in the Hawaii Bowl.
"We expect these guys to compete at the championship level," he said. "Now there is another level to go to, and that's beat teams you haven't beat."
One of those is Boise State, which begins the season ranked third in the nation and travels to Reno the last Friday night in November for a nationally televised game on ESPN2.
"You know they are going to be loaded," Ault said about the squad that has beaten UNR nine straight times, won the WAC title six of the last nine years and gone undefeated in league play four of those seasons, including last year's 14-0.
"Somewhere along the line, you have to step up and find a way to win it," Ault said.
"Right now, they are the best team on our schedule, obviously. Regardless of where we are, that is going to be a great opportunity for this program to step up and do something that hasn't been done. It will be quite a game against the best team in the conference."
It will be the last time the two meet in the WAC.
Boise State announced earlier this summer it's transferring to the Mountain West Conference next year. Last week, UNR and Fresno State announced they would make the move too, although they haven't settled on an exit date with WAC officials, who argue the two schools missed a deadline and are bound to compete in the WAC through the 2011-12 school year.
"That's definitely a team you think about, because if you want to win a championship, you have to go through Boise," said Kaepernick, who ranks 12th among quarterbacks in NCAA career rushing yards with 2,906, to go along with his 7,076 career passing yards, 61 TD passes and 16 interceptions.
"There's definitely a lot on the line being your last year, your last chance at everything," said the 6-foot-6-inch, 225-pounder from Turlock, Calif., who also was a star pitcher in high school and was drafted by the Chicago Cubs.
Ault said the Wolf Pack are more experienced than a year ago and showed signs in spring and fall camps of shoring up a defense that has been one of the worst against the pass the last two seasons.
"I think we can be an awfully good football team," Ault said. "The key is going to be our defense. I don't expect our defense to go out and just snap a finger and be better, but I expect them to get better and better with every practice."
For the first time since 1991, UNR opens the season with three straight home games — Eastern Washington, Colorado State and Sept. 17 against California in a Friday night ESPN2 game. Ault said the three home games will allow him to play more young players and develop some depth for the Wolf Pack's 13-game schedule that also has them traveling to Brigham Young.
"The schedule is more suitable for us to start better. We don't jump right into South Bend," Kaepernick said, referring to last year's season-opening loss at Notre Dame.
Last year, Kaepernick (1,183), Taua (1,345) and Luke Lippincott (1,034) became the first three players in NCAA history to each rush for more than 1,000 yards on the same team in the same season, though Lippincott has moved on.
If Kaepernick runs for at least 694 yards this year, he'll become only the fourth player in NCAA history to throw for 7,000 yards and rush for 3,500. The others are Antoine Randal El (Indiana), Joshua Cribbs (Kent State) and Brad Smith (Missouri).
View complete Football Preview '10 section