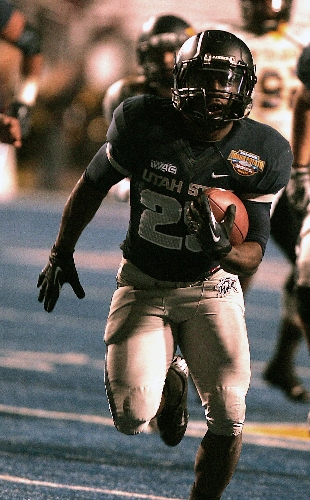 BOISE, Idaho – Utah State running back Kerwynn Williams was having a quiet day when things took a turn for the worse in the fourth quarter when he fumbled deep in his own territory.
As it has all season, the Aggies defense did its job, holding Toledo to a field goal that cut Utah State's lead to 13-9 with
7:28 to go. Then Williams atoned for his mistake – in a big way.
On the next possession, Williams raced 63 yards for a touchdown. On the next two possessions, the senior from Valley High School ripped off a 56-yard run and scored TDs on runs of 5 and 25 yards, all within a span of less than four minutes, to lift No. 18 Utah State to a 41-15 victory over Toledo in the Famous Idaho Potato Bowl on Saturday.
"When stuff like that happens you have to have a short memory," Williams said about the fumble. "You can't change it. I just knew the next opportunity for me, I needed to make a big play."
Williams' fourth-quarter spree fueled a 28-point scoring burst by the Aggies (11-2) that turned a close game into a blowout. Williams finished with a career-best 235 yards rushing on 18 carries, with 182 of those yards coming on six carries in the fourth quarter, and was voted Most Valuable Player.
Williams' heroics also capped the most successful season in the history of Utah State football. The Aggies won the Western Athletic Conference title outright and won a bowl game for the first time since 1993. Utah State also will finish ranked for the first time since 1961.
"You play in bowls to win championships, and they did that today," said Aggies coach Gary Andersen, who in four years has turned a WAC doormat into the top team of a conference soon to be obsolete.
The Aggies, bolstered all year by one of the best defenses in the Football Bowl Subdivision, rolled up 582 total yards against Toledo (9-4), which got its only touchdown on Bernard Reedy's 87-yard kickoff return in the fourth quarter.
NEW MEXICO BOWL
■ Arizona 49, UNR 48 – At Albuquerque, N.M., Matt Scott threw two short touchdown passes in the final 46 seconds, and college football's bowl season started with a wild one when the Wildcats rallied past the Wolf Pack.
Overcoming a slow start and three turnovers, Arizona (8-5) recovered an onside kick in the final minute before Scott's 2-yard toss to Tyler Slavin with 19 seconds left for the winning score.
Arizona trailed 21-0 in the first quarter and was down 45-28 entering the final period. Scott threw for 382 yards and marched his team back into the game despite two earlier interceptions.
The nation's rushing leader, Ka'Deem Carey, gained 172 yards for the Wildcats, but the sophomore fell short of becoming only the 16th running back in NCAA history to reach 2,000 yards in a season.
The teams combined for 1,237 total yards, the second-most of any bowl game.
Cody Fajardo threw for three touchdowns and ran for another score to lead the Wolf Pack (7-6). He had 256 yards passing, completing 22 of 32 throws, and 140 rushing.
Stefphon Jefferson, the nation's second-leading rusher, ran for 180 yards for UNR and also seemed unstoppable as the Wolf Pack led for most of the game.
But after forcing UNR to kick a field goal with 1:48 left that made it 48-35, Scott drove the Wildcats 75 yards. Arizona then recovered an onside kick and Scott moved Arizona into the end zone after three plays and 51 yards.
DIVISION II FINAL
■ Valdosta State 35, Winston-Salem State 7 – At Florence, Ala., Matt Pierce returned the opening kickoff 96 yards for a touchdown, and freshman Cedric O'Neal ran for 140 yards and a score to lead the Blazers (12-2) to a blowout win over the Rams (14-1)