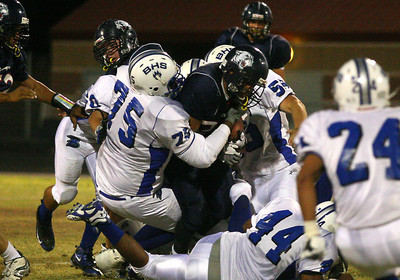 Basic coach Jeff Cahill sent his players onto the field Friday at Coronado anticipating a game that might be decided in the final minute.
Things didn't go quite as Cahill expected. They went much better.
The Wolves took advantage of countless mistakes by the Cougars and rolled to a 46-8 road victory.
Charles Phillips rushed for 101 yards and two touchdowns on eight carries to lead Basic, which improved to 3-1, 1-0 in the Southeast Division.
"This win was huge for us," Cahill said. "It's a game we've been talking about since January when the schedule came out."
The Wolves' defense appeared outmatched early as Coronado opened with a 17-play, 67-yard drive. But the Cougars (2-2, 0-1) failed to score, turning the ball over on downs at the Basic 10.
"We got that stop, and it really turned momentum in our favor," Cahill said. "It was especially big for our defense not to let them score."
Basic, which did not have a first down in the first quarter, got its first break by blocking a Coronado punt late in the first. Martell Walker scored on a 1-yard plunge seconds later for a 7-0 lead.
Basic added 13 more points off Coronado turnovers within the next two minutes, scoring on a 78-yard sprint by Charles Phillips and a 17-yard run by Anthany Lessier.
"When we got up 20-0, we started to see the air let out of (Coronado)," Cahill said. "They just never seemed to recover."
The Cougars hurt themselves with turnovers (four) and penalties (nine), and the Wolves kept attacking. They made it 26-0 on a 5-yard pass from Robby Faiman to Justin Burdno just before halftime.
Second-half runs by Phillips and Edward Villaros, and a 17-yard pass from Faiman to Jeff Pozdol complete the rout.
Marcus Garcia, who rushed for 77 yards on 12 carries, got Coronado on the board with a 3-yard run late in the fourth.
• Las Vegas 21, Desert Pines 0 — At Desert Pines, the Wildcats (3-1, 1-0 Northeast) scored three first-half TDs and halted two second-half threats to blank Desert Pines (0-4, 0-1).
Senior quarterback Emir Lopez ignited the Wildcats with a 7-yard touchdown run midway through the second quarter. Lopez finished with 151 passing yards, including a 6-yard touchdown to Tim Daniels just before halftime.
Aaron Franklin made five receptions for 74 yards, and had a 46-yard punt return that set up Daniels' score.
Desert Pines thought it had scored late in the third on a 24-yard pass from Dalton Leilua to Anthony Ruiz, but the touchdown call was overruled, and the Jaguars failed to convert on fourth down on the next play.
— Stu Mandelbaum
• Arbor View 62, Mojave 12 — At Mojave, the Aggies (4-0) piled up 55 points by halftime and finished with 497 yards, all on the ground, to defeat the Rattlers (0-3).
The rushing assault was led by Taylor Wooten and DeMario Virgil, each of whom scored twice. They rushed for 159 and 156 yards, respectively.
Arbor View blocked three punts in the first half and also returned two fumbles for touchdowns by Alex Morre and Gabe Toney.
Mojave quarterback Mike Montgomery rushed for 109 yards on 24 carries, completed two passes for 63 yards and returned a kickoff 90 yards for a second-quarter touchdown.
— Ryan Austin
• Bishop Gorman 62, Durango 7 — At Bishop Gorman, the Gaels (4-1) racked up 589 yards while holding the Trailblazers (0-4) to 69.
Gaels senior Joe Huber ran for first-quarter touchdowns of 41 and 14 yards.
Durango defensive lineman Fernando Diaz cut Gorman's lead to 14-7 late in the quarter with a 38-yard fumble return.
The Gaels ran away by scoring touchdowns in seven of their next eight possessions and running time was enacted with 6:35 to play in the third quarter. Gorman quarterback Chase Cresto threw for 146 yards and three touchdowns, two to Taylor Spencer.
— Brennan Karle
• Legacy 33, Centennial 14 — At Legacy, the Longhorns (4-0, 1-0 Northwest) trailed 14-0 after Centennial's first two possessions, then blanked the Bulldogs (2-2, 0-1) the rest of the way and scored 19 points in the fourth quarter.
Centennial quarterback Chris Henderson threw for a touchdown and ran for another in the first 16 minutes, capping drives of 63 and 55 yards. But the Bulldogs gained only 48 yards after that.
Legacy rallied behind Deshae Edwards and Prince Oroke. Edwards threw a 37-yard touchdown pass to Demetrus Hughes and also had 80 yards on 20 carries. Oroke rushed for 121 of his 144 yards in the second half, including touchdowns of 8 and 31 yards.
On the first possession of the third quarter, Longhorns quarterback Zach Monticelli's 1-yard run capped a tying 84-yard drive. Also, Evan Blanner scored on a 26-yard interception return in the fourth.
— Sam Leeper
• Green Valley 18, Foothill 7 — At Green Valley, the Gators (2-2, 1-0 Southeast) played strong defense and mustered enough big plays on offense to repel the Falcons (2-2, 0-1).
It was Green Valley's first home game and first victory since senior LaQuan Phillips was seriously injured with a bruised spine during a 24-20 loss to Centennial on Sept. 5.
"It has been weighing heavy on our minds. This is good for (Phillips) and the guys," Gators coach Matt Gerber said.
Green Valley went 56 yards in six plays to start the game and Quincy Bagsby's 29-yard TD run capped the drive. Bagsby's interception then set up a 35-yard field goal by Nolan Kohorst for a 9-0 lead.
Kyle Larimer's 35-yard punt return gave the Gators good field position and he finished the drive by taking a lateral 22 yards for a 15-0 lead.
Foothill broke the shutout in the final minute on Aaron Dupin's 8-yard pass to Connor Afoa after the Falcons recovered a fumble deep in Green Valley territory.
Falcons running back Algernon Sewell had 72 yards.
— David Schoen
• Bonanza 44, Pahrump Valley 13 — At Bonanza, Delano Helmuth caught touchdown passes of 40, 21, and 10 yards, carrying the Bengals (2-2, 1-0 Southwest) over the Trojans (1-3, 0-1).
Bonanza quarterback Sterling Sprau passed for 133 yards and rushed for 44. Antonio Beals ran for 121 and two touchdowns.
The Bengals blanked the Trojans until the fourth quarter when Chase Williams threw a 21-yard touchdown pass to Daniel Carter. Pahrump's Anderson Floyd led all rushers with 132 yards and a touchdown.
— Kevin Klein
• Spring Valley 56, Clark 21 — At Spring Valley, Jacques Adams rushed for 143 yards and three touchdowns, all in the first half, as the Grizzlies (3-0, 1-0 Southwest) bolted past the Chargers (0-4, 0-1).
Adams' biggest play, an 80-yard touchdown run, came in the second quarter after Clark's Andre Clay scored on a 5-yard run to trim the Spring Valley lead to 14-7.
Later in the quarter, Adams caught a shovel pass in the middle of four defenders and raced 25 yards for a touchdown to make it 35-7.
T.J. Allen relieved Adams in the third quarter and rushed for 122 yards on four carries. His 60-yard run set up Mike Mehling's 20-yard touchdown burst, then Allen scored on a 65-yard run of his own. Spring Valley rushed for 386 yards, averaging 12 yards a carry.
The Grizzlies' Mike Caster and Carlo Paredes each recovered a fumble and Alex Lopez had an interception.
Clark's Aaron Arlt rushed for 111 yards and a score on 14 carries, and Clay had 98 yards on 13 carries.
— Tim Guesman
• Del Sol 41, Rancho 39 — At Rancho, the Dragons (3-1) rushed for 370 yards and survived a late uprising by the Rams (1-3).
Rancho outscored Del Sol 21-6 in the fourth quarter, but was unable to recover an onside kick with 11.8 seconds to play.
Earnest Hall rushed for 156 yards and three touchdowns for the Dragons. Derek Eamon added 128 yards and one touchdown.
Rancho quarterback James Cammack, who played the final quarter with a leg injury, passed for 370 yards and three touchdowns, the last two going 12 and 6 yards to Dijon Holman in the fourth quarter. Cammack also ran for a 1-yard score.
— Sean Jaramillo
• Cimarron-Memorial 46, Shadow Ridge 0 — At Cimarron-Memorial, Stephen Nixon ran for three touchdowns, including a 10-yarder on the opening drive, and the Spartans (2-2) routed the Mustangs (1-3).
Nixon's other scores came in the second quarter and he finished with 131 yards rushing, all by halftime.
James Poole added a 16-yard touchdown run, Aaron Dupree scored on 75-yard punt return and Triton Manumaleuna returned a fumble 22 yards for a TD to complete Cimarron's 32-point second quarter.
The Spartans finished with 239 rushing yards and did not attempt a pass. They held the Mustangs to 115 yards and added another score when Charlie Siva forced a fumble and returned it 26 yards.
— Adam Berchin
• Sierra Vista 41, Western 22 — At Western, Akil Sharp and Garland Latham combined for 344 yards rushing and five touchdowns as the Mountain Lions (2-2, 1-0 Southwest) topped the Warriors (0-3, 0-1).
Sharp gained 223 yards on 21 carries and scored three times, including a 60-yard run on Sierra Vista's first play. Latham had 121 yards on 14 carries.
Western's Brian Mickel answered Sharp's run with a 60-yard touchdown on the Warriors' first play, but Sierra Vista scored 34 unanswered points.
— Matt Maxson
• Eldorado 28, Valley 27 — At Valley, JaQuorrey Williams threw a 12-yard touchdown pass to Charles White as time expired to complete a 99-yard drive that lifted the Sundevils (2-2, 1-0 Northeast) over the Vikings (2-2, 0-1).
Eldorado began the winning drive with 1:48 left, and Williams advanced the Sundevils with passes of 33 and 16 yards to Steve Van Orden. White's touchdown was the only scoring of the fourth quarter.
Valley had taken a 27-21 lead in the third on a 46-yard touchdown run by Kerwynn Williams, who ran for 144 yards, also including a 56-yard touchdown in the first quarter.
Eldorado got a big play out of DeAndre Smith in the second quarter when he avoided a blitzing linebacker and ran 65 yards to tie the score at 14-all. JaQuorrey Williams had a 4-yard TD run in the first quarter. The Sundevils gained 235 of their 370 yards on the ground.
Malcom Wilkes scored on a 1-yard run for Valley in the first quarter.
— Dana Lane
• Chaparral 23, Canyon Springs 20 — At Chaparral, Jermal Turner scored from 4 yards on a quarterback keeper from with 39 seconds left to carry the Cowboys (2-2, 1-0 Northeast) over Canyon Springs (0-3, 0-1).
Isaiah Washington (123 yards) and Pierre Jones (119) fueled Chaparral's rushing game. Each had a touchdown.
Pioneers quarterback Mike McWilliams threw for 141 yards, including an 80-yard TD to Jonathon James.
— Brian Danise
NevadaPreps.comIn-depth high school sports coverage